Autumn 2001 (9.3)
Pages 74-75

Guidelines
Adopting a Child from Azerbaijan
by Kimi Abernathy

Other articles related to Azerbaijan Adoptions and Orphanages in Azerbaijan
A Home for Inara - Azerbaijan's First Adoption
Guidelines - Adopting a Child from Azerbaijan
AzerbaijanAdopt ListServ
British Airways Adopts Orphanage
Saving the Children: Mobil Undertakes Orphanage Project
Children's Games Build Bridges: International Women's Club Reaches Out
Third Annual Reunion of Adopted Children from Azerbaijan

Choosing a reputable agency to facilitate an international adoption is a daunting task. There are literally hundreds of agencies working in more than 20 different countries. Though Azerbaijan has only recently opened for international adoption, many agencies are already beginning programs there. Finding an agency that is proficient, honest and forthright is an absolute must. Agencies may be fully licensed and not-for-profit, yet still have staff that are incompetent or unprofessional. Without thoroughly researching the agencies and the people with whom they work, you will be susceptible to polished Web pages publicizing humanitarian aid but never even listing the agency owner's name. How do you know who is reliable and ethical? Below are several tips to help you wade through the pool. This is not an exhaustive list, but it will get you started.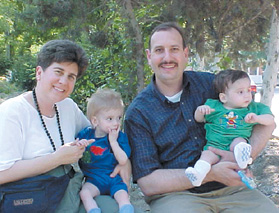 Choosing an Agency

Above: Donna and Frank Simone in Baku with their two newly adopted boys, Daniel (21 months) and Paul (19 months). The Simones make their home in Robbinsville, New Jersey.

1. Research! Research! Research! Do not rely solely on the references given by the agency or the earnest copy and attractive pictures on slick Web sites or brochures. Find out for yourself.

2. Pay a visit to the Adoption Guide Web site:
http://groups.yahoo.com/group/azerbaijanadopt/.

3. Join an international adoption Listserv and ask questions: www.eeadopt.org.

4. Contact the U.S. Consulate in Baku:
http://usembassybaku.org/consul/consmain.html; Tel: (994-12) 98-03-35/ -36/ -37; Fax: 98-37-55.

5. Contact the Consul from the Azerbaijani Embassy in your country. [See AZER.com, click on DIRECTORY, then EMBASSIES, then AZERBAIJAN'S EMBASSIES ABROAD.] In the U.S., contact: Azerbaijan Embassy, 2741 34th Street NW, Washington, DC 20008; Tel: (202) 337-3500; Fax: (202) 337-5911; AZembassy.com; azerbaijan@tidalwave.net.

Ask Questions
If the agency does not answer the following inquiries to your satisfaction, explore other alternatives: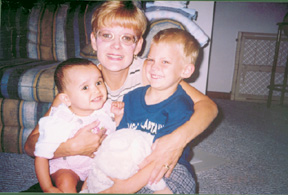 Left: Talia Zohra was adopted in July 2001 by Randall and Michelle Blum of Michigan. She is shown here with Michelle and brother Mitchell, 4. She also joins brothers Joshua, 16, and Andrew, 14.

1. Do you work with in-country facilitators? Who are they? What are the names of all the people working on my adoption - stateside and overseas? Ask other adoptive parents the same questions about coordinators or facilitators that you ask about agencies: Are they honest? Do they respond to questions in a timely fashion? How long did the adoption take? Did they stick with the stated cost or did it go up?

2. How much are your agency's fees? Ask for a detailed breakdown of all fees. Find out, to the dollar, how much money goes to whom. Do not accept a lump sum labeled "international fee" unless you know exactly what costs are covered by that sum.

3. How many adoptions has your agency completed in Azerbaijan with the current facilitator and staff? How long do adoptions realistically take, from completion of dossier to court date? These days, the Azerbaijani government requires a 30-day wait after the court hearing before the child can leave the country. That means two trips for the parents.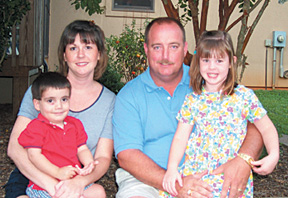 Left: Donna and Dane Huffman with son Grayson Murad Huffman, adopted July 2001, and daughter Hayley. Murad means "dream or wish come true".The Huffmans live in Hickory, North Carolina.

4. What medical information will be provided on my referral? Can I have an independent medical evaluation? (You should be able to.) What services does the in-country facilitator provide? (These could include translation services, driver, food, document review, tour guide and host.)
Red Flags
1. An agency should never offer a referral (the name of a specific child) before the Azerbaijan Adoption Committee has approved your dossier. Until then, a specific child cannot be reserved. In other countries, this has resulted in families losing a child to another family who was approved before them. A child will languish in the orphanage if it is held for a family who takes a long time to get approval. If an agency is working within the law, it cannot promise a specific child before dossier approval.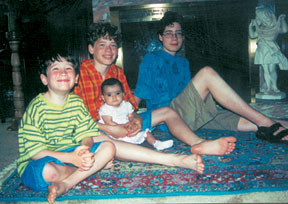 Left: Esme Rose Alsu Bisbee (9 months old) with her brothers, Cabot, 6, Windsor, 12, and Saxon, 14. Esme's parents are Catherine and Kent Bisbee. The Bisbee family lives in Pennsylvania. Photo: July 2001.

2. Beware of high-cost adoptions. Ask for an itemized list of the foreign fees. Confirm these fees with the Azerbaijan Consulate. Compare fees at several agencies. Total costs should range from $10,000 to $20,000. We spent around $13,000 [June 2000], including travel and in-country costs. Economy flights to Azerbaijan from the U.S. cost about $1,500 roundtrip. Both parents are required to appear in court on the first trip. Currently, it may be possible for one parent to return alone to pick up the child a month later.


3. Be leery of any agency promising to complete adoptions in less than six months. Unless the procedures change, it usually takes six to ten months from the time a dossier is submitted until the court date.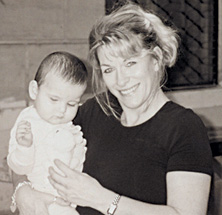 Left: Natasha Kirby with her mom, Kelly Kirby. Natasha was adopted August 2001. They live in Fort Smith, Arkansas.

4. The agency can and should arrange an independent medical evaluation for the child at a Western medical clinic after you accept a referral. If they say it is not possible, look elsewhere.

5. If an orphanage donation is required, know that this is an agency requirement, not an Azerbaijani requirement. Donations are very much appreciated and extremely helpful to the institution, but they are not required by law.

6. Familiarize yourself with the Azerbaijan adoption requirements found on the U.S. State Department's Web site. If this information does not match what your agency is saying, you are being misled:
http://travel.state.gov/adoption_azerbaijan.html.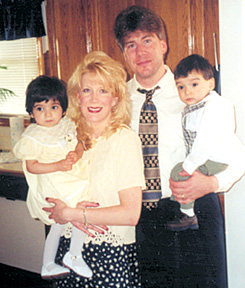 Left: The Shryock family at home in Overland Park, Kansas: Rachel Elena (21 months), Kathleen, Jim and Lucas Wilson (20 months). Rachel and Lucas (not from the same biological family) were adopted in Baku in January 2001. Their names both mean "light", which reflects the joy that their parents say has come into their lives from these children.

Hints: Fall in love with Azerbaijan
1. Research your child's birth country before you travel there. [A good place to start is with AZER.com, articles in English from Azerbaijan International magazine that date from 1993.]

2. Understand that you are adopting from a different culture. Look for the best and enjoy the adventure.

3. Make sure you visit the cultural sights of Baku. Take many photos to share with your child later.

4. Understand that childcare practices are different the world over. Be gracious and accept the recommendations of those who have cared for your child. You will have a lifetime to change things once you return home.

5. Remember that this country is giving you a child. Help the Azerbaijani culture stay alive for your child and appreciate the people who have cared for him or her.

If you chose to adopt from Azerbaijan, you will meet many caring people who only want the best for Azerbaijani children. Treat them with respect and courtesy. Armed with good research and an open attitude toward the country and its people, your adoption will be an exciting and wonderful beginning for your family.

____
From Azerbaijan International (9.3) Autumn 2001.
© Azerbaijan International 2001. All rights reserved.
Back to Index AI 9.3 (Autumn 2001)
AI Home | Magazine Choice | Topics | AI Store | Contact us

Other Web sites created by Azerbaijan International
AZgallery.org | AZERI.org | HAJIBEYOV.com