Winter 1996 (4.4)
Page 35




A Home for Inara - Azerbaijan's First Adoption
Guidelines - Adopting a Child from Azerbaijan
AzerbaijanAdopt ListServ
British Airways Adopts Orphanage
Saving the Children: Mobil Undertakes Orphanage Project
Children's Games Build Bridges: International Women's Club Reaches Out
Third Annual Reunion of Adopted Children from Azerbaijan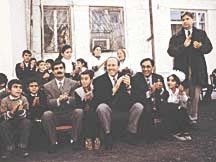 Photo: Geoff Slater surrounded by children at the Lokbatan Orphanage which Mobil has just refurbished.
Traditionally, orphanages care for children who have lost one or both parents. But these days, due to the severe economic crisis caused by the Karabakh war, some refugee mothers and fathers have been forced to send their own children to live in state orphanages because they can no longer afford to support them.
So while the demand for orphanages is growing every day, the funds provided by the government for their operation is not. Often when a new orphanage must be opened, there is little choice but to transform a building being used for some other therapeutic purpose. Such is the case of the Lokbatan orphanage in the Garadagh district of Baku. It used to be Cardiological Rheumatological Sanatorium #39. But when the refugees came pouring into Baku by the tens of thousands, it was converted into living space for homeless children.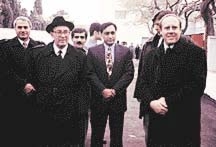 Photo: Lokbatan Orphanage Opening Celebration on November 21, 1996. (2nd from left) Izzat Rustamov, Deputy Prime Minister of Humanitarian Affairs; (center) Lutful Kabir, Baku's Director of "Save the Children Federation;" and (right) Geoff Slater, General Manager of Mobil in Baku.
Yet the building, itself, was in a serious state of neglect. Windows were broken, pipes leaked, the plumbing was rusted out, the wiring was frayed, and one of the roofs had even collapsed. Nevertheless, about 50 children were living in these conditions.
But today, the grounds are clean, the building has been painted, and everything has been repaired. Mobil provided the funds for the refurbishment of the Lokbatan Orphanage, and "Save the Children Federation" made sure the job got done right.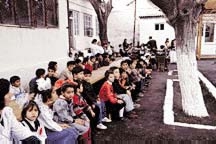 At a celebration of its completion on November 21, the Deputy Prime Minister for Humanitarian Affairs, Izzat Rustamov, expressed his deep appreciation for Mobil's community involvement. Geoff Slater, Mobil's Baku Manager who had been personally involved with this project from the beginning, amused the kids and joined them in dance.

"I love kids," he said. "We're so glad to have been able to make the place they call home a bit more safe and a bit more beautiful during this difficult period." His particular sensitivity to the needs of Azerbaijanis is facilitated by his ability to speak Azeri, a skill which few foreigners have yet to achieve. Lutful Kabir, Director of "Save The Children Federation," reminded the children that they are not alone, nor forgotten.
The Lokbatan Orphanage is one of four such orphanages that Mobil has rehabilitated this year. They have committed $100,000 to these endeavors. And the impact they have made on the day-to-day life of children has been dramatic.
In many ways, Mobil's rehabilitation of orphanages can serve as a model for other groups who are looking to undertake manageable projects which will have profound and immediate impacts on the lives of those suffering in Azerbaijan. Mobil was able to stretch their money a long way, and to achieve tangible results within a few short months. In contrast to the situation that existed in Azerbaijan three years ago, these days, even with a limited budget, there are ways to make a dramatic difference-because of the ready availability of local materials and relatively inexpensive labor. And in Mobil's case, by choosing a reputable humanitarian agency such as "Save the Children Federation" to supervise the project, Mobil personnel remained free to concentrate on business.
From Azerbaijan International (4.4) Winter 1996.
© Azerbaijan International 1997. All rights reserved.
AI Home | Magazine Choice | Topics | Store | Contact us