Reader's Forum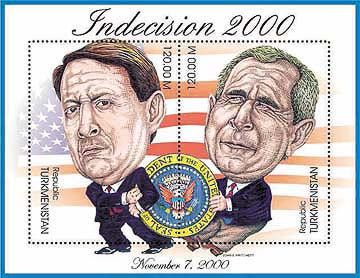 Above: Turkmenistan has recently issued a stamp to commemorate the Indecision of the recent U.S. President Elections between Al Gore and George W. Bush. After 36-days of judiciary struggle, Bush was declared winner by a 5-4 vote in the Supreme Court.


Letter From Kosovo - Paolo Lembo

Calling the Kettle "Black" - Elmar Mammadyarov - Washington, D.C.
Where in the World? - Afa Mastanova - Arlington, TX
Dissertation on Language - Esa Anttikoski - Finland

Oil Stamp - Years Ago - Harry B. Bryan - TN

Ali and Nino - Best Love Story - Mimma F. Afzal

Beautiful Art - Jaye C.Taylor


From Azerbaijan International (8.4) Winter 2000.
© Azerbaijan International 2000. All rights reserved.
Back to Index AI 8.4 (Winter 2000)
AI Home | Magazine Choice | Topics | Store | Contact us