Summer 1998 (6.2)
Pages 65-67
SOCAR Section
An Interview with Natig Aliyev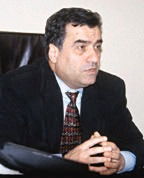 The following is an interview with Natig Aliyev, President of SOCAR (State Oil Company of the Azerbaijan Republic), which Azerbaijan International conducted in April 1998.
SOCAR is a huge company, employing nearly 80,000 employees. Even for giant conglomerates in the world, that's a significant number. What do all of these people do? Tell us about the organization and structure of SOCAR.
Remember that SOCAR and Azerbaijan's oil industry have developed over a long period of time-more than a hundred years. Presently, we are operating 35 fields onshore and 15 offshore. SOCAR as a single company oversees everything that has to do with oil and gas: exploration, scientific study, development, equipment and even transportation. For example, we have numerous trusts and institutes dealing with geology and geophysics, identifying new prospects and determining how much oil and gas they have.
Onshore, our Oil and Gas Extraction Production Union has nearly 30,000 members. Some of these members are in the service industry. A few towns, such as Alibeyramli, Neftchala and Siyazan, have sprung up because fields were being developed in those regions. All of the infrastructure in those places, including the housing and cultural centers, comes under the jurisdiction of SOCAR.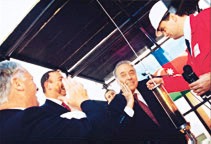 Left: First oil of Chirag. President Aliyev wiping some of the new oil on his face. November 1997.
In regard to offshore operations, today we are working in 15 fields. At Oil Rocks, for example, we have dormitories built up on trestles over the sea so that workers can live there. Nearly 5,000 people work at that site. Also, a major oil and gas extraction office named after Nariman Narimanov employs nearly 25,000 people.
We also have a machine-building union that repairs and restores oil and gas equipment. They check the equipment regularly. If there's a problem, they bring it to their building, repair it and take it back. There are also two unions that deal with selling, distributing and delivering oil products-one union to deal inside of Azerbaijan, the other to deal with foreign countries.
Most foreign oil companies don't deal with these kinds of things-they contract service jobs out. We are much more diverse. We identify the areas to drill, develop, drill, extract, construct, refine and transport the oil to market.
Of course, 80,000 employees is too many. Gradually, we'll cut back and streamline our operations. Many of these positions will be eliminated someday. At present, however, we don't want to put so many people out of jobs. Massive layoffs would create enormous social burdens and problems. We want to downsize slowly.
Privatization is increasing in our country. Many small enterprises have already been privatized. Gradually, mid-sized and larger enterprises will be sold to private parties. All of SOCAR's gas stations, for example, have already been privatized. In general, though, privatization hasn't affected SOCAR very much yet. There is such a plan, however, and as soon as President Heydar Aliyev issues the edict, SOCAR too will begin to privatize. At first, this will probably only affect transportation. But afterward, it will affect the infrastructure related to geophysics, geology, construction, drilling, machinery and oil-processing production unions.
The government will probably retain the oil and gas development administration, at least for the time being. Oil production and the income generated from it provide the basis of our country's budget. So oil is not just related to our economy, but to our politics as well. I think that for the present, at least, the oil and gas extracting administration should remain part of the government. For other aspects of SOCAR, I think the privatization process will begin this year and will expand in 1999. Privatization itself will help solve the problem of downsizing, as it will provide opportunities for additional jobs.
What is happening with the "status of the Caspian Sea"- the question of whether individual countries have the right to develop the Caspian Sea for their own interests? Finally, it seems that Russia is willing to concede the division of the Caspian into sectors, at least, of the bottom of the sea, though they have not yet reached agreement about the top surface and the waterways of the sea. What are the implications for Azerbaijan if the Russians get their way? How would it affect the possibility for constructing a trans-Caspian pipeline?

This problem of determining the Caspian's status began more than five years ago when Azerbaijan began inviting foreign countries to come and invest in its oil industry. For most of the 20th century, the question of the status of the Caspian Sea only related to two countries [the USSR and Iran], not five countries like today. We based our decision on legislature passed in 1970 when the Caspian was divided into five sectors-Azerbaijan, Iran, Turkmenistan, Kazakhstan and Russian Federation. Back in 1994, none of these four other countries agreed with our decision. They said that the Caspian Sea should belong to everyone equally, that it should be communal territory. They insisted that each country could work in any part of the Caspian, whether it be navigation, fishing, ecology, oil-whatever. President Aliyev insisted that the Azerbaijan sector of Caspian had a legal basis in our constitution.
Four years have passed since then. Finally, other Caspian littoral states are agreeing with us. Kazakhstan [which has immense reserves in the Caspian] was the first. Just recently, Russia and Turkmenistan agreed with us. Only Iran does not yet agree. Iran's position is that the Caspian Sea should be divided into five equal parts. Each country should be given a 20 percent share. The other countries won't accept this.
So there is a consensus in regard to the bottom of the sea being divided up into sectors. There is still disagreement, however, about the surface of the sea and whether it should remain common for fishing, navigation, etc. We insist that both the surface and bottom of the sea belong to specific countries. I suspect that this process of negotiation will continue for a while. Time is needed to examine all of the various proposals being set forth, and arrive at an acceptable compromise.
One very positive idea that Azerbaijan is trying to put forward is the demilitarization of the Caspian Sea. The Caspian should only be a waterway of friendship and peace. There should be no military forces guarding each sector. Azerbaijan proposed the idea and has already presented it during meetings with Presidents Nursultan Nazarbayev (Kazakhstan) and Boris Yeltsin (Russia). I think this is the right path to pursue.
Four major oil contracts were signed in 1997-all when President Aliyev was on official state visits to foreign countries: Lankaran-Talysh (Elf) in France on January 13, and three in the White House on August 1-Absheron (Chevron), Nakhchivan (Exxon) and Oguz (Mobil). That makes nine projects that are being developed by foreign oil companies. Are you in the process of preparing new contracts? If so, which ones do you anticipate will be signed in the near future?

After President Aliyev visited the United States in August last year, he made an official visit to Italy [September 25-28]. There we discussed the offshore Kurdashi block with Agip and gave them a 25 percent share. SOCAR kept 50 percent and the remaining 25 percent was unassigned. Then when we visited Japan [February 24-27, 1998], Mitsui took 15 percent. I think we'll be signing this contract very soon.
We've accelerated work onshore which is very important-not only in terms of expanding fields that have already been developed but in developing new ones. We've signed an initial contract of intention with Frontera Resources, and soon, I believe, we'll be able to officially sign this contract.
Also, we've received President Aliyev's directive to sign a contract with the American oil company Union Texas Petroleum. We'll be working with this company in the west Gobustan area about half an hour outside of Baku. This contract is currently being prepared.
In addition, we're working with TOTAL for an offshore block and have received proposals from BP and Statoil and various other companies. We're also working on the Val Abikh structure in sea depths of approximately 800-900 meters.
Of course, the big news that everybody is waiting for this year is the decision about which pipeline route will be selected to carry the major oil to Western markets-whether through Russia, Georgia, Turkey or elsewhere. Though Azerbaijan has already mentioned that they favor the route through Turkey to the Mediterranean port of Jeyhan, some companies are beginning to express skepticism about the cost of such a pipeline. How will the final decision be made? When will it be announced?

We've been exploring alternatives for several years now. A committee is examining all options with AIOC [Azerbaijan International Operating Company]. Our responsibility is to study all of the routes objectively and then arrive at a decision. We expect this decision to be made toward the end of the year.
We favor the Baku-Jeyhan route but need to substantiate the expenditures from an economic point of view, taking into consideration the conditions under which it must be built. This route also depends on whether or not Turkey and Georgia will create the necessary opportunities for Azerbaijan to build the main pipeline through their countries. The main issue for Azerbaijan is to get its oil to the world market via the cheapest route possible.
Recently, we have become aware that the old pipeline westward between Baku and Georgia [Black Sea port of Supsa] designated for First Oil is in worse condition than was originally thought. Originally $315 million was budgeted for its refurbishment, but now it looks like the line will need to be rebuilt at an estimated $590 million. We can either continue with the original plans for a 20 inch wide pipeline on this route or, since a new line must be laid anyway, we could lay a larger 42 inch pipeline instead, in anticipation that this route would be used as the main pipeline through Samorya [Georgia] to Jeyhan in the future.
There's been a lot of turnover among international management since negotiations for oil began. Now Ken Bradley [Unocal] who has been here for the past six years is leaving. He is the last manager from the initial group of managers that began this process. How are things different now than back when it all started? What are the changes that people forget or that many of the new managers don't even know about?

There have been a vast number of changes. First of all, significant changes have taken place within the country. In 1993, there was a totally different situation and atmosphere-both socially and politically. Remember, the war was going on [a cease-fire was signed in May 1994]. Refugees by the hundreds of thousands were fleeing to the countryside and to Baku from Nagorno-Karabakh and the surrounding regions. Economically, many of our people were in a desperate situation. The centralized government of the USSR had collapsed, and there was no way to support these people at the standard of living that they were used to. For months on end, we were living under an evening curfew.
Azerbaijan's relationship with other countries was different, too. The "Iron Curtain" had just been lifted. We were on our own to begin forging independent relations within the international community. This was all new to us. We were used to following directives from Moscow.
Looking back today, we can see how many changes have taken place in these few short years. Living conditions and prospects for the future are improving. The attitude of foreign companies toward us has also changed. In 1993, when we began negotiations, our goal was to attract foreign companies to Azerbaijan. We wanted to prove that Azerbaijan was the right place for their investments, and that they should come and work with us. We wanted them to have confidence and trust in us.
Today, we don't need to convince foreigners anymore. They already know these things. Today, there are so many companies that want to work in Azerbaijan and invest capital and start businesses here that we have no need to advertise.
I detect a change among specialists as well-ours and theirs. For example, today when I had that final meeting with Ken Bradley, I could see that he was genuinely very sorry to be leaving Azerbaijan and going home to Australia. He told me that he had become so used to Azerbaijan. That he had never worked in such a nice place as our country before. It made me realize that these people have become attached to our country and people.
Foreigners often comment on how fast Azerbaijan is developing, how fast we are going forward. Sometimes, it seems like they're more convinced of Azerbaijan's bright future than we are. I guess it's because we live here and often take these changes for granted. Maybe we can't detect the differences as much as they can.
Lots of managers have already come and gone in Azerbaijan. Companies tend not to keep their managers in a country for very long. Despite all of these changes, a foundation for cooperation has been established. Future generations will benefit from the decisions we've made together as these oil development contracts extend for a period of 30 years, at least. Our relationships have become institutionalized and will impact the future, regardless of the specific players involved.
From Azerbaijan International (6.2) Summer 1998.
© Azerbaijan International 1998. All rights reserved.

Back to Index AI 6.2 (Summer 1998)
AI Home | Magazine Choice | Topics | Store | Contact us