Azerbaijan Oil Contracts
Total Fina Elf

Lankaran-Talysh
Jean-Pierre Dolla, General Manager
Elf Aquitaine and Total signed an agreement with SOCAR on January 13, 1997, for the exploration, development and production shari#ng of the Lankaran-Talysh prospects. The event took place in Paris in the presence of Azerbaijan President Heydar Aliyev and French President Jacques Chirac. This is Azerbaijan's fifth international oil consortium and marks a significant step in furthering the relationship between France and Azerbaijan. Later on, Deminex (Germany), Oil Industries' Engineering & Construction-OIEC (Iran) and Fina (Belgium) joined the project. The effective date of the contract is June 30, 1997. The project is operated by Elf Petroleum Lankaran-Talysh.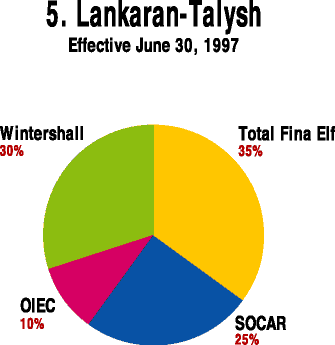 Signed January 13,1997



Map: Click to enlarge

The 420 sq km area of Lankaran-Talysh lies offshore from the town of Lankaran, which is 300 km south of Baku. The water depth ranges from 10-120 meters. During the exploration period, the contract calls for two wells to be drilled and a 3-D seismic survey completed.
At the end of 1997, the 3-D seismic survey was completed by Caspian Geophysical and the data acquired are currently being evaluated in the Baku processing center of Caspian Geophysical. Plans for 1998 are to shoot a 2-D shallow water seismic in the northern part of the block and to determine the location of the exploration wells.


Total Fina Elf
1 Magomayev Street, 6
Old City (Ichari Shahar), Baku
Tel: (99-412) 92-12-76
Fax: 97-13-35
E-mail: elf@azeri.com
Web site: www.totalfinaelf.com


From Azerbaijan International (6.2) Summer 1998.
© Azerbaijan International 1998. All rights reserved.

Socar Contracts
Back to Index AI 6.2 (Summer 1998)
AI Home | Magazine Choice | Topics | Store | Contact us