Summer 1998 ( 6.2)
Azerbaijan Oil Contracts
Exxon Mobil
Oghuz
UPDATE: The Oghuz project is now under the umbrella of Exxon Mobil. George MacDonald is the current manager since Jan 2000. Material below is historic.

George MacDonald, General Manager

The Oghuz Operating Company (OOC), an affiliate of ExxonMobil Exploration and Producing Azerbaijan Inc. (MEPAI), is the operator for the Production Sharing Agreement (PSA) for hydrocarbon exploration of the Oguz Block in the Azerbaijan sector of the Caspian Sea. This contract was signed in Washington, D.C., in August 1997 during the state visit of Azerbaijan's President Heydar Aliyev. It was ratified in November 1997. ExxonMobil and SOCAR are 50 percent partners. The block is located 90 km east of Baku adjacent to the Neft Dashlari (Oil Rocks) and Gunashli fields. OOC will determine if hydrocarbons are present within the block by wildcat drilling, and, if successful, whether a commercial accumulation exists.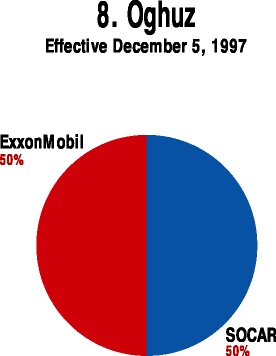 Signed August 1,1997
Ratified November 7,1997
Initial technical work began in 1996 with a hazard survey and proprietary 2-D seismic data acquisition. Additional geoscience and engineering data collection and technical studies will take place in 1998 and 1999. Wildcat drilling is expected to begin in November 2000. ExxonMobil has been active in Azerbaijan since 1994. They have undertaken several humanitarian, educational and cultural projects, including the remodeling of five orphanages in collaboration with the Save the Children Federation, support for Petroleum Geoscience and Engineering scholarships in the U.S. in association with the American Geological Institute and support of several Baku fine arts associations including the Opera House Trust Fund.

NOTE:
Landmark
96 Nizami Street, Suite 300
Tel: (99-412) 98-24-60
Fax: 98-24-72
Web site: www.exxon.com

From Azerbaijan International (6.2) Summer 1998.
© Azerbaijan International 1998. All rights reserved.

SOCAR Contracts
Back to Index AI 6.2 (Summer 1998)
AI Home | Magazine Choice | Topics | Store | Contact us