Summer 1997 (5.2)
Page 19

Rostropovich Celebrates
70th Jubilee in Baku

Other articles about Rostropovich
(1) "Rostropovich: The Home Museum" by Gulnar Aydamirova. (AI 11.2, Summer 2003)
(2) "Intellectual Responsibility. When Silence is Not Golden." Conversations with Mstislav Rostropovich and Galina Vishnevskaya by Claude Samuel. (AI 13.2, Summer 2005)
(3) "Rostropovich & Galina: Celebrating Their 50th Wedding Anniversary" by Betty Blair and Sheyla Heydarova. (AI 13.2, Summer 2005)
(4) "Famous People: Then and Now. Mstislav Rostropovich - Cellist and Conductor (1927-2007)." (AI 7.4, Winter1999)
(5) "Rostropovich: Happy 75th Birthday. World-Famous Cellist Celebrates in Baku." (AI 10.1, Spring 2002)
(6) "Philharmonic Reopens: Renovation of Baku's Prestigious Concert Hall," by Abid Sharifov, Deputy Prime Minister. (AI 12.2, Summer 2004).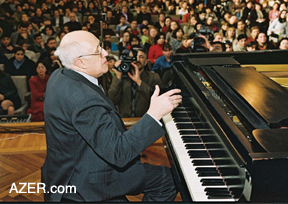 This past April, the world-renowned conductor and cellist Mstislav Rostropovich came home to Baku to celebrate his 70th birthday. Rostropovich was born in Baku, but had spent most of his professional life in Moscow. In 1974, he defected from the Soviet Union and has lived in the U.S. and Paris ever since.
On this trip to what he called "the mystical city of Baku," he was accompanied by his wife, Galina Pavlovna Vishnevskaya, their two daughters and grandchildren. "I want my grandchildren to know that their roots are in Baku," he said.

It was a grand five-day birthday party as the entire city celebrated his homecoming. The climax of the visit came when the cellist performed works by Mozart, Haydin, Tchaikovsky and Azerbaijani composer, Gara Garayev with the Azerbaijan State Symphony Orchestra on May 2.
President Heydar Aliyev presented Rostropovich with Azerbaijan's highest honor, the Order of Glory. Plans are being made to name one of Baku's music schools after him and to establish music scholarships in his name. His former residence will be converted into a museum and a marble plaque erected outside the building.
Rostropovich was concerned about the unresolved 8-year-old Karabakh conflict and offered to play for the Presidents of Armenia and Azerbaijan for as long as it took to settle the long dispute.
In March Rostropovich was also feted by French President Jacques Chirac at a celebration in Paris that President Aliyev attended. In May he visited Moscow and President Boris Yeltsin also presented him with Russia's highest state award.

From Azerbaijan International (5.2) Summer 1997.
© Azerbaijan International 1997. All rights reserved.
Back to Index AI 5.2 (Summer 1997)
AI Home | Magazine Choice | Topics | Store | Contact us