Summer 2005 (13.2)
Pages 24, 25, 27, 28

Rostropovich (1927-2007) & Galina
Celebrating Their 50th Wedding Anniversary
by Betty Blair and Sheyla Heydarova

Other articles about Rostropovich
(1) "Rostropovich: The Home Museum" by Gulnar Aydamirova. (AI 11.2, Summer 2003)
(2) "Rostropovich: Happy 75th Birthday. World-Famous Cellist Celebrates in Baku." (AI 10.1, Spring 2002)
(3) "Intellectual Responsibility. When Silence is Not Golden." Conversations with Mstislav Rostropovich and Galina Vishnevskaya by Claude Samuel. (AI 13.2, Summer 2005)
(5) "Famous People: Then and Now. Mstislav Rostropovich - Cellist and Conductor (1927-2007)." (AI 7.4, Winter1999)
(6) "Rostropovich Celebrates 70th Jubilee in Baku." (AI 5.2, Summer 1997)
(7) "Philharmonic Reopens: Renovation of Baku's Prestigious Concert Hall," by Abid Sharifov, Deputy Prime Minister. (AI 12.2, Summer 2004).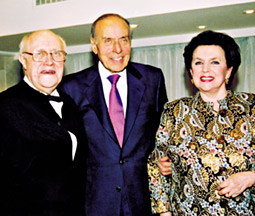 Left: The late President Heydar Aliyev with Cellist Mstislav Rostropovich and his wife opera singer Galina Vishnevskaya. Rostropovich was born in Baku in 1927. Aliyev invited Rostropovich to make Baku a regular place to visit, beginning in 1997 when Rostropovich's 70th Jubilee was celebrated on the national level. Since then, Rostropovich has returned nearly every year to give concerts and Master classes.

The setting: May 1955. Prague. Exotic city of beauty and personal warmth. City with historical roots based in music. He was 28. She was 29.

He was there to play his cello and as a member of an international jury. She was there for the Prague Spring Festival to perform the leading role of Tatiana in Tchaikovsky's opera Eugene Onegin. It was her first time outside of the Soviet Union. He had been out before.

They had made a brief acquaintance with each other a few weeks earlier in Moscow at a government reception.
But then there was Prague. "And then we went for a walk in the park", he recalls. A whirlwind romance followed. Actually, "tornado" might be a better word for it. Four days later, they were married.

She describes it this way: "The first day, I went to my closet at the hotel and found my clothes completely covered with lilies. The following day, I found orchids in all four corners of the room. The third day, the floor was strewn with boxes of chocolates. That was the day I was supposed to leave to return to Moscow. And though he had other engagements, without a moment's hesitation, he canceled them and followed me. On the fourth day, we were married."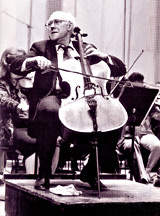 Left: Mstislav Rostropovich.
It was such an intense relationship. "I was waiting for a love worth dying for - just like the heroines in the operas that I was performing. We were rushing off to each other and no power could stop us," she says.

And thus, began a new life together of a rising star of Moscow's Bolshoi opera and a musician who would become world-renowned cellist and symphony conductor.

They kept their own professional names. Hers, Galina Vishnevskaya. His Mstislav Rostropovich. "I had already made a name for myself at the Bolshoi Opera and abroad," she said, explaining why she had not become "Mrs. Rostropovich".

And with a humorous touch, she added, "Since I was more famous than he was, someone suggested that Rostropovich take my name Vishnevskaya while we were registering our marriage. He refused much to their surprise. In the end, we both kept our own names."

Curiously, despite the fact that both of them were already recognized musicians, they had never heard each other perform. That would come six months later. Hearing each other in concert was not the determining factor in their decision to marry since they realized that it was music and performance that had shaped their personalities. "Art plays an enormous role in the formation of a human being," observes Rostropovich. One might wonder if such headiness and passion would last the test of time. But here it is half a century later and one of the world's most well known musical couples just celebrated their 50th Wedding Anniversary on May 15th, 2005.

50th Wedding Anniversary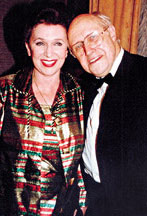 Left: Galina Vishnevskaya and Mstislav Rostropovich celebrated their 50th wedding anniversary in May 2005. Courtesy: Rostropovich Home Museum in Baku.
Actual celebrations took place in Paris (where the couple lives) and Moscow (where they were living when they were stripped of their citizenship for befriending the dissident writer Solshenitzyn in the 1970s).

But Baku feels a close affinity to Rostropovich as well because he was born there. Baku is the city that boasts a Home Museum dedicated to Mstislav Rostropovich and his father Leopold who, according to Mstislav was an "absolutely phenomenal cellist and excellent pianist who was an extraordinary sight reader and played everything by heart". Their two-story home is on the street, which today bears the names of both father and son.

Born in Baku in 1927, Slava (as his friends call him, and whose name means "glory") and his family moved to Moscow in 1931. They had come to Baku (as many superb musicians had) upon the invitation of Uzeyir Hajibeyov (1885-1948) a few years earlier to assist in the effort to establish a strong music education program in Azerbaijan.

Rostropovich has not forgotten his place of birth. Since 1997, on the occasion of his 70th birthday, he has been making trips back to Baku nearly every year, not only to perform, but also to conduct a weeklong schedule of Master Classes to inspire young musicians. That's when the auditorium of the Music Academy fills with about 250 observers - students, teachers and parents - all keen to watch and listen while a few of the most promising students from Baku's prestigious music schools are invited to perform under the watchful eye and discerning ear of one of the world's leading musicians. Baku feels extremely indebted to the Maestro for all this attention and generosity.

As a Couple



Of course, when two headstrong musicians live together, there are bound to be tensions. The question is how well they can learn to cope and compromise.

Surprisingly, one of the first run-ins came when Slava wanted to accompany Galina as her pianist at concerts. She had her own pianist and didn't take to the idea lightly.

"What are you saying?" she demanded. "YOU want to accompany me? Why, you're crazy, you don't know how to play the piano. I thought you were a cellist!"

Slava assured her that he did know how to play. "I'll work at it every day, I promise you." It was Slava's way of creating a situation so he could spend more time with her. And thus he did become her pianist.

But they both admit to quarrels sometimes so intense that they couldn't finish practicing together. "The next day," Galina admits, "we would be so angry with one another that we would go to the concert hall without speaking to one another, promising ourselves that we would never perform together again. But then, on stage we would merge into an indissoluble whole, taken to a distance beyond the clouds...Suddenly we would start to talk to each other with the language of music."

Slava adds: "You know, outwardly, people often completely misjudge what takes place between a couple. It's for this reason that I no longer give the least bit of credence to rumors that circulate about other couples."

It should not come as a surprise that music fulfills them in different ways. For her, music is satisfying when she can share it with others. For him, just experiencing the emotion and passion of music is sufficient.

As personalities, they have different needs as well: "By nature, I've always been very independent," admits Galina. "Even when I was at the Bolshoi and was part of that enormous company, I was still basically alone. I would go to rehearsal, perform and then go straight home."

Slava was the opposite. Galina describes him as having a deep need to socialize and be with colleagues. "He likes to be part of a group. That's why he likes working so much with symphonic groups," she notes.

But she insists this is what makes life interesting. "All these differences provide balance. If I had a husband who was as independent as I am, I wonder how our lives might have turned out. Or if Slava had married a woman as sociable as he, I'm sure they both would have gone crazy."

It seems they have long given up on changing each other. "It's totally useless," Galina admits. "When I met him, I had a lot of trouble accepting his lifestyle. His sociability and all his new acquaintances used to exasperate me; I couldn't stand it and I tried to stop him. Later I understood that this whirlwind existence was necessary for him. When he's by himself, he's lost. So, I've decided not to meddle with his lifestyle."

The Family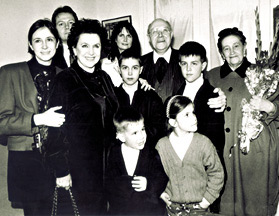 Left: Mstislav Rostropovich with his family at the Rostropovich Home Museum in 1997 in Baku. Rostropovich lived in this house until he was four years old when his family moved to Moscow. Left to right: Front row: grandchildren (Elena's children). 2nd row: Daughter Elena, wife Galina Vishnevskaya. The elder woman with flowers is Rostropovich's sister who also lived in this home in Baku. Back row: Olga's husband Olaf Geran-Germess, daughter Olga, Mstislav Rostropovich.
Their family has grown up now. They have two daughters and six grandchildren. The daughters have followed in the path of their parents and have become distinguished musicians. The older one Olga plays the cello and instructs.

She is married to French businessman Olaf Geran-Germess. They have two sons - Oleg and Mstislav. The younger daughter Elena is a pianist and General Director of the International Music Festival in Evian (France). She married the Italian publisher Stefano Tartini. They have four children - Ivan, Sergey, Anastasia and Alexander.

The entire family has been to Baku to visit the city and see Slava's home, which now has been converted into a monument to his memory.

In 1991, the couple established a charitable fund known as the Vishnevskaya-Rostropovich Fund. Its original goal was to provide health immunization for children in Russia. In 2002, a branch of the foundation was opened in Baku.

The nationwide children's vaccination program was carried out between June 2003 and May 2004, to protect Azerbaijani children against measles, mumps, and rubella (MMR) - 750,000 children.
________________________________________________________________________________

This article was based on discussions in the book: "Mstislav Rostropovich and Galina Vishnevskaya:Russia, Music and Liberty. Conversations with Claude Samuel. Translated by E. Thomas Glosow. Amadeus Press: Portland, Oregon, 1995. Available on the Internet. Highly recommended.
Aytan Aliyeva also contributed to this article.



Back to Index AI 13.2 (Summer 2005)
AI Home | Search | Magazine Choice | Topics | AI Store | Contact us

Other Web sites created by Azerbaijan International
AZgallery.org | AZERI.org | HAJIBEYOV.com