Summer 2005 (13.2)
Page 21

Haji Khanmammadov
Composed the First Concerto for Tar and Symphony
by Matt O'Brien

Haji Khanmammadov (pronounced ha-JI khan-mam-MA-dov) was born in Darband (now part of the Republic of Daghestan in Russia) on June 15, 1918. He died on April 7, 2005, in Baku. He is best known for writing the first concertos for both Tar and Kamancha, Azerbaijani traditional stringed instruments. All in all, Khanmammadov wrote five Tar Concertos with symphonic orchestra (1952, 1955, 1973, 1983, 1993), a concerto for kamancha (1991), and one for harp (1978).

Khanmammadov began studying tar at age 10. In 1932, the boy's life was turned upside down when his father and uncle were arrested by Stalin and exiled to Siberia simply because they owned land. They never returned.

On the advice of neighbors, Haji, then 14, was put on a train to Baku by his mother who was struggling to take care of six children. She instructed him to find Uzeyir Hajibeyov (1885-1948) whose reputation in music and personal generosity had obviously spread beyond Azerbaijan.

Indeed, Hajibeyov did provide lodging for the boy and, after being convinced of his musical abilities, the Baku composer enrolled him in the Asaf Zeynalli Music College where he took tar classes with Said Rustamov. Khanmammadov would go on to develop into a fine tarist. He performed at the First Decade of Azerbaijan Art in Moscow in 1938 when Hajibeyov's opera "Koroghlu" and music comedy "Arshin Mal Alan" were part of the repertoire.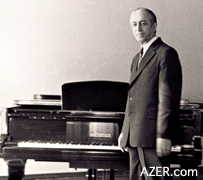 Left: Azerbaijani tar player and composer Haji Khanmammadov, who was famous for having written the first concertos for tar and kamancha, two traditional stringed instruments. February 1976. All Photos of Khanmammadov: Courtesy of Haji Khanmammadov's Family.
In 1947, Khanmammadov entered the Azerbaijan State Conservatory to study folk music with Hajibeyov and composition with Gara Garayev. He graduated in 1952. It was Garayev, whom Khanmammadov considered to be a genius, who challenged him to write a concerto for tar and symphonic orchestra for his graduation piece.

Khanmammadov also wrote two successful musical comedies: "One Minute" (1961) about the life of oil workers (lyrics by Maharram Alizade in Azeri), and "All Husbands Are Good" (1971, lyrics by Aleksandr Khaldeev). He also composed about 150 vocal songs, many of which were written specifically for the plaintive voice of Shovkat Alakbarova (1922-1993).

In addition to his work as a composer, Khanmammadov was involved in administration as Director of the Azerbaijan Music Comedy Theatre (1944-1948), Artistic Director of the Azerbaijan State Song and Dance Ensemble (1952-1954), and Director of the Azerbaijan State Philharmonic (1966-1968).





Above: Haji Khanmammadov was sent to Tabriz, Iran, in 1946 for nine months to create a philarmonic orchestra. This was part of the plan to exchange culture as Stalin's support of Pishavari government. However, when Stalin, lured by a deal to explore Iran's oil, withdrew his support, Pishavari's government collapsed. Haji nearly lost his life trying to return to Azerbaijan. Tens of thousands of people were killed by Iranian troops. Photo: Tabriz, 1946, at the "Gulustan Baghi". Haji Khanmammadov, center.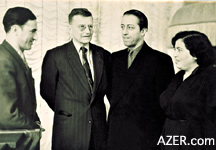 Left: Composers Rauf Hajiyev, Dmitri Shostakovich, Haji Khanmammadov and Aghabaji Rezayeva, March 1956 in Baku.
At the end of the war in 1945, the Soviet Government, eager to support the autonomous movement of Azerbaijanis in Iran, attempted to carry out various projects in Tabriz, Iran. Among various cultural endeavours, Khanmammadov was sent there to establish a Philharmonic Orchestra. Within nine months, he succeeded in opening the Philharmony.
However, this political experiment was short-lived. Stalin, lured by the promise for exploration rights for Iran's northern oil, was persuaded by Iranian Prime Minister Gavam to withdraw his support for Pishavari's autonomous government [Azerbaijan National Government, Azarbaycan milli hukumati], causing it to collapse overnight. The Iranian army moved in and an estimated 20,000 people were massacred. Thousands fled across the border into Soviet Azerbaijan. Khanmammadov barely escaped with his life.

With Stalin's troops out of the way, the Iranian Parliament refused to ratify the handshake with Stalin, and the deal fell through. The end result for Iran was that the Soviet military had successfully been kicked out of the region.

Below: Uzeyir Hajibeyov (center) 1878-1948, befriended Haji, when he arrived in Baku as a 14-year-old boy from Daghestan, fleeing from Stalin's regime which had arrested and sent his father and other relatives to Siberia. Sitting from left to right: Jahangir Jahangirov, Uzeyir Hajibeyov and Ashraf Abbasov. Standing from left to right: Adil Geray, Hokuma Najafova, Aghabaji Rezayeva, Haji Khanmammadov, Adila Huseinzade, Shafiga Akhundova, Eyyub Sheikhzamanov and Aghakarim Aliyev. Late 1940s.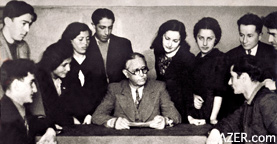 Khanmammadov returned to school and to building a career in music. His contribution to Azerbaijan's music was acknowledged on the State level with the following awards: Honored Art Worker of Azerbaijan Republic (1967), People's Artist of Azerbaijan (1988), Professor of the Azerbaijan State Conservatory (1993), Order of Honor (1998), and the coveted Presidential monthly stipend, beginning in 2001. Khanmammadov is survived by his wife Asya khanim and two sons, Anvar, and Nadir, who resides in Canada.
________


Matt O'Brien is the compiler of the "Dictionary of Azerbaijani Composers", a work in progress which, when published, will be the first comprehensive introduction of Azerbaijani composers in English available to researchers and Azerbaijani music lovers internationally. Contact Matt: ai@artnet.net. Betty Blair and Ulviyya Mammadova also contributed to this article.

Read more about Haji Khanmammadov in Azerbaijan International: "Famous People: Then and Now: Composer Haji Khanmammadov." AI 7.4 (Winter 1999). Search at AZER.com.


From Azerbaijan International (13.2) Summer 2005.
© Azerbaijan International 2005. All rights reserved.
Back to Index AI 13.2 (Summer 2005)

AI Home | Search | Magazine Choice | Topics | AI Store | Contact us

Other Web sites created by Azerbaijan International
AZgallery.org | AZERI.org | HAJIBEYOV.com