Autumn 2001 (9.3)
Page 58
Arshin Mal Alan
(The Cloth Peddler)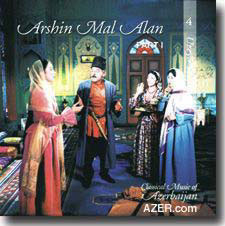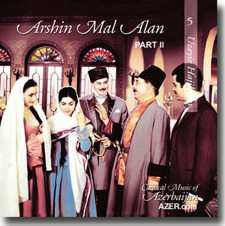 Purchase Hajibeyov CDs at AI Store
The music in Uzeyir Hajibeyov's comedy "Arshin Mal Alan" [1913] has been described as the most optimistic music of pre-Revolutionary Azerbaijan [prior to 1920]. No work expresses more hopefulness and optimism for the future than this one.

Stalin understood this optimism. At the height of World War II, when the Soviet Union was suffering immense casualties, he organized for this musical comedy to be made into a film. The movie was released in 1945. The following year, it was awarded the Stalin Award. This honor was also bestowed upon the composer, the producer, the musical editor and the conductor, Niyazi, Hajibeyov's nephew. Niyazi refused the medal, insisting that it was the composer of the score and libretto - Hajibeyov - who alone deserved the award. However, Hajibeyov is said to have passed the money on to Niyazi, who had been involved in adapting the original score for film.

In "Arshin Mal Alan", Hajibeyov continues to develop his favorite theme of freedom and choice for young people in choosing their marriage partners. It was the same thread that defined his first opera, "Leyli and Majnun" (1908), and reappeared in the two musical comedies that preceded this one: "Husband and Wife" (1910), and "O Olmasin, Bu Olsun" (1911).

At the turn of the 20th century, it was customary for Azerbaijani families to choose spouses for their sons and daughters. Many parents guarded their daughters so well that young men never even had a chance to get a glance at them, much less get to know them. But Hajibeyov felt that for such an important, life-determining step, young people themselves ought to take part in the decision-making process. He believed such choices should not simply be made on the basis of social status, wealth, class or beauty.

The story of "Arshin Mal Alan" is based on the dilemma of a young wealthy businessman, Asgar, who feels he has everything in life except the ability to choose his own bride. Everything is ideal except for this one thing.

But Asgar is determined to choose his own bride and not let others make the decision for him, as was the custom. "Look, I'm a merchant," he would say, "don't I always examine goods carefully before purchasing? Then why should it be any different when it comes to choosing the woman I'm going to spend the rest of my life with?" But despite his intelligence, wealth and social status, he is never able to figure out how to counter the strong practices and traditions prevalent in the society.

Enter Suleyman, Asgar's friend. "The only man who ever gets a chance to see any women is the peddler who sells cloth. So why don't you take a yardstick ("arshin") and some samples of cloth ("mal") and roam through the alleys selling your goods? That way, you'll be invited into the courtyards and homes, and you'll get the chance to discover the girl of your dreams."

So Asgar disguises himself as a poor peddler and begins wandering the streets and lanes selling material goods. All day long he calls out, "Arshin mal alan!" (Buy measured goods!) As the days pass, Asgar sees many women, but he can never find one who captures his imagination or his heart.

As luck would have it, Asgar is not the only one who wants to meet the love of his life. Gulchohra, the daughter of Sultan bey ("bey" is a status indicating wealth), has the same dream. And so it happens that one day, while passing Sultan bey's house, Asgar is invited in to display his array of materials. And that's when it happens. The moment he set eyes on Gulchohra, he realizes that she is the woman he has been looking for. It is love at first sight for both of them.

Soon afterwards, Asgar sends his aunt (as was the custom) to ask Sultan bey if he can marry his daughter. Now his aunt, it turns out, is a widow and Sultan bey just happens to be a widower in search of a wife himself. When Sultan bey meets Asgar's aunt in the courtyard, it doesn't take him long to propose. The cloth peddler, who has not yet made his identity known, sees his chance to strike a deal with Sultan bey. "I'll give you permission to marry my aunt if you, in turn, allow me to marry your daughter."

Sultan bey becomes enraged. "What?! You scum, you scoundrel! Never, ever would I allow my daughter to become the wife of a poor peddler! Get out of here!" So Asgar leaves, once again perplexed.

Suleyman again tries to come to Asgar's rescue. This time he proposes to go to Sultan bey, whom he knows personally, and suggest that Gulchohra be married to Asgar, whom he would describe as the merchant that he really is, not the poor peddler in disguise. Asgar agrees.

Sultan bey is easily persuaded by Suleyman's proposal. "Why not?" he reasons. "Asgar is young. He's rich. And he's one of the most respected men in the city." And so it is settled. Except for one thing. Gulchohra has already made up her mind that she wants to marry the peddler, and that she will have nothing to do with any rich merchant.

And so Asgar resorts to the practice of the day of kidnapping his potential bride. Gulchohra, still not aware of the situation, is broken-hearted and starts to contemplate suicide until she recognizes Asgar's voice as being the same as the cloth peddler's that she has fallen in love with.

The final scene is a wedding, celebrating not only the marriage of Asgar and Gulchohra, but that of three other couples as well: Sultan bey and Asgar's aunt, Suleyman and Gulchohra's cousin Asya, and the servants of both Asgar and Gulchohra.

Despite the buoyant optimism and enthusiasm found in "Arshin Mal Alan", it was to be Hajibeyov's last major musical composition before the world collapsed around him and the Bolsheviks took Baku (1920). Nearly 25 years would pass before Hajibeyov would again produce a major piece worthy of his genius - "Koroghlu" (1937). Sound samples at AZER.com, AI Store.
____
From Azerbaijan International (9.3) Autumn 2001.
© Azerbaijan International 2001. All rights reserved.
Back to Index AI 9.3 (Autumn 2001)
AI Home | Magazine Choice | Topics | Store | Contact us
Other Web sites created by Azerbaijan International
AZgallery.org | AZERI.org | HAJIBEYOV.com