Spring 2003 (11.1)
Page 55

Dmitry Shostakovich
(1906-1975)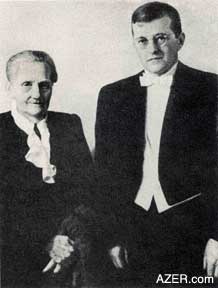 Left: Dmitry Shostakovich with his mother Sophia in 1995. She taught him piano.

Dmitry Shostakovich is recognized as one of the foremost Russian composers of the 20th century. He began piano lessons with his mother at the age of 9. He submitted his first symphony for graduation at the Petrograd Conservatory when he was 18; today this symphony is still revered as one of his best-known and most popular works.

Shostakovich created a prodigious body of work, particularly in instrumental music. He wrote 147 opus works, including 15 symphonies, 6 concertos (orchestra with piano, violin, cello and trumpet), 35 chamber music pieces, 23 piano works plus 37 preludes, more than 80 songs, 4 operas, 2 operetta, 14 choral works, 8 ballets, 11 pieces of incidental music, 35 film scores and more than 20 miscellaneous orchestral works.

During his lifetime, he was awarded the Soviet Union's top honors, including the Order of Lenin (1949, 1956, 1966), People's Artist of the USSR (1954), Hero of Socialist Labor (1966) and Order of the October Revolution (1971).

His international awards include Honorary Membership in the American Institute of Arts (1943), Honorary Doctor of Oxford University (1958), Laureate of the International Sibelius Prize (1958) and Doctor of Fine Arts from Northwestern University (1973).

Shostakovich was permitted to visit the United States only twice: in 1949 as a delegate to the World Peace Conference and in 1959 as a member of a group of Soviet musicians.

Back to Index AI 11.1 (Spring 2003)
AI Home | Search | Magazine Choice | Topics | AI Store | Contact us

Other Web sites created by Azerbaijan International
AZgallery.org | AZERI.org | HAJIBEYOV.com