Spring 2005 (13.1)
Pages 22-23

World of Shapes and Colors
Introducing Children to Art
by Irada Aliyeva





I have a confession to make - I love museums. I credit my mom with this fascination of mine. She was the one who introduced me to the musty smells of wonderful places that hold beautiful and unusual things. When I was very young, my mom used to take me to various museums, whether in my hometown or any place we happened to visit.

Unfortunately, up until now, it's been hard for me to find anybody who shares my secret passion. A lot of my friends here in the States are either too busy or too tired, or they tell me they have much more important things to do than visit museums. Some of them even think it's plain silly to spend their precious free time in dark halls filled with a bunch of old paintings.

But it all changed a couple of years ago - now I have a wonderful, curious companion who doesn't have any excuses and is happy to oblige! Who is she? My little companion daughter, Jasmine, aged 2.

We live in the suburbs of Dallas where there's Dallas Museum of Art and Trammel Crow Asian Art Collection. Our favorite haunt is the amazing outdoors Nasher Sculpture Center because there Jasmine can roam freely amidst the great masterpieces of modern sculpture and not have to worry about knocking things over.

Incidentally, I've discovered that we share the same aesthetic preferences. For instance, the chubby little cherubs of the "old masters" command only fleeting attention from her - short enough just to point and giggle at "fat babies". But she really enjoys Chagal's deliciously vibrant colors, Picasso's crazy shapes and Matisse's gentle curves.

| | |
| --- | --- |
| | |

Above: 1."Hide and Seek" (Children's Play) by artist UjalHagverdiyev, oil on canvas, 1998. 2."Lady With Guitar" by artist Ujal Hagverdiyev, 1998.

On our recent outing to the latest exhibition at the Fort Worth's Kimbell Art Museum, she spent several moments admiring "Girl with a Mask" by Diego Riviera. When I asked her what she liked best about it, she replied unbashedly: Pink Dress. You've got to love such an unpretentious critic!

People in Baku sometimes don't even realize how fortunate they are to be living in a city blessed by the presence of remarkable museums and art galleries.

So often I find myself wishing that I could take my daughter inside some of these beautiful buildings filled with fabulous treasures. I wish I could take her to see the charming 19th century building of the Azerbaijan State Museum of Art, which used to be the luxurious residence of the business manager of Rothschild oil company (later Shell). The museum is divided into parts - European and Azerbaijani. I myself love the eccentric and wild Vassiliy Kandinsky.

The Azerbaijani part of the museum exhibits works of Toghrul Narimanbeyov, Tahir Salahov and Sattar Bahlulzade - to name just a few.

In time, I'll show Jasmine the works of the talented carpet weavers in the Museum of Carpet Makers, now housed in the building, which once was known as the Lenin Museum. That edifice once housed one of the most boring mammoths of Soviet propaganda, but now boasts of gorgeous colored rugs, carpets, national jewelry and clothing.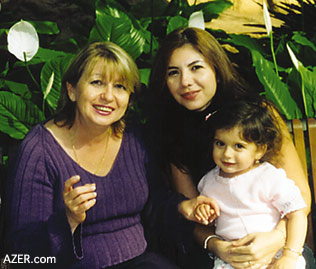 Left: The author with her mom and daughter Yasmine - all art lovers.

Together, we'll marvel at the stunning collections in our History Museum, the former private mansion of Oil Baron Haji Zeynalabdin Taghiyev, whose name will be forever remembered for his generosity and patriotism. Perhaps Jasmine will be interested in the amazing story of Taghiyev, son of a modest cobbler, who lucked into a fountain of immense wealth, who even gained entrance to the Czar, but who ended his days in poverty when the Bolsheviks took over Baku (1920). Taghiyev's legacy can be seen everywhere in Baku. He built the first Drama Theater and the first Muslim School for Girls. We still get water via an aquaduct pipeline that he helped to organize from the Caucasus mountains more than 100 miles away, and we still shop in the first covered mall ("The Passage") that he built!

The second floor of the History Museum is dedicated to Taghiyev himself; with two major reception halls - an Oriental Hall with arches gilted with gold. There's an Occidental Hall as well, designed more geometrically on squares and right angles, not circles and arches. But today these chambers still bear witness to the grandeur and ambiance of days long gone.

When Jasmine grows older, we'll explore those wonderful "Home Museums", former homes of famous Azerbaijani writers, artists and musicians such as lyrical poet Samad Vurghun, renowned conductor Niyazi, legendary composer Uzeyir Hajibeyov, jazz pianist Vagif Mustafazade and many others. These places, which provide a glimpse into the private lives of these men of genius, always intrigued me as a child. I used to be in awe of what important work had been created at this table by the light of that lamp!

Fortunately, there are resources available for anyone interested in Azerbaijani culture - even thousands of miles away from the source. One of them is my favorite - AZgallery.org. Just the other day I plopped Jasmine down on my lap and together we enjoyed beautiful paintings offered on this website. There's more than 3,000 works of art by nearly 165 Azerbaijani artists featured there.

Jasmine loves the energetic colors of Yavar Sultanov's paintings. She likes to point to familiar objects in his works and name them - black teapot, red pear, yellow bowl. She loves to look at the girls and the imaginative ornate costumes by Ujal Hagverdiyev (1960-2004).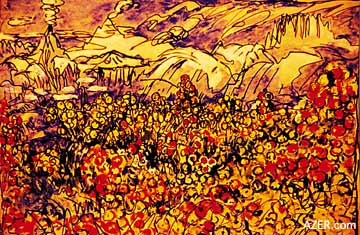 Left: Work by Sattar Bahlulzade.

But so far, her favorite artist is Sattar Bahlulzade (1909-1974). Maybe it's because his masterpieces are bubbling with energy and his colors are most luscious. Sattar's genius refused to conform to the rigid format of Socialist Realism. Instead, he painted in a wonderful style that inspired and still continues to inspire many Azerbaijani gifted painters of what came to be known as the Absheron School.

Like so many of the truly gifted artists, Sattar did not live an easy life, but his intensity and passion for life shines through each of his paintings, making them pulsate with unbelievable energy. When I look at his landscapes, I breathe in the crystal clear air of the mountains or intoxicating, heady fragrance of flowers. His landscapes are filled with an almost primal yearning for beauty that can only be found in nature.

So dear mommies and daddies, if you find yourself and your little one stuck in the rut of a tedious afternoon, why not grab your precious darlings and take them to a museum? Or venture off for a stroll through AZgallery.org. You'll be surprised how much even the tiniest tykes can appreciate the world of beauty! It's also a great way for them to learn shapes, colors and different objects. So go ahead, visit a museum and have some fun! You can thank me later!

Back to Index AI 13.1 (Spring 2005)
AI Home | Search | Magazine Choice | Topics | AI Store | Contact us

Other Web sites created by Azerbaijan International
AZgallery.org | AZERI.org | HAJIBEYOV.com