Summer 1999 (7.2)
Pages 41-44

Sattar Bahlulzade
(1909-1974)

The Vibrant Pulse of Nature

by Ziyadkhan Aliyev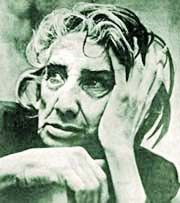 Visit AZgallery.org for more works of Sattar Bahlulzade

Sattar Bahlulzade (pronounced sat-TAHR bah-lul-ZAH-deh) was known for his unpredictability, but no one anticipated such a volatile reaction to criticism. The occasion was the opening of a new exhibition at the Baku Art Museum. Sattar had submitted one of his paintings-a view of the sea-but the work had been rejected. One of the organizing committee members told him that he had "misinterpreted" nature and that his painting needed more work.

"You people paint landscapes without even leaving your studios," Sattar shot back. "You just copy from postcards and photographs. I don't think you even know what nature looks like!" Suddenly, he kicked his painting, damaging it, and stomped off.

This confrontation, which happened in the 1950s, illustrates Sattar's passion to create art on his own terms. As one of the first Azerbaijani artists to break away from the government-mandated style of Social Realism, he is known for developing his own unique style of painting landscapes. Though he passed away 25 years ago, his 90th Jubilee will be celebrated this year in Baku.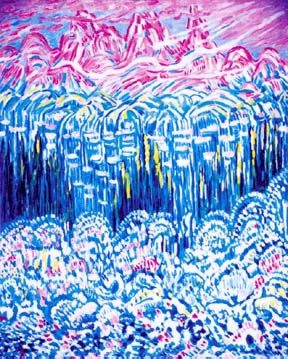 Sattar began his professional education at the National Art Institute in Baku (1927-1931). Then he worked with Azim Azimzade at the newspaper called "Communist" for the following two years. In 1933, acting on Azimzade's advice, he went to Moscow to continue his education in the Drawing Department at the Moscow Fine Arts Institute. There he studied in the studio of V.A. Favorsky. During the summer workshops in Crimea, Russian painter Marc Chagall saw some of Sattar's sketches and suggested that he transfer to the Institute's Painting Department. So he did.

Sattar Bahlulzade, "Outside the Village of Laza". Courtesy: Private Collection of Paola Parviz.

In 1940, Sattar worked on "Babak's Revolt" as his final project. (Babak refers to the 7th-century figure who is considered a great hero in the region because he led a resistance against the Arabic invasion. Eventually he was captured and executed.) Even though Sattar exhibited this work, he didn't have a chance to defend his diploma because World War II broke out in 1941 and he had to remain in Baku. After the war was over, he received several invitations from Moscow to return to defend his diploma, but he never did. "Does an artist need a diploma to prove his worth?" he asked.

Back to Nature
Most of Sattar's life and creative activity were spent in Amirjan, a village about half an hour's drive east of Baku near the sea. Like the character of Majnun in the Eastern legend of "Leyli and Majnun," Sattar spent most of his time outdoors in nature, rarely going into the city or seeing his friends and family. Majnun wandered throughout nature because he was lovesick; Sattar was trying to grasp nature's beauty and capture it on canvas. He never married and didn't have much of a personal life, but those who close to him got used to his eccentricities.

Though he experimented in various genres of art, his unique talent was landscape painting. At first, he used to paint nature realistically as he had been taught. But soon he developed his own style to express the emotional feeling it invoked in him. This new style was more surreal and cosmic-in fact, some of his paintings are reminiscent of photos of the earth taken from space. Using a combination of pastel colors and bold strokes, he made nature look more colorful and lively, and sometimes even more fantastic, than it did in reality.

A New Style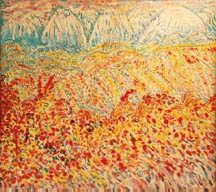 Sattar's ability to closely observe things enabled him to create subtle, sophisticated renderings of nature. He would gain delight from the bits of beauty that were expressed in stones, trees and flowers-a scene that might seem quite ordinary to other people. He would then transfer his delight onto canvas so that others could enjoy it as well.

One such experience gave birth to his painting "The Tears of Kapaz." In 1962, Sattar was traveling with his artist friends Tahir Salahov and Togrul Narimanbeyov. They stopped in Ganja to see Goygol and Kapaz. (Kapaz is a nearby mountain. In the 12th century, a strong earthquake in the region created a cascade of lakes, including Goygol and Maralgol.)


Sattar Bahlulzade, "The Shamakhi Vineyards". Courtesy: Private Collection of Paola Parviz.

Kapaz was very misty the day that they happened to be there and Sattar was quite impatient to see the sun rise behind the mountain. The following morning, he witnessed the sun rising while the moon was still shining down from the other side of the mountain. The scene impressed him so much that after they returned to Baku, he tried to recreate his emotions by painting the scene.

Another work, "The Wish of the Land," was inspired by a visit to Lake Jeyranbatan that same year. This lake supplied Baku with fresh water. Rumors were spreading that the lake was drying up, so Sattar decided to go there and have a look for himself. While walking around, he noticed a tiny flower growing out of the dry parched land. He sensed how much the flower was longing for that deserted land to become a flowery meadow. Back in his studio, he painted "The Wish of the Land." The work seems to say, "Where there is water, there must be beauty."

As the founder of contemporary Azerbaijani landscape painting, Sattar loved to travel around the country exploring its beauty. Once he remarked, "I don't need to go to Tahiti like Gauguin. Others don't need to either. My inspiration comes from my own country and people."

Many of his works depict specific areas of Azerbaijan. For instance, "Bazarduzu Outskirts" features Bazarduzu, the highest point of the Grand Caucasus Mountains. Other examples include "Old Shamakhi" and "Autumn in Nakhchivan." Each one tries to show the tension that exists between humanity and nature. But of all Azerbaijan, Sattar loved his native village Amirjan the most and had no desire to leave it. When he was allocated a two-room apartment in the "House of Painters" in Baku, he gave the apartment to his friend Tahir Salahov.

A Singular Character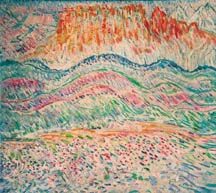 Sattar was known for having several unique traits; one of them was his very long hair. It is said that he cut it only twice during his lifetime. The second time was in 1973, during a serious illness. The first time took place when Azerbaijani sculptor Fuad Abdurrahmanov decided to make a statue of Sattar. The artist suspected that Fuad was more infatuated with his long hair than with his personality, so he showed up in Fuad's studio having cut off his hair. Needless to say, Fuad was quite surprised. Today the white marble statue commemorating Sattar depicts him with short hair. The statue is on display at the National Art Museum.

Sattar Bahlulzade. Courtesy: Private Collection of Paola Parviz.

Sattar was also known for his generosity. He often gave his paintings away to people who admired them. Foreigners who came to Azerbaijan who were interested in art would usually visit Sattar's studio. (Though the officials disliked this, they couldn't go against the guests' wishes.) Once an Italian wanted to buy one of his works. Sattar decided to give the work to him instead. The Italian hesitated, "I can't accept such a valuable work without giving anything in return." Sattar answered, "I never give cheap presents." That put an end to the discussion.

An exhibition of Sattar's works was held at the Prague National Gallery in 1964. After the exhibition, five of the works were selected for inclusion in the museum's permanent collection. Sattar refused to accept an honorarium for the works, offering them as presents to the Gallery. These stories of his generosity correspond to his simple lifestyle. He was known for not caring about material things like money, clothes or anything but the cheapest of cigarettes.

State Prize Refused
Sattar won many prizes for his art. He received the title of Honored Art Worker of the Republic in 1960 and was named People's Artist in 1963. When he won the State Prize in 1972, however, he refused to accept it. When the prize money arrived at his home in Amirjan, he sent it back.

He was upset because his efforts to meet with the Secretary of the Communist Party in Azerbaijan, Heydar Aliyev, had been unsuccessful. Sattar had wanted to tell him about the general problems of artists in Azerbaijan. Only when he threatened to move to Georgia did his friend Tahir Salahov manage to set up the desired meeting. (It would have been considered a scandal if an artist of Sattar's stature had left Azerbaijan.)

When Tahir and Sattar arrived at the meeting, the Secretary for Cultural Affairs was there as well. He extended his hand to Sattar, who coldly refused it-a gesture of extraordinary disdain at the time. (The Secretary had been the one who prevented Sattar from being able to meet with Aliyev.) After a productive meeting with Aliyev, Sattar agreed to accept the State Prize money and again exhibit his works in Azerbaijan.

Speaking Up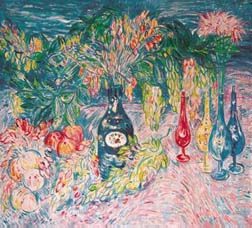 In the 1970s, an important exhibition, "The Achievements of Soviet Azerbaijan," was to be held in Baku. One of the Full Members of the Politburo Fyodr Kulakov was to come from Moscow to attend the event. Well-known Azerbaijani artists were commissioned to decorate the hall.

The government was supposed to supply the artists with materials to make the banners and coats of arms. Instead of natural silk, the artists were given artificial silk. It was impossible to paint because the colors wouldn't soak into the material. So the decorations looked awful.

The day before the opening ceremony, the government officials arrived at the exhibition to give their official approval. Seeing the inferior quality of the decorations, they started blaming the artists, who remained silent for fear of losing their government commissions.

Sattar Bahlulzade, "Still Life". Courtesy: Private Collection of Paolo Parviz.

Sattar was there among the artists even though he had not been invited to participate. He burst into anger and accused them for keeping silent. He told them that Stalin had killed Husein Javid [an outstanding poet], but Javid was not dead-he still lived in his poems. Sattar knew that even though the people in power still carried out Stalin's aims, they didn't have the power to kill like Stalin had had. Sattar urged the artists to stand up and explain what the real problem was.

Illness and Death
In 1973, Sattar fell extremely ill with a case of blood poisoning. Even though he received treatment at a hospital in Sabunchu [a district in Baku], he didn't recover. The head doctor of the hospital said that the only other option was for him to be treated in Moscow. But the officials didn't want to cover the financial expenses of such a trip, so Sattar's friends made arrangements to organize the trip for him. Gulmurad, who ran a local teahouse, took him to Moscow where he underwent the operation successfully.

When Sattar passed away in 1974, he was not buried in the Avenue of the Honored Ones as might have been expected. Instead, according to his will, he was laid to rest in his native village of Amirjan, next to his mother's grave. The monument on his grave-a statue of Sattar standing and holding two empty picture frames-was made by Omar Eldarov. Today, a bronze bust of Sattar stands in front of the Amirjan Cultural House and a street in Baku takes his name as well.

Sattar's legacy includes countless works that have been exhibited all over the world, including personal exhibitions in the U.S., England, Turkey and Russia. He also created around 30 sketch diaries that contain his reflections on life and art.
To find out more about Sattar Bahlulzade's works, contact Sattar's nephew Rafael Abdinov in Amirjan at Tel: (99-412) 20-08-73.


From Azerbaijan International (7.2) Summer1999.
© Azerbaijan International 1999. All rights reserved.
Back to Index AI 7.2 (Summer 99)
AI Home | Magazine Choice | Topics | Store | Contact us