Autumn 2000 (8.3)
Page 12
Newsmakers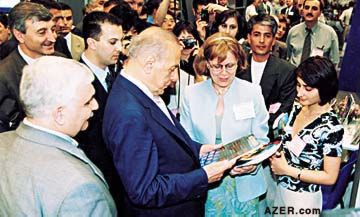 Photo: Editor Betty Blair and Azerbaijan International's staff presenting President Aliyev with the Alphabet Issue (AI 8.1). Blair was invited by Parliament's Speaker, Murtuz Alasgarov, to address Parliament in June regarding issues of computer standardization.
Sabina and Her Violin
Blair Pushes for Standardization
Googoosh Returns

Abulfaz Elchibey

From Azerbaijan International (8.3) Autumn 2000.
© Azerbaijan International 2000. All rights reserved.
Back to Index AI 8.3 (Autumn 2000)
AI Home | Magazine Choice | Topics | Store | Contact us