Autumn 2000 (8.3)
Page 13
Newsmakers
Googoosh Returns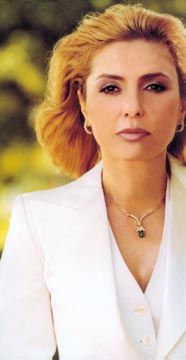 Googoosh, 49, pop diva of Azerbaijani descent from Iran,


began a $3-million concert tour in North America this past July, performing in Montreal, New York, Washington, D.C., Chicago, San Francisco and Los Angeles. Her reappearance on the stage marks a renaissance in her career, as she has not performed in public for 21 years.

Googoosh's real name is Faegheh Atashin. In the 1960s and 70s, she was as popular in Iran as Elvis or the Beatles were in other parts of the world. When the Islamic Revolution took place in Iran in 1979, women were no longer allowed to perform in public. Contrary to what many expected, Googoosh did not leave Tehran like many other performers who left for Los Angeles, but rather she stayed and sacrificed her musical career. But her fans did not forget her. This summer, Iranian officials granted her a visa to travel abroad, and her comeback has been phenomenal.

"Googoosh's popularity cuts across the generations," wrote the Chicago Tribune in one of many glowing reviews by national newspapers. As evidence of her popularity, her concerts have attracted a surprising number of fans. She filled the 18,000-seat Forum in Los Angeles this past August, when many thousands of fans paid hundreds of dollars each for tickets to her concert that was completely sold out.

Much of her popularity stems from the nostalgia that
emigres from Iran feel about living abroad, and the remorse they feel in being separated from their homeland following the political changes that have occurred there in the past 20 years.

Googoosh embodies these strong emotional ties, since she was such a popular entertainer at the time many of them left.Googoosh's father is an Azerbaijani from Sarab, South Azerbaijan [in Iran], a town located between Tabriz and Ardabil. From the age of three, Googoosh accompanied her father onstage and soon became known as a child singer.

Azerbaijanis especially appreciate Googoosh's public performances of the song "Ayrilig" (Separation), the lyrics of which are in Azeri and have come to symbolize the separation between Northern Azerbaijan (Republic of Azerbaijan) and Southern Azerbaijan (in Iran). An estimated 8 million Azerbaijanis live in the Republic, while approximately 25 to 30 million live in Iran.
In a recent interview on BBC, Googoosh spoke in Azeri and promised to perform in Baku and in Central Asia.

Polad Bulbul-oghlu, Minister of Culture of Azerbaijan Republic, also a well-known pop singer, told Azerbaijan International's publisher, Pirouz Khanlou: "Googoosh would be more than welcome to come to Baku, and we will gladly facilitate the necessary concert arrangements." Googoosh is dearly loved in Azerbaijan, too.

Along with the re-release of popular hits from the 1970s, Googoosh has recorded a new album called "Zartosht" (Zoroaster).

More: About "Ayrilig" and composer Ali Salimi, including lyrics and notes, see Winter 1994 (AI 2.4). SEARCH at AZER.com. Also visit: GOOGOOSH.com

From Azerbaijan International (8.3) Autumn 2000.
© Azerbaijan International 2000. All rights reserved.
Back to Newsmakers
Back to Index AI 8.3 (Autumn 2000)
AI Home | Magazine Choice | Topics | Store | Contact us