Karabakh Conflict
Section 907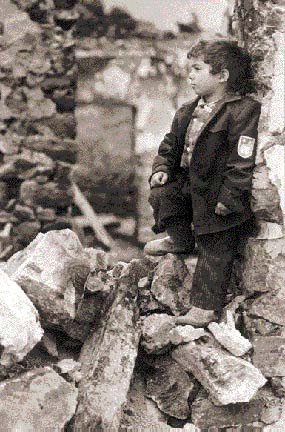 Earmarks and Exclusions: U.S Aid to Azerbaijan - Ambassador William Taylor
U.S. Ban on Aid to Azerbaijan (Section 907) - Ambassador John J. Maresca

U.S.-Shooting Itself in the Foot: Section 907 of Freedom Support Act - Ambassador Stephen Sestanovich

Hands Tied: Denying Aid to Baku - Section 907 - Ambassador Stanley Escudero

Loss of Faith - Greatest Casualty - Hafiz Pashayev, Azerbaijan's Ambassador to the U.S.
Who Governs America? - Husein Baghirov, Azerbaijan Minister of Trade

Lose, Lose, Lose - Stanley Escudero, U.S. Ambassador to Azerbaijan (1997-Sept. 2000)

907 Incites Terrorism - Irshad Aliyev, Azerbaijan Minister of Agriculture

Effects of U.S. Law: No Peace - Agshin Mehdiyev, Azerbaijan Ministry of Foreign Affairs




Photo: Refugee child in Azerbaijan who twice had to flee from his home being destroyed in Karabakh by Armenians. Photo: Oleg Litvin
________
Back to Karabakh Index
AI Home | Magazine Choice | Topics | Store | Contact us
From Azerbaijan International
© Azerbaijan International. All rights reserved.