Spring 2005 (13.1)
Pages 32-35

Arif Malikov, Composer
Symphonic Music Built Upon Legend and Imagination
by Arif Malikov with Musicologist Dr. Aida Huseinova

Arif Malikov (born 1933) is one of Azerbaijan's most prolific composers especially in the major orchestral genres. He has written eight symphonies, three ballets, ten symphonic poems and dozens of orchestral pieces. His most well-known work, the ballet "Legend of Love", is based upon the legend of "Farhad and Shirin", a story of unrequited love that was immortalized by Turkish poet Nazim Hikmet.




Success depends upon two things: First of all, innate talent, which is a gift from God. Secondly, success itself always demands an incredible amount of work. Throughout my whole life, I have never slept for more than four hours a day. Otherwise, how could I ever have compressed a 10-year school program into four years? Keep in mind that when I was 14 years old, I had no notation skills; but four years later, I was admitted to Baku's most prestigious and advanced music school - the Music Conservatory [now Music Academy].

Back in 1948-1951 when I was studying at Zeynalli Music College and even during my first year at the Conservatory [1953-1958], I didn't have a piano at home. That meant I had to go to school and find a room in which to practice. That wasn't always easy to do.

At the time, there was an electric cable that somehow had been damaged at the Music College and so classes were cancelled for a month. You can't imagine how happy I was! I took my oil lamp, along with an extra bottle of oil, and spent all those days alone at the college. Nobody was there to distract me from music. You can't imagine how pleased I was that it took them such a long time for the repair.

Another place where I often practiced was at the Composers Union, which, at that time, was housed in the Philharmonic Hall. The guard was supposed to come to work at 5:00 p.m., but I had agreed to stay in the building during this time and study. That enabled him not to have to arrive until 2:00 a.m. I followed this schedule very strictly every day! Of course, I was young and would have loved to have spent my time taking girls to the movies or even just relaxing. But I gave my word and I never broke it! Nothing happens by chance, you know. Success never drops down from heaven.

Great Musicians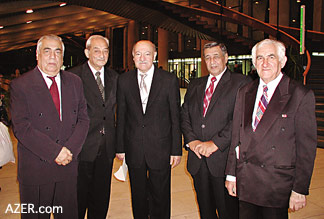 Left: Some of Azerbaijan's leading composers: Ramiz Mustafayev, Azer Rezayev, Vasif Adigozalov, Arif Malikov and Tofig Bakikhanov on the occasion of Ilham Aliyev's inauguration in Baku, October 2003.
The influence of some of my professors was enormous. I've been surrounded by so many legendary musicians and artists. I started by studying mugham [Azerbaijan's modal music] - on the tar [a traditional stringed instrument] under such outstanding masters like Mirza Mansur (1887-1967) and Ahmad Bakikhanov (1892-1973)

I'm immensely grateful to the great composer Gara Garayev (1918-1982), who was my mentor and my father. You know, so often, a teacher is like a second father. And I always feel such strong devotion to Dmitry Shostakovich (1906-1975), who always supported me. He called me his "music grandson" because my teacher Garayev had been his student.

Shostakovich was among the first to support my ballet, "Legend of Love" (1961). Imagine what that meant for me - a 28-year-old composer! When I wrote my Second Symphony (1970) I dedicated it to the memory of this 20th century musical giant. This work, in turn, brought me together with the outstanding conductor Gennady Rojdestvensky (born 1931) who was an extraordinary interpreter of the Second Symphony. Since 1972, Rojdestvensky has regularly performed my symphony at Shostakovich's Jubilees.

My ballet "Legend of Love" brought me together with the Turkish poet Nazim Hikmet (1902-1963) and the artistic elite of the world-renown Bolshoi Theater: legendary choreographer Yuri Grigorovich (born 1927), ballerina Maya Plisetskaya (born 1925), and artist Simon Virsaladze (1909-1989), my dear Suliko. I have worked with great conductors, such as Italian Bruno Maderna (1920-1973), and Russian Valery Gergiyev (born 1953), chief conductor and artistic director of the Mariinsky Theatre in St. Petersburg and the laureate of Karayan competition who recorded "Legend of Love".

These incredible giants: I can't believe that so many of them are gone now. No one can ever replace the likes of Shostakovich, Garayev, Hikmet, the great Turkish composer Adnan Saygun (1907-1991), or my dearly beloved Niyazi (1912-1984) [Azerbaijani conductor]. On the one hand, it was such a great fortune that we were brought together; but there's an enormous sense of loss that never leaves my heart now that they're gone.

Nazim Hikmet, Turkish poet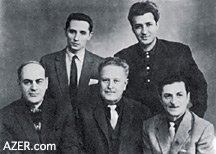 Left: First row (sitting): Suliko Virsaladze, Turkish poet Nazim Hikmet, Azerbaijani conductor Niyazi. Second row (standing) Yuri Grigorovich, Azerbaijani composer Arif Malikov. 1961.
Nazim and I were extremely close. He even used to call me, "Son". Let me explain why. When Nazim fled Turkey in 1951 for Moscow, his son had not yet been born. Nazim had been deprived of being able to see his family for many years, as they had not been allowed to leave Turkey.

That's why when he chanced upon me - a young man who spoke his language, and who, moreover, had written music based on one of his plays - he took me under his wing and embraced me with a very special fatherly love that overwhelmed me. Whenever he would present a gift to me, he would preface it with a dedication using the terms "son" and "heart", as in, "My son, may your heart be worthy of your music." Probably he was sensitive about such things because he had heart failure. I remember how he used to feel hurt if I didn't call him immediately when I arrived in Moscow. "You're not thinking of me as your father then," he would say with such pain.

I am enormously grateful to Nazim Hikmet. All my life has been entwined with "Legend of Love" which is based on his drama, "Farhad and Shirin". And I'm so pleased that I have contributed in making him and his poetry even better known throughout the world. For the past 44 years, so many people have become acquainted with him through my music. You know, when singers perform my romances based on his lyrics, for me, first of all, they are singing the poetry of Nazim Hikmet.

Can you imagine that Nazim Hikmet wrote his play "Farhad and Shirin" (1948) while he was confined in prison? This explains so much! You know, love is always intrinsically related to death. We're all familiar with the famous stories of unrequited love, such as "Leyli and Majnun" and "Romeo and Juliet". But there are lesser-known stories such as "Benoni" (1908) by Knut Hamsun (1859-1952), and "Jude, the Obscure" (1896) by Thomas Hardy (1840-1928).

But the essence of Legend goes far deeper than issues related to love and death. Farhad is never able to consummate his love with Shirin because he must cut a channel through the mountain rock for water to flow through. The water that Farhad brings to his people symbolizes freedom. So Legend is about freedom, as well.

I was so pleased that in 2002 on the occasion of Nazim Hikmet's 100th Jubilee, Legend was finally staged in Hikmet's favorite city - Istanbul. Yuri Grigorovich came from Paris to produce it with his wife, Natalya Bessmertnova (born 1941) [a famous Russian ballerina]. Sadly, Suliko Virsaladze, the extraordinary artist who had created three different stage designs of Legend, is no longer with us, but his students reproduced the concepts he had developed for the stage design and scenery.

As I watched this performance in Istanbul, it took me back to the 1960s when we had had a party at Hikmet's place in Moscow after one of the performances of Legend. Nazim was very happy. He talked and laughed and joked a lot that night. Then he invited me into his study and said: "I know the day will come when Legend will be performed in Istanbul. You will witness this day though I won't." It was one of his greatest dreams for Legend to be staged in Istanbul! And it happened in 2002.

Nazim was both a romantic and a realist. He belonged to the past and present as well as the future. He was a philosopher. His poetic world was a reflection of his life. This man had spent 18 years in prison, 13 of which were confined in a single cell. For 13 years, he was not even able to bathe. He would wipe his body with eau-de-Cologne, can you imagine? He kept doing that even after being released because he was scared of water!
He was a unique personality. Whenever he said something, everyone became silent because they always viewed what he said as being extremely important. The highest virtue and the thing he lived for most was his Motherland. I have never met anyone who loved his native land to such an extent. He could listen to Turkish music for hours.

Consider his poem "You".
You are my captivity,
You are my freedom,
You are my body
Hot as a naked night in July,
You are my Motherland!

These verses are about everything - women, love, the world, Motherland. For me, the most important thing about Hikmet's poetic works is that they always allow room for the reader's interpretation. Every phrase compels the reader to think.

You know, quite some time ago, I met an eight-year-old girl who had been awarded for a poem she wrote about Nazim. A very free translation of what she had written goes like this: "Uncle Nazim, please give me a handful of earth from your grave! I will sprinkle it upon my flowers, and they will blossom, and they will be red, and I will never pick them because to do so would mean to kill you".

I cried when I read these verses, and I cried when I met her. I asked if I could give her any present. And she replied, "Give me Nazim if you can."

When we performed Legend in Ankara, I found this girl and arranged for her to sit beside me. After the performance, she wrote verses dedicated to me. She addressed me the same way she had Nazim. I cannot remain unemotional when I think of what she wrote: "Uncle Arif, I asked you to give me Nazim. And you cried, and you did. Now I promise to be deserving of your tears."

It was Nazim Hikmet's dream that I finish the ballet "Josef, the Handsome", but I have not finished it yet. I had a contract with the Bolshoi Theatre to start work on this ballet immediately after Legend. But when I returned to Baku, I discovered that Gara Garayev had also planned to use this theme as the plot for one of his opera ballets.
So that same day, I broke off the agreement with the Bolshoi because I didn't want to hurt or intrude upon my teacher. Unfortunately, Garayev never completed his work. However, after Garayev passed away in 1982, I started thinking about this story again. I've done a lot on it already. But you know, there is a category of unlucky works, and Josef seemingly remains in this category so far.

I could talk about Nazim Hikmet for hours, if not days. He has been beside me throughout my entire life. My most recent work, the Eighth Symphony (2003) includes his poetry as well.

Creative Process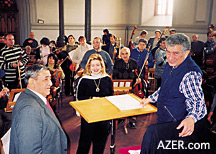 Left: Arif Malikov (left) with conductor Rauf Abdullayev.
What is the process like for me to compose music? Sometimes it's pure pleasure; other times, pure agony. Sometimes everything goes so smoothly that you feel nothing but happiness. But then there are times that you have a certain idea, and you struggle so hard to realize it. That's when you suffer. Sometimes ideas come spontaneously; other times, it takes a huge effort to give them birth.

In 2003 I was composing music for a cartoon movie. I had only three days to complete it! But I think my productivity and the quality of my work are even better when I suffer.

I've done significant work in the large music genres - symphonies and ballets. Actually, I don't distinguish between them. What I care about is their artistic quality. Still, it seems that I prefer large symphonic works. Consider the number of my ballets - just three - as compared to eight symphonies, ten symphonic poems and dozens of orchestral pieces.

Ballets are based on symphonic music as well. Or take scores written for movies. Before deciding to undertake such a project, I try to figure out if the concept is intellectually broad enough to support symphonic music. You know, for some movies it's possible to complete the music within a single week; others require six months or even more. I always prefer difficult films that inspire me to create sophisticated symphonic concepts. For instance, I wrote about six and half hours of symphonic music for the movie based on the poem Shahnameh by Ferdowsi, which was produced by Tajik filmmaker Boris Kimiyagarov (1920-1979).

Soviet Era
As a musician, I don't have any complaints about the Soviet epoch. Every year the Composers' Union organized huge assemblies and plenums, gathering the most creative minds from all over the Soviet Union. Young composers received the necessary support to participate in international music festivals, such as Warsaw Autumn or the Berlin Festival. These days we miss such opportunities. We had wonderful Houses of Creativity [centers which fostered creative work] in all parts of the country that facilitated opportunities for composers to work productively. How can we deny it?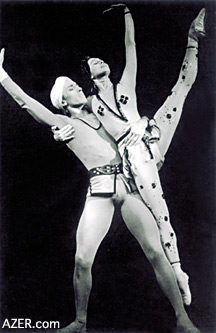 Left: Malikov's ballet "Legend of Love", with Boris Gordeyev and Nadejda Pavlova of the Bolshoi Ballet. The ballet was first performed in 1961.
I can't say that I've ever experienced censorship and governmental control over my music. Perhaps, it's because I have never written music related to politics. You can lie about the future, but not the past. You see the list of my works.

There's not a single piece that glorifies or praises communism. The only work that somehow had an official dedication was my Fourth Symphony (1982) written on the occasion of the 60th anniversary of the establishment of the Soviet Union.

The Moscow music establishment was very enthusiastic about this work, and included it in the prestigious concert program that was broadcast by the Central TV. But when the rehearsals started, everybody started to panic because the entire symphony expresses such a tragic mood. It was too late to delay the performance, since it had already been announced in the media. So they gave journalists strict orders. They introduced my work, saying: "Despite such a remarkable holiday, the anniversary of our state, Arif Malikov never loses sight of the tragedy of African children dying of hunger, or the threat of nuclear war that hangs over all of humanity".

Actually, all of my symphonies, with the exception of the First, are essentially tragic. For artists, it is the tragic essence of life that provides the strong creative force. And even when a ray of sunshine appears amidst the darkness, it is always framed in black. Take Shostakovich. Aren't all of his 15 symphonies tragic?

It's true that I did get involved with politics towards the very end of the Soviet era. I was appointed as one of the Deputies of the Supreme Soviet [1986-1991] which meets in Moscow, and after the tragic events in Baku in January 1990 [Black January] when Soviet troops entered and attacked us here and killed our civilians in Baku, I raised my voice.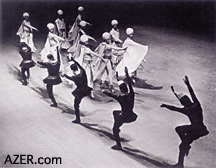 Left: The Bolshoi Ballet performing Malikov's "Legend of Love" (1960s).
A few years later, in 1994, I even published a book devoted to this catastrophic period in Azerbaijan's history, calling it: "I Blame". I could not stand aloof from the terrible events that involved Azerbaijan's territory, Nagorno Karabakh.

I could not remain indifferent to the fate of my country and my people. I never hesitated to say words of truth and criticize those who masterminded Black January; first of all, Mikhail Gorbachev as General Secretary of the Central Committee of the Communist Party, and Dmitry Yazov, his Minister of Defense.

They couldn't touch me because I was such a well-known composer. My works had been performed worldwide. Admittedly, my speeches were never included in the official bulletins that document the Supreme Soviet sessions. But I took advantage of my position and privileges as a Deputy and did my best to release dozens of innocent people who had been imprisoned after those tragic January events. Some of their stories are told in my book, which is based entirely on facts and documents. It is too difficult for me to think back on those days.

You know, I didn't write a single note of music between 1988 and 1992. When Black January occurred, something got broken in my heart. In 1992, I made the decision to give up politics and return to music.

Future of Music
For the past two decades, I've been the Chair of the Composition Department at Baku Music Academy so I have considerable experience to judge the level of work that is being produced. When you hear our students from the Composition Department present their works at a concert in the Boyuk Zal (Big Hall) of the Music Academy, everyone who attends these events can say with confidence that Azerbaijani music has wonderful future. One of my assistants, Jeyhun Allahverdiyev, has studied with me for nine years. He still is an ardent learner, despite the fact that he is teaching my class. He has already created two extraordinary symphonies plus a Piano Concerto, which I value so much.

There's another student whom I call "little kid" whom I discovered a few years ago at Zeynalli Music College. I immediately invited him to attend my classes and he has never missed a single session. Now he's my student here at the Academy, and his works were also performed at that concert. These young people, with their enormous devotion to music, give me great confidence that Azerbaijani music will continue to thrive in the future just as it did in the past and does now in the present. No one can interrupt or stop this process.

Eighth Symphony
My Eighth Symphony is the one that I refer to as "Eternity". It includes poems from Nazim Hikmet along with Azerbaijani's poet Almas Ildirim. Hikmet's verses are in Turkish and Ildirim's are in Azeri. The poems provide the basis for the vocal part, which is performed by a mezzo-soprano. All verses focus on the idea of eternity. It's such an infinite idea - eternity. Love is eternal, human life is eternal. The vocal part is very important in this symphony.

I dedicated this work to the late President Heydar Aliyev and it was performed at the opening of the Philharmonic Hall in November 2004. President Aliyev had wanted so much to open the Philharmonic Hall himself. Several years ago, he invited me to join his delegation, which was traveling to Mecca, the most sacred place for all Muslims. I was pleased to accept this invitation, since I had never visited Saudi Arabia, primarily because it has neither a symphony music tradition, nor an Opera and Ballet Theater.

It was such a rare opportunity to visit Mecca and Medina, sacred sites of pilgrimage. In Mecca, the place of the famous Kaaba, the holy rock, we took part in the rituals: we wrapped that white tunic around ourselves, and walked barefoot seven times around the Kaaba.

To enter the Kaaba, itself, requires special permission from the King. We were invited to enter. It's the only place in the world where Muslims are able to pray facing any of the four directions. There's no light inside the Kaaba. Myself - I don't know a single prayer, I just addressed God from the depths of my heart, asking him to forgive my sins and protect my family and loved ones.

Later, nearby when we were inside one of those gorgeous mosques where one million people can gather together and pray at the same time, something miraculous happened! The roof opened up to the sky! It was a night sky, studded with stars! It was such a fantastic view that we all stood there in awe! Actually, it is quite an architectural engineering feat as they claim the roof is so heavy.

After a while, the roof returned to its normal position. The same thing happened in the next hall where a huge column shaped like a lotus flower, began to move. Again a fantastic view of the sky appeared above our heads. It's hard to describe its beauty!

During our trip, President Aliyev said to me: "I know you can't remain untouched by this unique atmosphere. This will inspire you to write a large symphonic piece!" But it was such an unusual combination: The Quran and Mecca, as the inspiration and basis of symphonic music! You know, for a long time I had had the idea of developing some music based on the theme of eternity. I just needed to give it shape. There in Mecca, everything became so clear to me. That's when I decided to write such a work and dedicate it to Aliyev. It took me several years to develop the concept. In 1998 when Aliyev awarded me with the Istiglal Medal [The Independence Medal is Azerbaijan's highest national prize], he asked: "What's going on with 'that' symphony?"

Well 'that' symphony was supposed to be performed on the occasion of President Aliyev's 80th Jubilee on May 10, 2003, for the opening of the newly renovated Philharmonic Hall. Unfortunately, the President took ill and the opening of the building was postponed. Then, he passed away in December.

I've now given the subtitle Requiem to my Eighth Symphony, which is also called "Eternal Symphony". It was dedicated to the memory of President Aliyev. Unfortunately, he neither lived long enough to have the chance to attend the opening night of the Philharmonic - a project, which he personally cared so much about. Nor did he hear the symphony, the creation of which he had inspired. The Eighth Symphony premiered at the opening of the Philharmonic Hall on January 30, 2004, and was performed by Azerbaijan's Symphony Orchestra conducted by Maestro Rauf Abdullayev.
_____
Aida Huseinova interviewed Arif Malikov for this article. She is Associate Professor of Musicology at Baku Music Academy. Her PhD. in Musicology is from St. Petersburg State Conservatory (1992). Search AZER.com for her article: "Shostakovich's Tenth Symphony: The Azerbaijani Link - Elmira Nazirova" (AI 11.1, Spring 2003) and Agshin Alizade: New Ballet - Journey to the Caucasus (AI 10.4, Winter 2002).


Back to Index AI 13.1 (Spring 2005)
AI Home | Search | Magazine Choice | Topics | AI Store | Contact us

Other Web sites created by Azerbaijan International
AZgallery.org | AZERI.org | HAJIBEYOV.com