Winter 2001 (9.4)
Page 18
Caspian Ballad Lives Again




The ballet of "Caspian Ballad" by Tofig Bakikhanov (1930- ) was performed for the first time in 25 years at Baku's Opera and Ballet Theater on November 4 2001.

The ballet's choreography, created by Siyavush Mammadzade and Tamilla Shiraliyeva, relates directly to Azerbaijan. Oil workers in the Caspian rejoice as a new oil well gushes, but their celebration is soon tempered when a violent windstorm sparks a fire on the water. The workers manage to subdue the flames and return to the difficult task of extracting oil from the sea.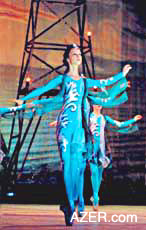 Bakikhanov said he was inspired to write the ballet in 1966 after paying a visit to Oily

Rocks, the world's first offshore oil drilling project. "I was struck by the nature of the sea - sometimes it's calm, sometimes it's turbulent and violent. It seemed like the perfect setting for a ballet." To his knowledge, the Caspian Ballad is the only ballet based on a story of man subduing the mighty forces of sea and oil.

At the recent performances, Tamilla Shiraliyeva served as Producer-Choreographer, with Javanshir Jafarov as conductor. New sets were designed by Tahir Tahirov and Agharahim Aliyev. According to Bakikhanov, the ballet has not been performed in Baku for decades because the original sets and costumes were so outdated.

Other ballets by Honored Art Worker Bakikhanov include "Eastern Novel" and "The Good and the Bad," written for Nizami's 850th Jubilee.
Listen to excerpts from Tofig Bakikhanov's "Caspian Ballad," at MUSIC.


Below: Rauf Abdullayev conducts the Azerbaijan Symphonic Orchestra performing "Caspian Ballad" ballet, composed by Tofig Bakikhanov, which is now being revived after 25 years.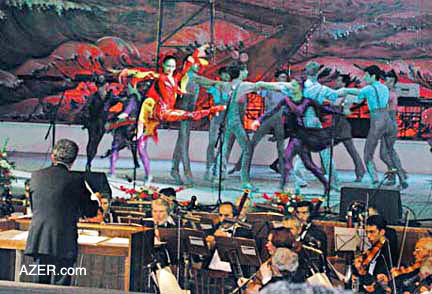 ____
From Azerbaijan International (9.4) Winter 2001.
© Azerbaijan International 2002. All rights reserved.
Back to Index AI 9.4 (Winter 2001)
AI Home | Magazine Choice | Topics | AI Store | Contact us

Other Web sites created by Azerbaijan International
AZgallery.org | AZERI.org | HAJIBEYOV.com