Autumn 2000 (8.3)
Page 12
Newsmakers
Sabina and Her Violin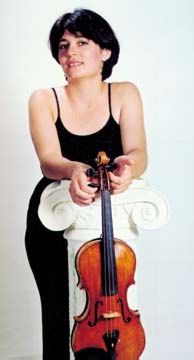 Sabina Rakcheyeva, 24-year-old Azerbaijani violin virtuoso, spent the summer in Switzerland performing at the Verbier Music Festival. Of the 900 musicians who auditioned last winter for the Festival, Sabina was one of the 100 talented youth who were invited to join the UBS Verbier Festival Youth Orchestra, a group led by world-renowned conductor James Levine. This October, Sabina will tour with the orchestra to 10 European cities, including Frankfurt, Berlin, Milan, Rome, London, Monte Carlo, Paris, Zurich, Barcelona and Madrid.

Sabina continues her second year of study at America's most prestigious music school, Juilliard in New York City, and will graduate in 2001 with a Master's degree in music. Again, Juilliard offered Azerbaijan's talented violinist a scholarship completely covering her tuition.

Great enthusiasts of Sabina's musical talent, the Italian Ambassador, Alesandro Fallovallita, and his wife Fusun, again for the second summer invited all of Baku's diplomatic corps to hear Sabina perform a full-length concert in their residence this past June.

Other articles about Sabina Rakcheyeva:

Sabina Rakcheyeva - Youth at Work - Sabina Goes to Julliard - Autumn 1999 (7.3)
Life at Juilliard, Studying Abroad - Sabina Rakcheyeva (AI 10.2, Summer 2002)

SABINArakcheyeva.com
Also visit: VERBIERORCHESTRA.com

From Azerbaijan International (8.3) Autumn 2000.
© Azerbaijan International 2000. All rights reserved.
Back to Newsmakers
Back to Index AI 8.3 (Autumn 2000)
AI Home | Magazine Choice | Topics | Store | Contact us