Autumn 1999 (7.3)
Pages 82-83
Youth at work
Sabina Rakcheyeva

Other articles about Sabina Rakcheyeva:

Newsmakers: Sabina and her Violin (AI 8.3, Autumn 2000)
Life at Juilliard, Studying Abroad - Sabina Rakcheyeva (AI 10.2, Summer 2002)
Listen to samples of Sabina playing the Violin

Julliard School of Music
The Juilliard School in New York City is one of the world's most prestigious music schools, with a roster of faculty and students that reads like a veritable "Who's Who of the Performing Arts World". Previous students have included pianist Van Cliburn, conductor James Levine, opera singer Leontyne Price and violinist Itzhak Perlman.


This distinguished list will soon include the name of one of Azerbaijan's most talented young violinists - Sabina Rakcheyeva (1976 - ). Sabina was just accepted to Juilliard this fall and has already begun her master's degree. In a recent interview with Azerbaijan International's publisher, Pirouz Khanlou, Sabina talked about getting into Juilliard and some of the highlights of her career thus far.

_____
Sabina Rakcheyeva had always wanted to go to Juilliard to study music. Now, at the age of 23, her dream is coming true.

Last March Sabina flew to Juilliard after preparing for six months to pass the school's violin exam and the TOEFL (Test of English as a Foreign Language).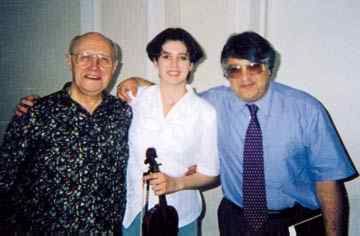 Left: l-r: World famous cellist who was born in Baku, Mstislav Rostropovich (1927-2007); Julliard student Sabina Rakcheyeva, and head of Baku's Music Academy and renowned pianist Farhad Badalbeyli. 1999.

Her trip was sponsored by the UN's representative in Baku, Erjan Murat. She auditioned for a jury of Juilliard faculty, performing more than an hour's worth of pieces by Bach, Bizet, Paganini and Shostakovich. Of the 300 violinists who took this year's exam for Juilliard, only 40 were admitted. Sabina was one of them. "When I found out that I had been accepted, I was the happiest person in the whole world!" she beamed.

Violin, Not Piano
Sabina first became interested in playing the violin when she was seven years old-that's when she saw a violin concert on TV. Her parents were oil engineers and her dad works with SOCAR (State Oil Company of Azerbaijan Republic). Despite the fact that they weren't musicians and didn't know much about music, they took Sabina very seriously when she asked to go to music school to learn the violin.

In Baku there are a number of public schools that concentrate on music, dedicating up to 40 percent of the curriculum to the subject. Sabina's parents took her to Music School No. 21, which is now called the Rostropovich Children's Music School in honor of famous cellist Mstislav Rostroprovich who had returned to the city of his birth - Baku - to celebrate his 70th birthday in June 1997.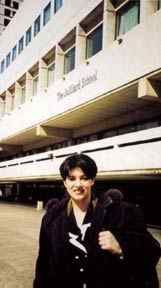 But when Sabina's parents went to enroll her, there was no more space in the violin classes, so the school administrators suggested studying piano instead. But Sabina wanted to study violin and began to cry. That's when school director decided to make an exception and let her study what she wanted.

Sabina doesn't know why she was so persistent. "It was just inside of me," she says, recalling those days.

But Sabina was left-handed and so it was awkward figuring out how to hold the violin. Her teachers eventually helped her hold it correctly. Today she plays the violin with her right hand, but does everything else left-handed.

Sabina Rakcheyeva outside her new music school, Juilliard, in New York.

"Once at Carnegie Hall in New York, I saw a violinist who played the violin with his left hand," Sabina recalls. "I couldn't believe it. I thought it was some kind of joke at first. But it was true, he really played the violin that way."

During those early years Sabina often felt like quitting. She credits her mother with helping her stick with it. "Mom told me: 'If you start something, you have to carry it through to the end.' She pushed me to practice every day.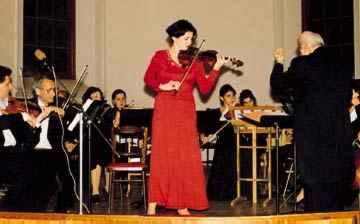 "Now when I practice non-stop for hours on end, she begs me to stop playing. That's when I say: 'Mom, 10 years ago you told me that I should carry this through to the end-well, I'm just trying to do what you told me.'"

Sabina Rakcheyeva performing with Azerbaijan's Chamber Orchestra led by Yashar Imanov.

After graduating from music school, Sabina went to the Music College named after Asaf Zeynalli for four years, studying with Shamil Huseinzade. In 1994, she entered the Music Academy named after Uzeyir Hajibeyov, where she studied with Bayandur Mehdiyev.

In 1997, Sabina was named "Best Violinist of the Year" in Baku at the Youth Music Competition sponsored by AIOC (Azerbaijan International Operating Company).

Later that year she went to Germany to play in the International Youth Chamber Orchestra organized by Jeunesse Musical. Young musicians from various countries including China, England, Russia, Germany, Poland and Lithuania joined this orchestra on its tour of seven concerts through Germany. After an audition with Lithuanian conductor Saulius Sondeckis, Sabina was selected as concertmaster-a rare honor. Mobil, which had sponsored the Germany trip, then organised for Sabina to visit Juilliard in May 1998.

Rostropovich Master Classes
In June 1998, Mstislav Rostropovich was in Baku to offer ten days of Master classes at the Music Academy. Sabina was one of the students chosen to perform for him in front of a spectator class of 250 music students. She performed Shostakovich's First Violin Concerto in A Minor.

"It was such a great chance for me to play for a famous musician like Rostroprovich. Besides, he had studied with Shostakovich himself. I was so eager to get his advice. He never imposed his ideas, he just made suggestions. He never said 'you should'-he said 'you can.' He challenged me to play more philosophically, and to express my feelings more deeply through the music," remembers Sabina.

In September 1998, Sabina went to London and performed a program of Azerbaijani and Turkmen music which included a sonata by Azerbaijani composer Gara Garayev, a piece by Musa Mirzayev as well as Azad Aliyev's violin arrangement of "Bayati Shiraz."

"Bayati Shiraz is my favorite piece," admits Sabina. "I play it everywhere I get a chance, and everyone is always shocked by the magnificence of this music." Bayati Shiraz, one of the seven basic mughams, is traditional modal music generally associated with melancholic and nostalgic feelings of love.

This past summer, Sabina went to Italy, where she attended a month-long course at the Chigiana Music Academy. The trip was sponsored by the Italian Ambassador to Azerbaijan, Alessandro Fallovolita. Sabina said the 13th-century music academy was "just like a fairy world". The music course was taught by Franco Gulli, a famous 73-year-old Italian violinist who currently teaches in Bloomington, Indiana. Gulli had been to Baku 25 years earlier, so he was surprised to learn where Sabina was from. While there, Sabina even managed to learn a little Italian, her fifth language. (She already speaks Azeri, Russian, English and some Tatar, as her father is descended from Tatarstan, a Turkic-speaking region in Russia.)

Azerbaijan Today
When Sabina is in Baku, she performs with the Azerbaijan Symphony orchestra under the leadership of Rauf Abdullayev and which was previously with Yalchin Adigozalov. She has also played with the Chamber Orchestra named after Gara Garayev, conducted by Saim Akchil and this season with Teymur Geokchayev.

When asked about the prospects for young Azerbaijani musicians, Sabina is frank about today's difficulties. "If it were the 1970s or 1980s, then there would be a lot more opportunities to perform, plus a lot more possibilities such as studying at Moscow Conservatory," she says. "But today if you want to do something, you have to search for opportunities yourself. Success depends upon your own initiative. You can't blame other people for your problems; you have to look for ways to solve them yourself."

But her initiative has landed her at Juilliard. She expects classes to be tough but she is used to practicing eight or nine hours a day. When preparing for concerts, she often practices ten hours a day. While she's at Juilliard, she may also run into financial difficulties-total costs are approximately $25,000 a year. The school gave her a $5,000 scholarship, assistance that foreign students rarely receive, she was told. With help from several companies and individuals such as the French, British and American Ambassadors in Baku, she is already set for the first year of her two-year master's program. She's taking one day at a time.

Sabina intends to return to Azerbaijan after her studies. "We need good musicians to take their experiences back with them and strengthen other musicians in our nation," she says. Knowing that many who go abroad opt to continue to live in the comforts of the West, Sabina adds, "If musicians only realized how much their country needs them, most of them would come back and do something. I'm optimistic for the future of our country."

You'll find a sample of Sabina's music at Azerbaijan International's Web site: AZER.com. Click on "Music". Sabina can be contacted at Julliard at <sabina_rakcheyeva@hotmail.com>

More: Sabina was featured in Newsmakers in Autumn 2000 issue (AI 8.3).

From Azerbaijan International (7.3) Autumn 1999.
© Azerbaijan International 1998. All rights reserved.

Back to Index AI 7.3 (Autumn 99)
AI Home | Magazine Choice | Topics | Store | Contact us