Summer 2005 (13.2)
Page 16

Chess - President's Cup
Teymur Rajabov, Again, Victory!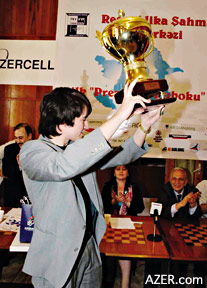 Left: Teymur Rajabov, Gold Winner, in the President's Cup Chess Tournament in Baku in May 2005.
For the first time in Azerbaijan's history, the Republican Chess Center organized what is known as the President's Cup tournament in Baku. The event was dedicated to the memory of the late President Heydar Aliyev and took place on the eve of his birthday-May 1-8. The Award Ceremony followed on May 9 at the Republican Chess Center at 42 Husi Hajiyev Street in downtown Baku.

Aliyev had always been very supportive of chess and, in fact, it was because of his support that Garry Kasparov became the World Champion in 1985 while living in Baku. Kasparov, now 42, lives in Russia. Kasparov held that title for more than 10 years and though he is no longer World Champion, FIDE (Federation Internationale des Echecs, known in English as World Chess Federation) still ranks him as No. 1 in the world (as of April 2005).

The President's Cup Chess Tournament attracted Azerbaijan's highest level of professional chess players, many of whom are young Grand Masters and who have participated in chess competitions on an international level.


The tournament drew 32 participants, both men and women. There was no age limit. The winners were selected using the Olympic system, meaning that whenever a person lost, he or she was eliminated from the competition.



Left: Top three winners of the President's Cup Chess Tournament. Left: Teymur Rajabov (1st), Shahriyar Mammadyarov (2nd) and Gadir Huseinov (3rd).
Cash prizes and plane tickets were awarded to the top eight players. Teymur Rajabov [often spelled as "Teimour Radjabov" via Russian on the Internet], took First Place and won the Gold Cup. Since childhood, Teymur has been called a chess prodigy. When he was only 13 years old, he qualified as an International Grand Master, making him the youngest person in the world ever to achieve this rank. Rajabov, now 18, won the Bronze Medal at the 2005 FIDE World Championship. Other winners of the 2005 President's Cup included Shahriyar Mammadyarov (2nd), Gadir Huseinov (3rd), Anar Allahverdiyev (4th), Rasul Ibrahimov (5th), Rashad Babayev (6th), Nijat Mammadov (7th) and Rufat Baghirov (8th).

Although four women participated in the event, none of them ranked, although some have won international competitions in the past.

The President Cup tournament attracted the support of 18 entities: Ministry of Youth, Sport and Tourism, Azercell, BP, Azpetrol, Lider TV, Azeurotel, Nexus, Lufthansa, Austrian Airlines, AZAL Airlines, Thames Insurance, M Building, Azerigazbank, Garadagh, Panasonic, Tyco, Bank Standard and Glencore. Azercell was the primary sponsor of the event.

According to Emin Mirhashimov, who spearheaded the event as Director of the Republican Chess Center, the total amount of cash prizes came to 50,000,000 manats (approximately $10,000). In addition to the awards and prizes, the sponsors also helped to repair the Chess Center, by replacing the flooring, buying new tables and supplying air conditioners. Mirhashahimov, on behalf of the Center, expressed his deepest appreciation to these companies for helping to create better facility conditions and for making the tournament a successful event.
Related Web Sites
Azerbaijan's Republican Chess Center [in Russian] at CHESSCLUB.az.
Related articles in Azerbaijan International magazine
Search at AZER.com.
(1) "Kasparov, World Chess Champion: Ten Years and Counting" by Anne Kressler, AI 3.3 (Autumn 1995).
(2) "Computer Challenges: World's Chess Champion. IBM's Deep Blue to Play Garry Kasparov" by Marcus Hopkins, AI 3.3 (Autumn 1995).
(3) "Teymur Rajabov: All the Right Moves, Teymur Rajabov, International Chess Master" by Farida Sadikhova, AI 7.4 (Winter 1999).
(4) "Teymur Beats Former Chess World Champion Garry Kasparov" by Jean Patterson, AI 10.3 (Autumn 2002).


Back to Index AI 13.2 (Summer 2005)
AI Home | Search | Magazine Choice | Topics | AI Store | Contact us

Other Web sites created by Azerbaijan International
AZgallery.org | AZERI.org | HAJIBEYOV.com