Winter 1999 (7.4)
Pages 72-73

All the Right Moves
Teymur Rajabov, International Chess Master

by Farida Sadikhova
At 12 years old, Teymur Rajabov has already won the Gold Medal for the European Chess Championship four times 1 and the World Championship (1998) once for his age group. We suspect you'll be hearing more from him in the New Century.

_____
Time was running out for Teymur Rajabov. It was the second-to-last round of the 1999 World Youth Chess Championships in Oropesa del Mar, Spain. Winning the game would make Teymur world champion; losing it would mean that his opponent, an 18-year-old Russian named Dmitry Kokarev, would be champion. Suddenly, Dmitry made a shocking move, one that Teymur had never seen before. He was unsure what to do next.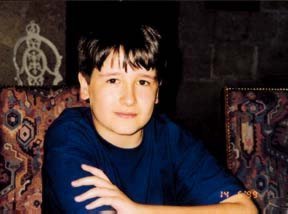 "I think Dmitry and his coach had planned it beforehand," Teymur recalls. "In chess, it's called a 'debut step'. It took me a long time to figure out what to do next. After an hour and a half, I had made just six moves.

I only had 30 minutes to make my next 34. I was running out of time so I had to play in a hurry. When you play that way, you make a lot of mistakes. I lost the game, and Dmitry ended up winning the championship. I came in fourth."

Competitors at the World Championship play one game a day, which can take up to six hours. Each player has two hours to make 40 moves. If he can't complete that many moves, he loses the game. But if a player does finish 40 moves in time, then he's given an extra hour to play. An entire tournament is grueling intensity, six hours of intense concentration each day in up to 11 rounds of competition.

Photo: Teymur Rajabov, 1999.

In this year's tournament, 600 chess players from 90 countries participated in various age categories, from age 10 up to 18. Even though Teymur is only 12, he competed with the 18-year-old players. (The previous year, he was named World Champion in the age 12 category.) Teymur and 17 other chess players were able to make the trip from Azerbaijan, thanks to the sponsorship of BP Amoco.

Teymur remembers feeling worried before the game with Dmitry because he had drawn a "black". If you get "black", it means you have to play defensively, because your opponent gets to make the first move. "White" sets the strategy for the game. Teymur drew three "blacks" in his last four games at the championship. He was the only player in the 18-year-old category to be so unlucky.

First Moves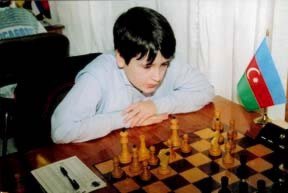 Teymur began playing chess at age 3 1/2. His father remembers bringing home a chess set so that the two of them could play, just for fun. "I promised Teymur that I would teach him to play a very interesting military game for kids," Rajabov says. "I arranged the pieces on the chessboard: black figures for the black army and white, for the white army. It surprised me how quickly Teymur caught on.

A few days later, I showed him a chess diagram and explained how each piece could move. Soon we started playing, and he surprised me when he could anticipate that I was going to checkmate." By the time Teymur was four, he was ready for chess school which he started attending twice a week. Most of the other kids were older than him-usually about six or seven.

Photo: Teymur Rajabov, 12, already has held the title for world champion for his age group and three-time European champion.

Students at chess school participated in tournaments with other schools, hoping to achieve a "three" rating, a title bestowed upon the first and second place winners of each tournament. From there, the chess player continues to compete, hoping to receive ratings "two" and "one". Teymur recalls, "When I had my 'three', I began to checkmate my dad." By age six, he had already received his "one" rating.

Winning Streak
Teymur has been winning international tournaments since 1993, when he dominated the Czech Open Championship in the age 10 and younger category. (He was six years old at the time.) Since then, he has competed in Slovakia, Germany, Holland, France, Austria, Russia and Switzerland. He has been named European Champion in his age category three times (1996, 1997 and 1998) and won the World Championship among boys 12 and younger in 1998.

A Strong Offense
International chess referee Namig Ismayilov says there are two playing styles in chess. One is based on defending, the other on attacking. "Teymur's style is based purely on attacking - he's never afraid of attacking and moving forward. Usually you find this aggressive style among adult players as young players have the tendency to set up a good position and defend it to the end. With Teymur it's quite different. He attacks whenever he can."

Teymur believes his ability to concentrate makes him stand out from the other chess players. "I don't think I'm any smarter than they are," he says. "If they can make it to the competition, they must be smart and talented in chess. We all prepare in the same way: by watching others play and analyzing their playing styles. So why do I beat them? Maybe it's because I can concentrate better and because I play with all my strength. If I get into a difficult position during a game, I tell myself not to give up. Other chess players feel stuck and end up yielding to their opponents."

Fit Body, Fit Mind
One surprising, yet crucial, aspect of Teymur's training is physical endurance. Even though chess is not a sport that requires a lot of movement, a player needs to have a great deal of stamina to sit still for a long time and concentrate on the game. To keep his mental energy from lagging, Teymur keeps himself in good physical shape by playing various sports like tennis, basketball and soccer.

The most important part of his preparation is time spent with his father and his coach, Rahim Gasimov. For three hours each day after he comes home from school, Teymur works on strategies with one of them, usually analyzing previous games played by grandmasters. For example, Teymur recently studied a book analyzing Garry Kasparov's games. It was written by Aleksander Nikitin, Kasparov's first coach.
When he's not training, Teymur relaxes by going on walks with his parents and grandparents. He also enjoys reading adventure books such as Alexander Dumas' "The Count of Monte Cristo" and Sir Arthur Conan Doyle's Sherlock Holmes series.

Chess Giants
One of the most exciting aspects of chess for Teymur is being able to meet famous chess players and talk with them about chess moves and strategies. He admires chess greats such as Jose Capablanca (1888-1942) (Cuban player who was World Champion 1921-1927), Victor Korchnoi (1932- ) (USSR Champion several times) and Anatoly Karpov (1951- ) (Soviet player who was World Champion 1975-1985). Teymur's favorite player is Mikhail Botvinnik (1911-1995), a Soviet who was World Champion 1948-1957, 1958-1960 and 1961-1963. Teymur thinks his own style resembles Botvinnik's.

World Champion Garry Kasparov (1963- ) was also born in Baku and built his reputation in international circles while living in Azerbaijan [see AI 3.3, Spring 1995]. Teymur says he is the "strongest player ever". Recently Kasparov played against the world via the Internet. Visitors to a Web site voted on what each move by "The World" would be, based on advice from chess masters. Teymur says the world made a poor showing. "Kasparov won easily. I proposed the first move, but the chess masters didn't respond to it."

Teymur has had several encounters with the famous Russian chess player Victor Korchnoi, especially during Korchnoi's visit to Baku in 1997. Teymur's father recalls: "Victor Korchnoi came to Baku in 1997 at the invitation of the Azerbaijan Chess Federation to give Master Classes to the best junior players in Azerbaijan, including Teymur. Towards the end of his visit, Korchnoi organized a competition between the children and himself. When he played against Teymur, he lost one of the games, 3-1.

"Korchnoi jumped up, came up to me, complaining: 'I won't play with Teymur anymore. Do you know what he was doing during the game? Looking through a chess magazine during the game with me - a grandmaster! He doesn't respect a grandmaster!' Korchnoi stomped out.

"So I reprimanded Teymur: 'I told you a thousand times to be careful with Korchnoi. He's very emotional.'
"Teymur replied: 'I was reading the magazine when the score was 3-0, but he didn't say anything. So why did he get upset when the score became 3-1?'

The boy was right. Korchnoi simply got angry once he realized he was losing the game.

Joining the Ranks
Perhaps Teymur's most prestigious honor thus far was being named an international master in the summer of 1999. He's the youngest chess player to have ever received the title. To be named "international master" by the FIDE (World Chess Federation), one must play in special competitions such as the ones Teymur won in Russia in October and November of 1998. At least three of the competitors have to be international masters themselves. After the tournaments, Teymur sent his results to the FIDE office in Switzerland. This past summer, he received a letter from the organization naming him "international master".

Teymur's long-term goal is to become an international grandmaster, the highest level in chess. Only international masters are allowed to compete to become grandmasters. As with the international master title, there are special competitions in which four of the competitors must be grandmasters already. If a player wins three such competitions, he or she gains the title of grandmaster.

Referee Ismayilov believes that this goal is not so far off for Teymur. "Even though he's only 12, he's already playing like an adult," says Ismayilov. "I'm sure he'll be a grandmaster very soon." With each new success, Teymur sets his sights higher and higher, bringing him closer to his ultimate goal in adult life: World Champion.
For a replay of Teymur Rajabov's World Youth Chess Championship game against Dmitry Kokarev, visit the Web page: www.escape.ca/~chessman/NewPGN/Justin/radjabov.htm, click on "Choose Game" and select "Kokarev, Dmitry vs. Radjabov, Teimor". The Web page allows you to reenact the game, move by move.
Footnote:
1 At 12 years old (1999), Teymur Rajabov has already won the Gold Medal for the European Chess Championship four times:
1996 (Age up-to-10-years-old category) in Slovakia
1997 (Age up-to-10-years-old category) in Estonia
1998 (Age 12 category) in Austria
1999 (Age 18 category) in Greece
Up to top


From Azerbaijan International (7.4) Winter 1999.
© Azerbaijan International 1999. All rights reserved.

Back to Index AI 7.4 (Winter 1999)
AI Home | Magazine Choice | Topics | Store | Contact us