Spring 2005 (13.1)
Page 12

Reunion 2005
Celebrating Our Families

The Fourth Annual Reunion - "Celebrating Our Families" - is scheduled for the weekend of July 15 to 17, 2005, at the Mayflower Park Hotel in downtown Seattle, Washington.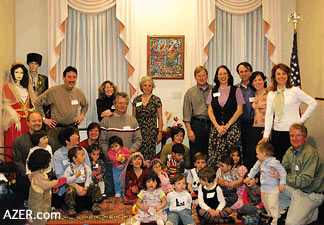 Left: On Saturday, March 19, 2005, families in the Washington D.C. area who had adopted children from Azerbaijan, met to celebrate Novruz (first day of spring) at the USACC (US-Azerbaijan Chamber of Commerce) Building. Eight families joined together for the party.

All friends and families who have adopted children from Azerbaijan or are in the process of doing so are invited.

A Welcome Reception will open the event on Friday. Family activities such as Duck Boat rides (an amphibious vehicle that travels on land and water and tours the scenic bay around Seattle), a visit to the Children's Museum, and a catered dinner are planned.

As in the past two years, there will be a Silent Auction of brilliantly colored art works painted by Azerbaijani children. The proceeds will go back to Azerbaijan to help children who are living in orphanages there. Last year, more than $1,000 was raised.
The tradition of Adoption Reunions began in 2001. Volunteer families have hosted them in various cities throughout the United States. The idea began with Kimi and Bill Abernathy, whose daughter Inara was the first child adopted internationally from Azerbaijan in 2000. Kimi also was the driving force in creating the Yahoo Internet ListServ - AzerbaijanAdopt - to which many adoptive families subscribe. She also hosted the first reunion in 2002 in Tennessee. In 2003, Kathleen and Jim Shyrock, along with Judy Shifrin, coordinated the reunion in Kansas City, Missouri. In 2004, Gina Andriolo and Jane Bottner brought the event to New York City.
For more information for the Seattle Reunion, contact Stacy Pretti: Tel: (206) 297-1772 or spretti@hotmail.com; or Sharon Hamilton: sharonleehamilton@hotmail.com.

To learn more about the adoption process, join the AZERBAIJANADOPT ListServ at YAHOO.com where it is possible to browse previous discussions and concerns dating back over four years to 2001. Currently, the ListServ group has nearly 400 members.

To see photos of previous reunion events or the art works selected for the Silent Auctions and the Azerbaijani young artists who created them, search "Silent Auction" at AZER.com [Scroll down to see art works].


Back to Index AI 13.1 (Spring 2005)
AI Home | Search | Magazine Choice | Topics | AI Store | Contact us

Other Web sites created by Azerbaijan International
AZgallery.org | AZERI.org | HAJIBEYOV.com