Summer 2004 (12.2)
Pages 78-80

Bloopers
The Trials of Learning English
by Betty Blair




In 1993, when Azerbaijan International first began publishing this magazine, very few Azerbaijanis knew English. Russian was, by far, the prestigious language of the nation. In fact, people who were fluent in English were few and far between. These days, English carries the greatest prestige and everybody is clambering to learn at least some words. Naturally, the youth are the most serious of all.

Over the years - especially with the advent of E-mail and the Internet - we have been collecting what we call "Bloopers" that cross our editorial desk, especially those that relate to Azerbaijan. The dictionary defines "Blooper" as an embarrassing public blunder; we define it here as wrong word choice, but one that provides a touch of humor and hints at a deeper truth.

We've been collecting these Bloopers for years. In the midst of deadlines and pressures, they've brought a lot of smiles to our faces - some laughs and giggles. We hope they'll do the same for you. We publish them here for the first time. It's been a fascinating process to watch Azerbaijanis becoming proficient in a new language - the third for many of them.

You'll note that a number of the errors can be traced to mispronunciation of vowel sounds. Can you spot the errors? Check your answers.

Answers to Bloopers

Below: Matryoshka dolls being sold in Pasaj in downtown Baku near Fountains Square.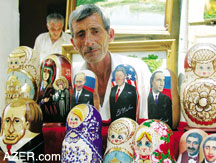 1. Unprecedented Passion
"Come, see me, and fall head over hills in love with me!"

(From the 26­page libretto of Hajibeyov's Musical Comedy, "Husbands and Wives", which one of our staff members had translated into English. You'll find the correct version of this Libretto along with seven others at HAJIBEYOV.com. The Librettos are also available in Azeri Latin and may be downloaded free.)

2. Clean Solutions
"Best Detergent Against Terrorism"

(The title of the Quotable Quote by the 2003 Nobel Peace Prize winner Shirin Ebadi found on our Web page. We have since corrected the error. Search AZER.com for her statement (AI 11.3, Autumn 2003.)

3. Headaches for a Fighter
"Babak was a worrier who resisted the invasion of outsiders against Azerbaijan's historical lands."

4. Sharp Knives
"After the merger with BP, there have been some big changes: single company operatorship and the cutting of stuff."

(Correspondence from a former Amoco employee after their merger with BP in 1999.)

5. Well Dressed
"I appreciate your kind and personal attention to me as a costumer. Thank you one more time."
(From an Azerbaijani wishing to extend his magazine subscription.)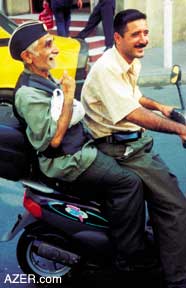 6. Expanding Horizons
"I am very sorry to border you, but I am very happy to get it for my research."

(From a Japanese youth doing research about "Black January" - January 20, 1990 - when Soviet tanks rolled in to Baku and attacked and killed several hundred civilians overnight.)

7. Which Half?
"The President issued an order concerning the special events of January 20th. More than one hundred and a half people were
killed on that same day 10 years ago."

(A press release by a media outlet on the occasion of the commemoration of Black January. Officially, 132 people died that night but Azerbaijanis suspect that the number was drastically underreported, perhaps by several hundred. Nobody knows how many victims really died in "Black January." Corpses are said to have been gathered the next morning before daybreak and hauled off to ships so that the corpses could be dumped at sea. Other victims were officially buried in the Shahidlar Khiyaban - the Martyr's Cemetery on the hillside overlooking the bay in Baku.)

8. Appreciation
"I'm studying English language. this year i got one copy of Azerbaijan Internationl magazin. Me and my friends read this magazine and we loved everything about it. This magazine also helped us to impruv our English. You will be doing great help to me and to my fiends fellov-student even to my English teashers by sending this. We use this magazine in our lesson as you see we need this incredible magazine in every step."

(Misspellings are direct from his note. We decided his request had merit and quickly shipped extra copies of the magazine to his town in Azerbaijan.)

9. Heart Therapy
"Azeri singer suffers from heartache because people do not appreciate her activity. Now she is undergoing a cure. The doctors advised her to be in open air and have a rest."

(From a press release.)

10. Chatless Chat Room
"Please feel free to chat with your friends, other Azerbaijanis, or individuals around the world as much as you wish. Our chat room simply asks that you keep your conservation friendly and language free."

(Invitation to join Chat room in the early years around 1998 when Internet Cafes first became popular.)

11. Wedding Vows!
"Marry Christmas and Happy New Millennium. We wish you success in your future works, strongest of health, and many, many happy days in your life."

(Greeting sent to our office during the holidays. Although Azerbaijanis are a traditional Muslim society, they are very quick to extend holiday greetings to people of other nationalities who may celebrate holidays other than their own.)

12. Proliferation of Phones
"Communications Ministry Breeds Automatic Telephone Stations."

(From a press release in English in 1999 announcing that 7,584 telephone numbers had been added that year, 3,000 of which were allocated for Baku, the rest for the regions. The release went on to describe how, in 1998, there had been 890,000 telephone numbers in the country and that there were many new international satellite channels via which Azerbaijan could connect with Turkey, Great Britain, Italy, Germany, Russia and the U.S. (via AT&T, MCI, WorldCom and Telestart. The release mentioned that there were 572 direct satellite channels in 1997, 922 in 1998, and 1,333 channels in 1999. Perhaps "breeding" is the best word choice, after all.)

13. Bon Voyage!
"Our airlines has bought 100 caskets to present to our customers during March as a Novruz present."

(An airline official describing the beautifully hand-carved small wooden baskets hand painted with Oriental miniatures that they planned to give as souvenirs for their Business Class passengers.)

14. Setting the Course
"Hope to see you soon. It was a great pleasure to me to chart with you."

(Email to the Editor after an interview with a manager of a new company in Baku.)

15. Pounds or Kilos?
"All of what you say are dreams which everyone wants. But we have to weigh our presence. Azerbaijani society is now divided between extreme top and extreme bottom, the middle class that was in the country from Soviet times is leaving the country with large scales to Turkey, U.S., Europe and elsewhere. There are no conditions for survival of the middle class in Azerbaijan."

(Note to the editor from an exchange student, studying in the States.)

16. Vouchers for Sale
"The current Azeri government lost a large amount of money of the people by the hands of various charity societies. After those processes the conditions of people have become more appalling and they had to sell their privatization parts at very cheep prices."

(A student's explanation of the process of how the nation transitioned from a Soviet style of government with a centralized command economy to the beginnings of a capitalist market system.) º

17. Rewrite Job Needed
"My article is in poor stadium at this moment."

(A note written by someone who thought his article needed serious help before being published. We agreed.)

18. Drunk Dolphins of Antiquity
"Wines were used with medical porpoises as well."

(From a writer researching medieval documents related to the medicinal value of wine.)

19. Housing Shortage
"The Russian President sent a letter of condominium to the Azeri President"

(A press release on the Internet in English from a news service describing that Russian President Vladimir Putin was expressing his sympathy to Heydar Aliyev on the occasion of the devastating earthquake in Baku in November 2000.)

20. Headaches for Free!
"The company bought pains and materials necessary for children to create their wonderful art works."

(Description of an international oil company's involvement in the cultural life of Azerbaijan by one of their staff members).

21. In search of Details
"Thank you for this information. I'll try to get hold of the fool text of report."

(Note of appreciation for mentioning a valuable document that would help this scientist in his research.)

22. Oil capital of World
"He is from Taxes."

(Note from staff member about a new manager in town.)

23. Sharp Teeth
"We need to continue to expand our academic involvement. This is where Armens bit us badly. I urge all Azerbaijani students to submit presentations and papers at every conference."

(Exchange student urging activism at academic conferences to counter the propaganda of Armenian versions of history - especially in relationship to the war in Nagorno-Karabakh.)

24. Thief?
"The company is involved with economic consulting, antitrust litigation, infrastructure planning, intellectual property rights feasibility studies. They have been in business for more than 50 years now. I think this would be a great place to rob shoulders with some highly regarded consultants and gain experience with international trade and investment regulations."

(A note expressing the writer's desire to tap into the expertise of foreign experts.)

25. Transportation
"The wells connected with each other in an underground gallery and the water flew in the direction of the main pipe and reached the town.

(Staff research about the marvelous Shollar Water works that were built that originate in spring in the foothills of the Caucasus and are piped nearly 200 kilometers to the center of Baku. See "Water, Not a Drop to Drink: How Baku Got Its Water and the British Link of William H. Lindley," by Polish Historian Ryszard Zelichowski. Summer 2002 (10.2).)

26. Pure Ecstasy
"Ohh, this is so exiting."

(E-mail about a proposed article for the magazine.)

27. Dissolution
"In 1991 when the USSR was braking up."

(Staff member describing the collapse of the Soviet Union.)

28. Best Wishes
"I hope that everything that you fished for me will come true."

(Reply to a birthday greeting.)

29. Guaranteed Intoxication
"After the ring exchange ceremony, people sometimes drink champagne, but we didn't because grandpa is a religious person and doesn't allow us to drink alcohol in our home. So instead, we drank sweat water and people were invited for lunch. My very close relatives came to our house with trays filled with sweats and cookies."

(Description of an engagement party as celebrated in a village, 2002.)

30. Excruciating Pain
"Vienna. All day I was hanged in the Brussels airport".

(E-mail to the editor describing the agony of waiting around in an airport because of bad airline connections.)

31. Dining Pleasure
"We did meat each other in Azerbaijan."

(Correspondence between the editor and someone who obviously had a more vivid memory than she did.)

32. Serenity
"Your email was quiet inspirational."

33. Memory Device
"They chanted their E-mail address. Here it is."

(Staff reply when editor was trying to connect with someone via email.)

34. "To: Mr. Aynura Hajiyeva, Azer Bar John"
(Notice from a courier company writing to us about their shipping rates. Their correspondence left us wondering whether we could trust their service or not, especially given their sense of geography which made us concerned that our shipments might end up at a local pub.)

35. Where in the World!
"Azerbaiji and Betsy"

(Lost package that we sent to the Azerbaijan Embassy in Washington, D.C. caused by the booker of a courier agency not hearing correctly the name of the recipient on the phone and not knowing their geography).

36. What's in a Name?
"Dear Best Wishes, How are you? Thank you for your e-mail"

(From international correspondence with someone of another culture who did not understand that we really had signed our names at the bottom of our letter).

37. Company Name
"To: Zerbaija"

(Letter addressed to Azerbaijan International by someone who seemed to think that the letters outside the box on our logo - the beginning "A" and final "N" - simply didn't matter, after all. Curiously, the letter did reach us.)

38. Honorifics
"Your Honesty, the tragedy which took place in the United States on September 11th, resulting in the death of thousands of not guilty people and also the scale of distress shocked us. We grieve about it and present our condolences."

(Published Open Letter of a Baku news service addressed to the Ambassador of the U.S. Embassy on hearing about the tragic plane hijackings in New York City and Washington, D.C. of September 11th, 2001.)

39. Poisonous Viper
"Here's the synopsis of Husein Abbaszade's story where a person was stunk by a snake."

(Staff member writing a literary overview of a short story for consideration for our Web site at AZERI.org which features Azerbaijani Literature in the new Latin script and also English translation.)

40. Red or White Wine
"Towards the end of the Soviet period and during the early years of independence, it used to be very dangerous to walk on the streets late at night. There were murderings and burgundy."

(Translation of an interview about what the writer did not miss about those early years of independence in 1991.)

41. Canine Shelters?
"There are many questions about the refugees that baffle me. Where did they get the money for these types of things? Why don't they move out of the train boxes and dogouts?"

(An Azerbaijani humanitarian worker speaking about the satellite dishes that a few refugees had erected outside the primitive shelters where they were living. His reference to their appalling living conditions refers to the fact that many refugees were still living in train box cars in Saatli region and in shelters underground at the Lachin winter grounds.)

42. Poor Students, Poor Teacher
"You asked about my classes and tutoring. Well, I'm teaching History of Western Music which is a huge curse spanning long historical distance - from ancient Greece to the present day."

(University professor writing about her busy class schedule.)

43. Who Butters the Bread?
"Do you need an employer? I'm a qualified student and if you are interested, I can send you my CV."

44. Kababs, Anyone
"There was a special steak for heating children in the Mollakhana. It was simply called "chubug".

(In an article to us describing how children were disciplined in the religious schools taught by mollas in the Old City.)

45.Backaches or Headaches?
"I am sending the following massage to you and looking for your help in introducing me to a well-qualified Azeri-to-English translator to appear in the Criminal Appeals Court in Denver as soon as possible."

(Note for someone via email via AZER.com to do some legal interpreting in court.)

46. Unquenchable Thirst
"I just came back from a wonderful trip to an absolutely wild region in the Gobustan region. Our discoveries were just wonderful as we found unique Neolithic archaeological features. The area was so vast that we did not manage to walk it in one day. The weather was really very hot. We were climbing the mountains, driven by our enthusiasm despite how thirsty we were because we had so little water. Now I'm at home and still trying to recover from dehydration: drinking bear, water, cola and tea."

47. Deserving Writer
"Bakhtiyar Vahabzade is a poet to whom belong special deserts in strengthening the patriotism and patriotic spirit in Azerbaijani literature and poetry."

48. Agony
"She bit her head with her hands, saying it was impossible for an Azerbaijani girl to perform at the circus."

(Translation of the interview our staff did with Shafiga Bakhshaliyeva, describing her mother's reaction in 1945 when she decided to join the circus as an acrobat. She was the first woman to become a tight-wire dancer in Azerbaijan. "Good girls" didn't do things like that. See "Circus Life: Dancing on the High Wire," in AI 10.3, Autumn 2002. Search at AZER.com).

49. Wild Chase
"The hunt for hears with horses and beagles was also extremely popular. The hunters rode after the hears on their horses and often accidentally trampled down the villagers gardens."

(In an article sent to us describing hunting activities in the Caucasus.)

50. Relevance
"This book is an effort to point out for the thirst time the main importance wetlands of Azerbaijan especially in relation to the habitats of water birds."

(Communication regarding the wild bird life in Azerbaijan.)

51. Fast Conduit
"The water flew from the wells and springs situated outside the city. It was collected in a special reservoir inside a building named Shirin Ovdan (Fresh Water House) which stands today nearby the Shivanshah Palace."

(In an article about the Old City-Ichari Shahar - describing the major difficulties related to gaining access to a reliable water supply in Baku.)

52. Pipeline Route - new Proposal
"The Presidents of Azerbaijan, Turkey and Georgia, through which the pipeline will be laid."

(Press release in English with grammatical confusion about the role of the top leaders of these countries.)

53. Great Exercise
"Thank you very much for the magazines which you sent me. I skipped through them. Good job."

(From an Azeri exchange student in the U.S., trying to express his appreciation in receiving a complimentary subscription to Azerbaijan International.)

54. True Horse Power
"We arrived at night in Lerik [close to the southern border near Iran]. It had rained all day. The mud made everything so slippery. Our shoes and clothes were all muddy. It was very cool there in the mountains. There are no conveniences, no gas, no telephone, no normal toilet, almost no electricity, no television, and no dependable water supply. People move by foot or on donkeys or horses. In many of the roads, the cars can't pass. Even 102-year-old Reza Baba drives a horse."

(Draft of article describing the process of escorting a Korean television crew to a mountain region where many Centenarians are known to live.)

55. When Lightning Strikes
"I have to spend more time to elaborate my theory. It appeared like irradiation. Irradiation is always emotional and then later you have to figure out the details."

(An amateur scientist describing how he felt when the solution to a problem that had been puzzling him for many years suddenly dawned upon him.)

56. True Volunteerism
"I'm willing to help you without any strinks attached."

(A student excited to help in the translation process of some of our articles. We declined despite the generous offer.)

57. True Consideration
"I try not to clotter your mind. I think you have enough on your plate."

(The publisher trying to be sensitive to the editor's workload.)

58. Best Wishes
"I'm really sorry about the mistakes in the last message. Instead of 'Good Lick', I should have written 'Good Luck'. Sorry about that."

(Student belonging to an Azerbaijani newsgroup on the Internet who, upon realizing his error, wrote back quickly to set the record straight.)

59. Construction Problems
"The roofs are licking."

(Staff member explaining the poor conditions in a village in the countryside).

60. Fancy Footwork Delayed
"The Construction of a plant that produces sleepers should have commenced earlier this year (2001) but was postponed until January 2002."

(Press release explaining the delay in construction of a factory.)

61. Frank Suggestion
"Please do not think I am being too bald here, it's just that I know first hand the high quality of your magazine and that mama can move many readers to tears."

(Girl suggesting topic for magazine.)

62. Penetrating Ideas
"Thank you so much for your worm words."

(Appreciation to the editor for email message.)

Answers to Bloopers
Up
1. hills / heels
2. detergent / deterrent
3. warrior / worrier
4. stuff / staff
5. costumer / customer
6. border / bother
7. 100 and a half people / 150 people
8. numerous spelling errors. Also fiends / friends
9. heart ache / heart attack
10. language free / free from obscenities; free from bad language
11. marry / merry
12. breeds / increases
13. caskets / baskets
14. chart / chat
15. with large scales / in large scales; or en masse; like a mass exodus; in droves
16. privatization parts / privatization vouchers
17. stadium / stages
18. porpoises / purposes
19. condominium / condolences
20. pains / paints
21. fool / full
22. Taxes / Texas
23. bit / beat
24. rob / rub
25. flew / flowed
26. exiting / exciting
27. braking up / breaking up
28. fished / wished
29. sweat water / sweet water; sweats / sweets
30. was hanged in / got hung up
31. meat / meet
32. quiet / quite
33. chanted / changed
34. Mr. Aynura Hajiyeva should be Ms. Aynura Hajiyeva as the name indicates that Aynura is a female. Azer Bar John / Azerbaijan
35. Azerbaiji and Betsy / Azerbaijan Embassy
36. Dear Best Wishes / Editor's name instead
37. Zerbaija / Azerbaijan
38. Honesty / Honorable
39. stunk (perhaps the writer wanted to say "stung", but the word "bitten" is usually used with snakes who attack with fangs.
40. murderings / murders; burgundy / burglaries
41. dogouts/ dugouts
42. curse / course
43. employer / employee
44. steak / stick; heating / hitting
45. massage / message
46. bear / beer
47.deserts / better: "Vahabzade deserves credit"
48. bit / beat
49. hears / bears
50. thirst / first
51. flew / flowed
52."through which" must refer to countries, not presidents
53. skipped / skimmed
54. drives a horse / rides a horse
55. like irradiation / like lightening
56. strinks / strings
57. clotter / clutter
58. Good Lick / Good Luck
59. licking / leaking
60. sleepers / slippers
61. bald / bold
62. worm / warm


Back to Index AI 12.2 (Summer 2004)
AI Home | Search | Magazine Choice | Topics | AI Store | Contact us

Other Web sites created by Azerbaijan International
AZgallery.org | AZERI.org | HAJIBEYOV.com