Winter 2000 (8.4)
Pages 34-36

Earthquake Rocks Azerbaijan

On Saturday, November 25, at 10:10 p.m. a series of powerful earthquakes jolted Baku, Sumgayit, Shamakhi and neighboring cities. The strongest jolt, centered in the Caspian Sea 100 km (62 miles) northeast of Baku, measured 6.3 on the Richter scale. Up to 120 aftershocks rattled the area the following day.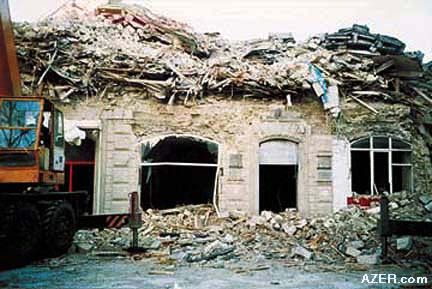 The recent earthquake in Baku in November 2000 damaged many of the mansions which were built during the Oil Baron period at the turn of last century. Above: One such four-story building opposite the Carpet Museum (previously Lenin Museum) totally collapsed three weeks after the earthquake occurred. Photo: Arzu Aghayeva.

The death toll from the quake has reached more than 35; most of the victims died from apparent heart attacks related to the shock. A few were killed from falling rubble or natural gas explosions brought on by earthquake damage. More than 500 people sustained fractures or bruises while rushing to building exits. For many people living on the top floors of apartment houses, they said it was the most traumatic experience they had ever experienced in their lives.




Above: One of the granite statue of twins atop 26 Mammadaliyev Street overlooking the Pasaj near Fountain Square shook lose and fell to the street below.

Total damage is estimated to be in the millions of dollars. President Aliyev announced that more than 90 buildings and apartment blocks have been seriously damaged and 12 schools have been closed.

According to the Ministry of Culture, there has been serious damage done to a number of historical structures in Baku especially those built during the Oil Boom at the end of the 19th century - early 20th century. Damage has been identified at the German Church (kirka) converted during the Soviet period to a concert hall because of its pipe organ), the 15th century Shirvanshah Palace in the Old City (Ichari Shahar), the Theater of Opera and Ballet, the Taza Pir mosque, the Blue Mosque and the Palace of Happiness (converted during the Soviet period to the Wedding Palace, but former residence of Oil Baron Mukhtarov).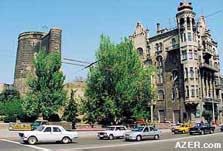 Left: Families have vacated the Hajinski Building adjacent Maiden's Tower because of severe structural damage.

The striking architectural masterpiece next to the Maiden's Tower which was once the residence of Oil Baron Hajinski has been seriously damaged and the families have evacuated. No damage has been reported to the offshore oil exploration infrastructure.

Since November, other earthquakes have struck north of Azerbaijan in Dagestan and east in Turkmenistan.
For photos and history of these architectural masterpieces mentioned above, consult AI 6:4, Winter 1998, an issue totally dedicated to Architecture.

_____
From Azerbaijan International (8.4) Winter 2000.
© Azerbaijan International 2000. All rights reserved.
Back to Index AI 8.4 (Winter 2000)
AI Home | Magazine Choice | Topics | Store | Contact us