Autumn 2003 (11.3)
Pages 14-15

Lest We Forget
The UN in Iraq - Sergio Vieira De Mello (1948-2003)
by Paolo Lembo
Other articles by Paolo Lembo
(1) Diplomatic Interview with Paolo Lembo - Interview by Betty Blair
(2) Letter from Kosovo - Paolo Lembo
(3) Infinitesimally Short (Why Are We Killing Each Other?) - Paolo Lembo
(4) Another Wind: Memories of the Birth of A Nation: Azerbaijan - Paolo Lembo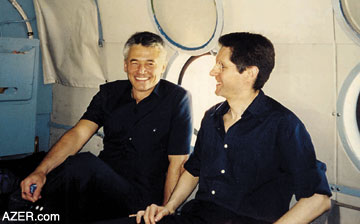 Left: Sergio De Mello (left) with Paolo Lembo (former U.N. Representative to Azerbaijan) in a helicopter going to access the devastation caused by an earthquake in Afghanistan for the U.N. (1998).

De Mello, who was the Special Representative of the UN Secretary for Iraq, was killed in Baghdad when a truck bomb exploded outside the U.N. office on August 19, 2003.



Sergio Vieira de Mello, Special Representative of the UN Secretary-General for Iraq was killed in Baghdad on August 19, 2003, when a bomb-laden cement truck exploded beneath the window of his office in the Canal Hotel. In total, 23 UN personnel lost their lives and scores more were injured in that explosion - the worst disaster targeting UN personnel in the 55-year history of the international peace organization.

Sergio was respected not only as an accomplished diplomat, but as a true humanitarian. Many view his death all the more tragic because he had dedicated so much of his life to alleviating conditions that lead to terrorism.

The United Nations had long performed many roles in Iraq along with weapons inspections, including humanitarian, development and refugee programs. At the time, there were 300 UN staff members in Baghdad and 646 throughout the country.

De Mello joined the UN in 1969 and had spent the majority of his career working for the United Nations High Commissioner for Refugees in Geneva. He had served in humanitarian and peace-keeping operations in Bangladesh, Sudan, Cyprus, Mozambique, Kosovo and Peru. His official position was United Nations High Commissioner for Human Rights, working out of Geneva. Because of the deterioration of the situation in Iraq, the UN Secretary-General Kofi Annan had personally asked him to take on the assignment. They say it was with reluctance that he accepted the post, and only on the condition that it would be a temporary assignment. He had just arrived in Baghdad in May.

In publishing this tribute, Azerbaijan International went in search of someone who could give us a glimpse of de Mello's character, not just his rank and position, which are easily culled from the Web. We found Paolo Lembo, who had opened the UN office in Baku in 1992 and had served there until 1997. We also discovered that de Mello had visited Azerbaijan in 1995 in his role as Assistant High Commissioner for Refugees to assess the tragic refugee situation brought on by the war in Nagorno-Karabakh.

In Azerbaijan
"Well, my friend," de Mello said, addressing me as he stepped off the plane in Baku, "it seems that the fresh air of the Caspian Sea has made you healthier. You seem to be in good shape, Paolo!" he said, smiling and speaking impeccable Italian.

Brazilian-born Sergio Vieira de Mello had just arrived from the UNHCR's main office in Geneva, and true to character, he was his usual self-ironic and jovial.

In fact, of the two of us, he was one looking so healthy and charming, despite the fact that he was 10 years older than me. In that Spring of 1995, De Mello was the Assistant UN High Commissioner for Refugees (essentially, the No. 3 position in the UNHCR organization). I was the UN Resident Coordinator, UNDP Resident Representative and the UN Humanitarian Coordinator in Azerbaijan at the time.

De Mello had come to Baku to assess the refugee situation and see what could be done to help alleviate what had become the most dramatic refugee crisis of the former Soviet Union. Azerbaijan had a refugee population approaching nearly one million of its population. The statistics were alarming: out of every 8 or 9 Azerbaijanis, one had been displaced by the war with Armenia over Nagorno-Karabakh. It was an incredibly high ratio and the entire nation was feeling the psychological and economic weight of this tragedy.

De Mello visited as many refugee sites as possible during his brief mission. He also met all of the highest authorities of the Republic. The evening before his departure, an official dinner was held in his honor at the Hyatt. After it was over, he asked me to wait for him. He said goodbye to all the guests and then took me out to the poolside for a drink so he could share some of the impressions of his visit and discuss what the UNHCR could do to further alleviate the suffering.

De Mello had been particularly impressed when meeting some of the refugees from Fuzuli, a district located in the southwest corner of Azerbaijan. They were not begging for charity or assistance. They only asked to be given a chance to work and return home.

"I'm an engineer," one of the men had told him, "and in my family and in our tradition, for me to sit idle outside a tent, waiting for a daily food ration, is a humiliation that I cannot continue to bear."

We spoke late into the night. He kept asking me questions until the pool bar closed. Saying good-bye in the hotel lobby, his final words were: "The UN should do more, Paolo. I'll see what I can do when I get back to Geneva."

That was typical of de Mello - he was always someone who wanted to do more - never satisfied with just fulfilling his duty.

Still to this day, I hear the sound of his tired voice, late that night: "We have to do more...."

In Afghanistan
The next time I met de Mello was a few years later - 1998. This time we were in Afghanistan, assessing the damage from an earthquake that had wreaked havoc in the northern part of the country. At that time, de Mello was Under Secretary General for Humanitarian Affairs headquartered in New York. A few hours after the disaster hit, he called me. At that time I was the UN Special Representative a.i. (ad interim) in Tajikistan, working out of the capital Dushanbe. I also had responsibility for the helicopter fleet in United Nations Mission of Observers in Tajikistan - the UN peacekeeping mission there.

De Mello left New York that same afternoon on his way to the small mountainous town of Faizabad in northern Afghanistan. He asked me if I meet him with two helicopters there the following afternoon. Together, we would go to assess the situation at the earthquake's epicenter.

Despite the torrential rain, we dared to fly into the middle of the storm, which had hit the region. We managed to land in the center of the devastated region. De Mello wanted to better understand what more could have been done to anticipate and minimize damage to that remote corner of Afghanistan, which so frequently was hit by natural disasters. The truth is that he could have sent a senior aide from his department to carry out the assessment. Instead, he came himself. Twenty-four hours later, he was back at his desk in New York City.

De Mello was, indeed, a person deeply affected by human suffering and injustice. He seemed almost to have a physical intolerance for it and instinctively reacted against it. A person of unwavering integrity, he was also a man of legendary charm - certainly an uncommon gift among us, UN bureaucrats.

An influential American Senator once said: "Two things invariably happen whenever I meet de Mello: first, I feel poorly informed; second, I feel poorly dressed." For Sergio, style mattered; he considered it the visible expression of the dignity of the function of his office.

A Ph.D. from La Sorbonne in Paris, fluent in five languages (Portuguese, French, Italian, Spanish and English), de Mello, a Brazilian by nationality, was a fine connoisseur of art and literature. He always was committed to do as much for the culture of the countries where he worked, as he did to alleviate the social ills of their people. "A wounded soul may hurt as much as a wounded body," he used to say.

He was a cut above the others. Whoever worked with him recognized that. Feared by war criminals and corrupted politicians, loved by the people of the countries where he worked, envied and viewed as a role model by colleagues, adored by women, he was respected by all. For an entire generation, de Mello had represented the UN at its best, embodying the ideals of the Organization in a manner that very few had done before him.

Most likely, he would have been chosen as the next UN Secretary General, further enhancing the spirit infused by Kofi Annan into the Organization. Whoever killed him knew that too well.

Cambodia, Viet Nam, Sarajevo, East Timor, Kosovo, Iraq, de Mello believed that being part of the UN was a mission, much more than an adventurous job. The fact that he represented the Organization in some of the hottest conflicts in the world was a matter of pride. For us, his colleagues, it was important knowing that Sergio was always there for us.

I am told that as Sergio lay there dying, under the rubble of the bombed UN building in Baghdad, while his assistant was desperately trying to rescue him, his last words were: "Make sure we don't leave Iraq alone..."

Sergio Vieira de Mello has left neither Iraq nor us alone. I'm convinced that the ideals for which he lived and died will continue to inspire a generation of young men and women in their future choices in life.

That's what I feel as I look at the photo which I have in front of me on my desk. There's Sergio sitting beside me inside a helicopter as we were flying over Afghanistan. The picture captured a moment when I was distracted, looking out window, but he had turned and was looking directly into the camera, with his luminous, almost defenseless, captivating smile. The young, handsome, silver-haired boy from Rio de Janeiro who had refused to age - if age meant compromise. Not for a moment had he ceased to believe that life was worth living if we have the courage to commit our lives to an ideal more important than life itself.

For more personal tributes to Sergio de Mello from international heads of states and other distinguished people, see http://www.unhcr.ch/html/hchr/testimonials.htm. In 1992, at the age of 34, Paolo Lembo was the youngest person ever to be assigned as the Head of Mission in the UN. His responsibility was to open the UN office in Azerbaijan (1992-1997).

Since then, he has worked in numerous troubled spots with the UNDP [United Nations Development Program] in Tajikistan (1997-1999), Kosovo (1999-2001) and most recently Algeria (2001-2003). Paolo is currently awaiting re-assignment as we go to press.

His delightful memoirs of his UN assignment in Baku, characterized by their warmth and frankness, provide a rare glimpse of Azerbaijan's independence in the early 1990s: See "Another Wind, Memories of the Birth of a Nation - Azerbaijan," Search AZER.com (Autumn 2001, AI 9.3).


Back to Index AI 11.3 (Autumn 2003)
AI Home | Search | Magazine Choice | Topics | AI Store | Contact us

Other Web sites created by Azerbaijan International
AZgallery.org | AZERI.org | HAJIBEYOV.com