Autumn 2001 (9.3)
Pages 20-30
Another Wind
Memories of the Birth of a Nation - Azerbaijan
by Paolo Lembo

Related Articles:
(1) Lest We Forget: The UN in Iraq - Sergio Vierira de Mello - Paolo Lembo
(2) Diplomatic Interview with Paolo Lembo - Interview by Betty Blair
(3) Letter from Kosovo - Paolo Lembo
(4) Infinitesimally Short (Why Are We Killing Each Other?) - Paolo Lembo




Azerbaijan holds a special place in the heart of Paolo Lembo, former United Nations Resident Coordinator to the country. In 1992, shortly after Azerbaijan became independent, the Italian-born Lembo became the first UN staff member posted there. At 34, he became the UN's youngest-ever UNDP [United Nations Development Program] Head of Mission. After leaving Baku in 1997, Lembo was assigned to Tajikistan (1997-1999), then Kosovo (1999-2001). He began writing these vivid memoirs for us this past summer from an Internet cafe in Paris while preparing for French language exams in anticipation of his new responsibilities as UN Resident Coordinator in Algeria. We think it's a rare glimpse of Azerbaijan in the early years of its nationhood, written by a diplomat who developed a real passion for the country.

I have always believed that the UN should be impartial, but never neutral. We, the UN, must have the courage to stand up for the losers and the forgotten. We must take sides when there is just cause. If the UN doesn't do it, then who will?

"There's a message for you. The boss wants you to go to New York. It's urgent."

It was a hot evening in July 1992. I was at the Headquarters of the United Nations office for Afghanistan, in the city of Termez on the border with the Republic of Uzbekistan. I knew what the message was about.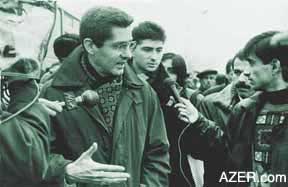 Left: Paolo Lembo, UNDP Representative in Baku, meeting with Azeri journalists on the occasion of the Inauguration of the Reconstruction Program in Horadiz, in southwest Azerbaijan, on October 24, 1996. A few refugees have returned to Horadiz and are currently trying to eke out a living there. Most of Azerbaijan's hundreds of thousands of refugees have not been able to return to their villages and towns in Karabakh and the surrounding regions, which have been occupied by Armenian forces since 1992 and 1993.

A few months earlier (December 1991), the Soviet Union had collapsed, leaving in its wake 15 independent republics. In a surprise move, UN Secretary-General Boutros Boutros-Ghali had gained approval from the UN General Assembly to open 15 new UN offices within a record time of six months. Given the very tight deadline and the insufficient resources put at the disposal of the UN for such a task, it was to become one of the most formidable and exacting operations ever undertaken by the organization.

As Chief of Mission for Afghanistan for the previous two years, I was one of the few at the UN who were authorized to travel in the region and knew the political geography of the republics. I knew that one day there would be a telephone call for me. A task force was being set up in New York City to open these new offices, and I was being tapped as a Special Assignment Officer.

Two days later I was in New York. The Director was particularly worried about a region that was becoming explosive - the Caucasus.

"I'd like you to leave immediately for that countrywhat do you call it? I can never pronounce its name right - 'Abistrakhan'"

"Azerbaijan," I added graciously.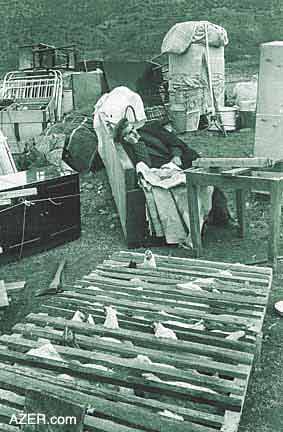 Left: Totally uprooted and exhausted, Azerbaijani refugees of the Karabakh war fled the advancing Armenian troops. Nearly 1 million Azerbaijanis were uprooted because of the war. The lucky ones were able to bring out their belongings. Many fled for their lives with only a few moments' notice. Photo: Oleg Litvin, 1993.

"Right. The Secretary-General is concerned and wants to open an office there immediately. We have to move fast. I'd like you to leave next Monday and try to sign a Memorandum of Understanding (MoU) with the government, for operations to begin in October at the latest. You have two weeks."

His tone did not leave much room for discussion, so I started to organize immediately. On August 2nd, the first UN mission to Azerbaijan landed in Baku, with the goal of establishing an operation there.

When we landed on the tarmac, two gentlemen from the Foreign Office were waiting for us. Shamil was from the Department of Foreign Office Economic Relations and was there primarily because he spoke English fluently. He had been working with the UN during the Soviet period and knew the organization and the international scene very well. I was impressed with him, especially once I realized that he was one of the few individuals in the government who could speak English. Courteous and well read, he soon became a much-loved and constant presence at the UN.

With him was another individual, a rather funny-looking, round-shaped young man from protocol. He had an enviable, but incomprehensible, self-consciousness and a certain flair for incessantly asking unnecessary questions, mostly related to the possible benefits and privileges that the Ministry staff could derive from a UN project.

It seemed to me that this unique pair represented the two souls of Azerbaijan. They revealed the contradictory, yet fascinating culture of the country: the cosmopolitan, open, modern and dynamic face along with the mercantile, opportunistic face.

The mission went very well. I discovered a wonderful country and developed an immediate sympathy for it. Other members of the mission had a different perception, probably because it was the first time that they had traveled in the former Soviet Union. They were shocked at how highly dilapidated the infrastructure was. But this was typical of all Soviet republics. For me, the Caspian Sea, Baku's bay, the passion, emotion, art, confusion and, to a degree, the chaos, had a certain Mediterranean flair and seductive power.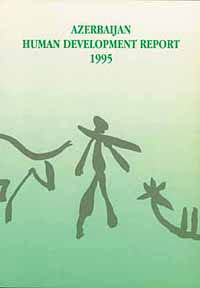 Left: The first Azerbaijan Human Development Report was sponsored by UNDP (United Nations' Development Program) in 1995 under the direction of Paolo Lembo. Subsequent reports have been published in 1996, 1998, 1999 and 2000.

Certainly, the general atmosphere was grim, but what could one expect of a country in the midst of three major transitions? Azerbaijan was dealing with a war, a transition to a market economy and, more specifically, the transition to democratic statehood.

Our team had the impression that we were the only foreigners in the country. In the rare walking tours that we took around the city, we felt like people were staring at us as if we were extraterrestrials. The truth is, to a certain degree, we were.

Traffic was sporadic and very orderly; not a single foreign vehicle was in the streets. No shops sold foreign goods. The people were dressed in a rather uniform and gray style, a fashion that can best be described as "Soviet". It was the same as what you would find in every other former Soviet republic. But there was also something different, something that I couldn't define - a glimmer of light that the darkness of the time could not completely extinguish.

Our first meeting with government officials confirmed the extreme difficulty of the young republic's situation. The economy was in shambles, military hostilities with Armenia were flaring up in several border zones and the new democratic institutions were very fragile. After taking into account the external influences, the overall picture caused us grave concern.

Our meeting confirmed my worries. We discovered Foreign Minister Tofig Gasimov, a scientist, to be a gentleman, an honest person and someone truly devoted to his mission.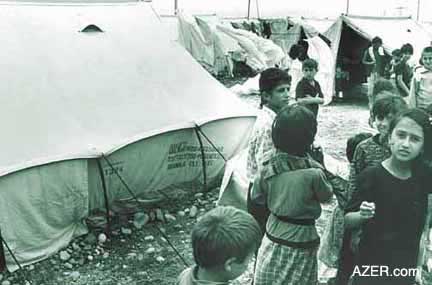 Above: The United Nations and numerous other humanitarian organizations provided survival essentials of food and shelter for tens of thousands of Azerbaijani families who fled their homes and villages in the Karabakh and the neighboring regions when Armenian military forces invaded Azerbaijan's territory [1992-94],. Azerbaijan's refugees - nearly 10 years later - still yearn to return home. Photo: Refugee camp near Yevlakh. by R. Redmond, UNHCR, 1994.

"Mr. Minister, what are your primary concerns at this point in time?" I asked.

"Everything," answered the Minister.

"Is there any specific sector you would like us to focus on immediately?"

"Every sector."

I realized that to get at any answer, I would have to take a different approach.

"Mr. Minister," I began again, "Do you have any particular question for us on our future cooperation?"

"Yes, I do. When do you start?"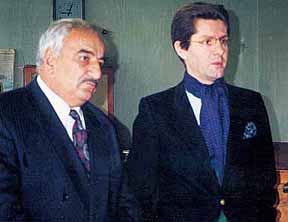 Left: Paolo Lembo (right) with Abid Sharifov, who was in charge of organizing the Horadiz Reconstruction project in 1996. Today Sharifov continues in his position as Deputy Prime Minister. Photo: Blair, 1996.

decided to meet as many ministers as possible to shape our first general Memorandum of Understanding. I realized we had a considerable amount of work to do.

I'll never forget the first day of our arrival when I asked the hotel to place a telephone call to New York. I was impressed when the desk officer answered that this would be no problem. "Not bad," I thought, "at least we have connections."

"I'm not in a hurry," I told him. "After 8 p.m. will be fine."

"Which day?" the receptionist asked.

The following day, during a discussion with one of the ministers, I mentioned this episode and stressed the importance of telecommunications. I asked him if there were any electronic mail system in the Republic.

"We're much more advanced than that," he replied. "Of course we have mail! We also have Telex, and soon we'll be getting fax."

We worked day and night to finalize the text of the Memorandum. I met several young, motivated economists and the staff of the new administration, and soon realized the Republic's enormous potential. The human capital was remarkable. The issue was just how to make my colleagues at the UN in New York understand that Azerbaijan was not a typical developing country. Its infrastructures, both social and physical, were very well developed and the labor force was highly qualified. The primary challenge at the UN would be to figure out how to promote a process of transformation.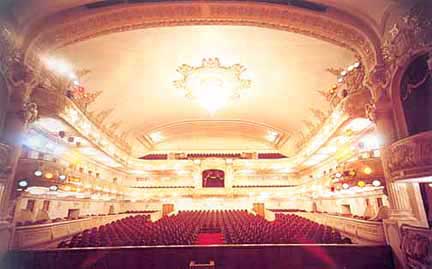 Photo: Interior of Baku's ornate Opera and Ballet Theater, view from the stage. Courtesy: UNDP.

In the meantime, the dark clouds of war cast a huge question mark over any project that we attempted to define.

On August 16th, Foreign Minister Tofig Gasimov and I signed the first Memorandum of Understanding that would lead to the establishment of the UN Mission in Azerbaijan and the launching of the first operations there in October 1992.

The ceremony was very emotional. In front of the cameras and the press, all the journalists and the notables applauded and the Minister smiled. But his smile could not hide his deep concern.

On my return to New York, I held a debriefing for a group of senior UN officials. At the end, they all shared their concerns. The situation in the Caucasus did not augur well. Of particular concern was the deteriorating relationship between Azerbaijan and Armenia. It was suddenly decided that Azerbaijan would be the first office to open and that I would be assigned as its first UNDP Representative. I had just turned 34, making me the youngest Head of Mission in the organization ever.

I was surprised by the sudden turn of affairs. After all, I had intended to return to Afghanistan after my special assignment. Naturally, I was also concerned about the daunting challenges of my new assignment in Baku. I never quite found out how my appointment had been finalized. Most probably, it was a question of practicality: there simply weren't that many Western officials with knowledge about that part of the world or previous conflict experience. In the end, I concluded that my appointment was a matter of accidental circumstances.

Arriving in Baku
On October 25, 1992, I left New York for Baku. Inside my suitcase, I carried the light-blue flag of the United Nations. I arrived the following day, which is the date that is considered the official beginning of the UN Mission's activities in Azerbaijan. In its initial stage, the Mission consisted of a single room at the Azerbaijan Hotel in Baku.

For anyone who remembers traveling in the former USSR at that time, it's not hard to imagine the situation. But I knew what to expect. There were the tiresome "hunting" expeditions to find necessities like toilet paper and toothpaste as well as the many Fellini-esque episodes dealing with the various "matryoshka" at the hotel, namely the "goddess" of each floor of the hotel, who turned out to be indispensable for our daily survival. Requesting a simple bottle of mineral water often meant promptly receiving a bottle of Soviet champagne. (Admittedly, it tasted somewhat like Schweppes.) Of course, there was the dubious privilege of room service delivered by a Marilyn Monroe-style, self-appointed "waitress". I thought that I had already accumulated so much Soviet and post-Soviet experience that nothing could frighten me. Or at least, almost nothing...

I'll never forget the day I entered my 10-square-meter residence / office. I opened the terrace window and went out on the balcony to hang up the flag. The thought of trying to find a flagpole didn't even cross my mind; it would have been faster to fly to New York to get one there. And so the noble flag was simply draped across the balcony railing overlooking the Caspian and Azadlig Square [Freedom Square, which was called Lenin Square during the Soviet period].

A passerby on the square looked up with bewilderment at that blue piece of cloth hanging from the fourth floor of the Intourist. He seemed puzzled that the hotel had purchased blue bed sheets. But as he came closer, he realized: "No, it was the blue flag of the world - renowned Napoli Soccer Team!" Suddenly, he greeted me with a smile, waving his hands. "Maradona, Maradona!!!" he shouted with enthusiasm for the great soccer player.

When I think back on that evening almost ten years ago and consider the changes that have taken place in Baku since then, it seems like another world, another era, another people. The atmosphere at that time was somber. An aura of mild, but pervasive, sadness had settled over the people, wiping out the initial euphoria that had followed the collapse of the Soviet Union and the long-awaited declaration of independence. The economic situation was desperate, and talk of imminent oil fortunes did not alleviate the harshness of the period. Above all, the pervasive specter of war engulfed the country in a suffocating cloud.

Despite all of the hardships, difficulties and uncertainties, the city maintained its warmth and passion for life. You could feel it in the streets. Tiny cafes timidly started to open. Azerbaijan was, above all, an outgoing society with a semi-Mediterranean mentality. It was as if its tremendous culture and history, which had been sealed for many years, was starting to emerge, chaotically at first, but with hope and anticipation. It was a city of pioneers; at least that's how it appeared to the first internationals who arrived in the country soon after independence.

Transitions
Hiring national staff proved to be much more difficult than I had expected. They were to provide the backbone of the office in Baku, so I needed strong personnel. I was amazed at how highly educated the applicants were. Many university professors, especially economics professors, applied for the position of Chief Administrative Officer. Unfortunately, their knowledge and experience was based on principles that were not relevant to our program. They were still part of the academic culture of the former Soviet Union. In certain sectors, this was very valuable, but in others, completely outdated.

After several days of hectic and unsuccessful searching, I decided to look for very young, talented candidates who had virtually no professional experience but potential for fast growth. I was taking a risk that this would slow down our operation at the beginning, but within time, it would promote the development of a new class of staff entirely shaped by international civil service standards.

One applicant that drew my attention was very young, but looked even younger. In fact, he looked so young that one would have wondered how he had arrived for the interview without being accompanied by his father. However, I soon found out that he was very bright, quick thinking and surprisingly well-informed on issues related to international finance and multilateral organizations.

There was one thing about him that puzzled me. When I asked if he could start work immediately, he hesitated. He said that it would be difficult because he was working as Assistant to the Minister of Finance, and there were issues at the Ministry that no one but he could handle. I was surprised by his response, which seemed somewhat arrogant for an applicant who had just graduated from the university. But he was by far the best candidate, so I decided to contact the Minister myself.

Sure enough, it turned out that this very shy, 20-something-looking youth was responsible for relations with international financial institutions. As such, he was indeed indispensable, not only for the Minister but for the country itself, especially since at that moment it was at the embryonic stages of working out some projects with the World Bank and the IMF [International Monetary Fund]. He had already been in Washington and participated in meetings with senior staff of multilateral financial institutions.

After a long talk with the Minister, we finally agreed to "share" the young Elkhan Aliyev on a part-time basis. He turned out to be extraordinarily professional. Later he became a full-time staff member in our office, probably one of the best and most competent in the entire region.

Later on, while still very young, he won a competition to become an International Finance Officer at the headquarters of FAO (Food and Agricultural Organization) in Rome, where he resides today with his family.

Many other talented Azerbaijani staff of the UN started in the Baku office and are now serving in international posts in various institutions. They represent the best of Azerbaijani professional culture abroad, and we're proud to have recruited them.

Western Attitudes
I'd have to admit that we Westerners were slow to adapt and properly comprehend the gigantic problems related to transition. It was, in fact, a threefold process: (1) from former Soviet Republic to independent, democratic Republic; (2) from command economy to market economy; and (3) most importantly, from war to peace.

Some international officials believed this transition would be effected by rapidly introducing economic reforms, but it turned out to be much more difficult than that.

At the beginning of December 1993, I received a delegation from an important international organization. I organized a breakfast briefing to share my impressions about the importance of understanding the context and culture of Azerbaijan, its peculiarities and complexities, before undertaking adjustment programs.

Azerbaijan did not fit the definition of a developing country in the traditional sense of the word. The global environment was totally different, and I found our organizations slow to adapt to the real political and economic needs of a region that was new to us.

Soon after the briefing started, a waiter came to take our breakfast orders. The official who was sitting to my right announced that he wanted two fried eggs-sunny-side-up-bacon and porridge. The hotel waiter looked at him in total confusion. I gently urged my colleague to simply choose something from the breakfast buffet, which admittedly wasn't a Sheraton-style selection. "The concept of breakfast in this part of the world is somewhat different than it is in Washington," I suggested. "Perhaps it would be better not to embark on a risky experiment."

But he insisted and kept querying the distressed waiter for ten minutes. Finally, the waiter said, "OK, OK, I know, I know," and left.

"You see, Paolo," said the foreign official, "with these people, it's only a matter of perseverance to bring about an evolution in their system and culture. In the end," he added with evident satisfaction, "they're not bad people."

It took nearly half an hour for the waiter to return with the order. When my colleague saw the dish that was placed in front of him, he was speechless: it was an enormous, greasy, fried chicken, with boiled potatoes and rice!

"Talk about evolution of the system," I said quietly. "Actually, there isn't much difference between what you ordered - two eggs - and what you received - a chicken! Perhaps certain 'systems' are able to evolve more rapidly than you thought!"

Between the end of 1993 and the beginning of 1994, the United Nations deployed a full system of UN agencies in Azerbaijan. The first was UNHCR, which quickly set up an exemplar operation to support the government in tackling a problem that was to become the most painful and perplexing issue for the country: how to care for nearly a million refugees.

UNHCR reacted quickly. In a matter of days, the office was set up. Relief supplies were flown in almost immediately, bringing first aid to a growing tide of refugees. The operation, performed in conjunction with other UN organizations such as UNDP [Development Program], WFP [World Food Program] and UNICEF [United Nations Children's Fund], as well as non-governmental organizations, enabled the refugee population to at least stave off starvation and epidemics.

It became one of the greatest refugee crises in the world: nearly a million refugees in a country with a population of barely 7 million. At a certain period, military hostilities became more and more violent, and Azerbaijan continued to lose considerable territory. The Azerbaijanis were in retreat when the region of Fuzuli (near the Iranian border) came under heavy bombardment [Summer 1993].

In one of the most difficult moments, the Speaker of Parliament, Isa Gambar, himself a native of the Fuzuli region, decided to go to the front line and remain with the troops until the end. I decided to follow in order to assess what our response should be. The events seemed to foretell an even larger humanitarian disaster.

When I reached the front line, the residents had already been evacuated from the zone, as it had been bombarded with continuous shelling for several days. Troops were changed. New contingents were being sent from Baku. As we neared the front line, we passed columns of trucks carrying the troops who were returning from the front. Our military escort, arranged by the Ministry of Defense, was driving very quickly. As we approached, the sound of the bombs became more and more violent. Every time we passed a truck, I searched the expressions on the young soldiers' faces.

I was amazed at how very young the soldiers were and also by their composed, impenetrable expressions. It was as if the life had been knocked out of them. There was a striking difference between the aged maturity of their expressions and the gentle features of their adolescent faces. Their faces didn't show fear or pain; instead they seemed void of all emotion - like the numbness that sets in when a person lives under the constant threat of death for a prolonged period of time.

After crossing the last checkpoint, we arrived at a small garrison that had been almost completely destroyed. It was guarded by a battalion of heavily armed troops. At that point, the explosive sounds of the heavy bombardment became more frequent. The ground shook periodically.

The door was opened very slowly by the Speaker's personal bodyguard. I entered a small room, full of dust and rubble, where Isa Gambar was sitting alone at a modest kitchen table. An empty chair in front of him was the only other piece of furniture in the room.

Gambar was unshaven and rather pale, but his eyes were still as strong as I had known them to be. His posture inspired a sense of dignity. He seemed determined to reject the fatalism that historic circumstances, at that point in time, seemed to have already foreordained.

He wore a dark, rather dusty, jacket. No tie. An ashtray, the only object on the table, was full of ashes and cigarette butts. I shook hands with him, took a seat and waited, saying nothing.

"This used to be one of the most beautiful parts of Azerbaijan," he began. "In spring the color of the hills was gold with wildflowers; at sunset, the hills would fade into the horizon, depending on the colors of the clouds, and the sky...

"Why did you come?" he suddenly asked after a long pause, looking me straight in the eye.

We had a one-hour meeting. I came to understand the gravity of the situation: the troops probably would not be able to hold onto the territory much longer.

The bombing became heavier and heavier. Gambar continued to smoke, unperturbed. He spoke quietly and slowly. His voice was firm and calm. Not once did he show signs of fear or anxiety. But his tired eyes could not conceal the immense pain and anger he felt in not being able to save the land of his people, his memories and his life.

A bomb exploded nearby. The ground shook violently, causing all the windows to shatter.

"It's time for you to go," Gambar told me. "A bomb could fall on this place at any moment. It would be much more heroic for you to persuade the international community to stop this carnage, than to die with me here in this garrison."

The door opened suddenly, and the same bodyguard who had escorted me in announced that it was no longer safe for us to continue to stay there. We were urged to rush back to Baku immediately.

Gambar stood up and came over to me. He stretched out his hand slowly and shook my hand firmly. There was nothing more to say.

As I was leaving I noticed that when he returned to his table, he was about to light up his last cigarette, only to realize that the matchbox was empty.

Baku's "Sharon Stone"
It was November 1992. A meeting with the Minister of Foreign Affairs had been scheduled for early the next morning. When the telephone rang, I thought that I had overslept, so I jumped from my bed to pick up the receiver. At that time I was still living in the good old Azerbaijan Intourist Hotel.

"Hello, how are you?" came a woman's voice. I assumed it was the secretary from the Ministry protocol.

"I'm fine, thank you," I replied, still quite groggy.

"Has the time of the meeting been confirmed?" I inquired.

"I don't know yet," she answered.

"I would appreciate it if you could confirm it at your earliest convenience, as I still haven't alerted my colleagues."

"No problem, we can have a separate encounter with you first, and then later with your colleagues," she replied promptly.

"No, sorry, that's not my style. I like being together with my colleagues. I believe together is better. After that we can meet individually."

"You're very demanding!"

"It's not a matter of being demanding. This was our agreement: our first session would be a group meeting, and then I could prepare for a one-on-one session."

"Won't you be tired by then?"

"Why should I be tired? I've had many similar experiences with large groups. It's always been fine. Of course, sometimes things may heat up a bit because everyone wants to participate in his own way, but I can handle any unpleasant developments."

"Well, recently we had a bad experience with a group of businessmen..."

"Oh no, please, we're not like that! We're the United Nations, we have a different attitude. Fundamentally, we have, how shall I say it...'a humanitarian approach' to our relations. Trust me, we would never do anything against the will of our Azerbaijani partner."

"A humanitarian approach, I like that! I've never heard of that before!"

"That's because you've never had a UN Office here in Baku. It's just a new experience. Don't worry. With us, you will change many of your ways of doing business. We're here for that, no need to be shy."

"It sounds very interesting - this 'humanitarian approach'. Anyway, with or without the 'humanitarian approach', the cost will be quite high, you know."

"Of course! But you see, we shouldn't be discouraged. Every radical process of change entails high costs. It is unavoidable. It's only a matter of being strong in the initial phase, and gradually it gets better and better. I'm very optimistic."

"OK, then it's agreed. But I'll need some cash in advance."

"What cash?"

I must admit that I've never been very quick when it comes to women. Whether it was the hour of the day, the stress or the lack of sleep from the previous few days, I'll have to admit that I was, indeed, particularly slow in catching on. I looked at my watch and only then realized that it was 2 a.m. The person on the phone was definitely not a secretary from the Foreign Affairs protocol.

"You're not from protocol?"

"No, no, I'm not from protocol. I'm from Baku," the young voice replied cheerily.

"But who are you?"

"Here they tell me that I look like Sharon Stone. And if you open the door of your room in five minutes, you can see for yourself..."

I was furious. I had just been awakened in the middle of the night. I was tired and overworked, and the following day I had an important meeting with the Minister, a very heavy schedule and a lot of work to do.

At that time, a mission of senior UN colleagues was visiting from New York. Why had I been the only one to be awakened and suffer while my New York guests were sleeping so comfortably?

In the true spirit of UN partnership, I decided to solve this situation before going back to sleep.

The head of the delegation was a German national-seasoned, respected and, above all, very austere. He was also known for being very active on issues concerning religious and humanitarian organizations: in a word, "perfect" for what I had in mind.

It wasn't long before I passed along his name and number. Then I went back to bed and slept soundly, without the slightest sense of guilt.

The following morning the German arrived late for breakfast. He was fuming.

"You know what happened to me last night? I can't believe it!!! It's outrageous, simply outrageous. I was awakened by..."

"By what?" I asked.

"By a...you know, one of those girls...in the middle of the night!!! This is very unpleasant. The most shocking thing was that the woman knew my name and room number! I just can't understand how she got it. She gave me a line about Sharon Stone and who knows what else. I immediately hung up. I was so upset that I couldn't go back to sleep. How could this have happened?! It's a serious breach of security...We are all under threat here! Tomorrow she could even call you, and we don't know what might be behind all this! I'm going to complain to the Ministry of Foreign Affairs! This is absolutely unacceptable..."

"I'm shocked," I told him. "A beautiful woman named Sharon Stone phones you here in Baku, in the middle of the night, talks to you using your real name and graciously proposes an unsolicited visit to your room...

"You must have been very tired. It must have been jetlag or the fatigue of traveling. You've just arrived from New York and it was a long flight. I'm sure if you get some good, hot chamomile tea and some sound sleep tonight, tomorrow everything will be OK and your nights will be more tranquil."

"What, damn chamomile!!! That woman might call me again and even attempt to force her way into my room. Do you understand that?!!! At night this place is completely deserted...I need police protection! Oh my God, this is a nightmare..." he went on.

I replied, "But if everything you say is true about Sharon Stone, how could it be a nightmare? Surely it was just a dream, and a very sweet one"

Needless to say that when I finally admitted to the joke, we all had a big laugh. The story made its way through the grapevine of the United Nations.

The New Azerbaijan
In the spring of 1993 the situation became very tense. The tide of the war turned against the Azerbaijani army, and large areas of the country's territory were under occupation by the Armenian military. Seurat Husseinov, an army colonel with a dubious past, marched on Baku with a handful of troops loyal to him and seized power, becoming Prime Minister in a bloodless coup.

I had always refused to have any dealings with him. I resisted his attempts to organize official meetings with me, as I thought doing so would somehow give him political credibility. I thought that as representatives of the UN, we needed to send a clear message. This was the most difficult period since independence, and at a certain point, we felt that the course of events could have erupted into civil war. Baku was under a curfew at night, and several foreign companies were evacuated. We never evacuated, but we did review and reinforce security measures for all of the staff stationed in the country.

I became fascinated by the enormous cultural wealth, which has hardly been known outside the country, as well as the fast pace of economic and social development. Despite such progress, there was no publication to document the events and profound changes that were taking place and their impact on people's lives. We decided to try to produce a Human Development Report to offer a true picture of the "New Azerbaijan".

The government was suspicious of the idea. The old Soviet attitude that every publication was to be used as an instrument of government propaganda was deeply ingrained. But I knew that a global report on the state of affairs in the country and its evolution would promote a more realistic image of the country abroad and stimulate debate about the country's future. I wanted the process to be guided entirely by Azerbaijani intellectuals and scientists. The issue of independence of judgment was of critical importance.

Key to the publication's final success was the selection of one of the most respected Azerbaijani scientists as coordinator of the report. When he first came to my office, I didn't know him at all, but Professor Urkhan Alakbarov already had an international reputation as a geneticist.

Just like all great men of science, he was a modest person with gracious, simple manners. He was relatively short, in his early 50s and spoke broken English. Behind his very calm and serious exterior, I could sense an enormous intellectual passion - an energy that his eyes could not hide.

He was the first person I met in Baku who was talking about sustainable human development. He spoke about the future of Azerbaijan with vision and realism, knowing full well that vast oil reserves alone would not necessarily guarantee prosperity for everyone. Many challenges lay ahead on Azerbaijan's path toward development.

Together we wanted to produce a book that would reveal the complexity of the historic moment that we ourselves were witnessing. We also wanted to portray the enormous potential of the nation. He quickly assembled a team of independent Azerbaijani intellectuals and scientists and began working on what came to be known as the Azerbaijan Human Development Report.

It was the first-ever such report produced in the former Soviet Union and became a milestone in providing a transparent glimpse at the country's situation, both positive and negative. The report was written with unprecedented openness and included guidelines for future development. It included analysis from a broad range of Azerbaijani representatives as well as international experts.

Even more remarkable was the fact that President Heydar Aliyev himself launched the report, along with the Speaker of Parliament and the Prime Minister, at a public ceremony. Aliyev understood that he could benefit from allowing a larger margin of maneuverability for the UN and its publications.

The ice was broken. From then on, many analytical studies and essays about Azerbaijan began to be published and disseminated throughout the country and abroad. As time went by, a new class of intellectuals began to emerge. Gradually they brought to the surface topics that up until then had been considered untouchable.

The Opera House
I was always amazed at how the Opera Theater kept operating, even during the most tragic moments of the war. It had almost no budget, and I learned later that it had remained open thanks to the voluntary contributions of theater personnel and artists. For a long period, during those early months and years, they worked without any salary.

The first performance I attended was in late 1992. The theater was nearly empty. There was very little electricity. The singers' costumes were very old and in some cases, tattered. In fact, some of the singers performed in their own clothes, instead of costumes.

It had been a very harsh winter and there was no heating; the temperature inside the theater was below zero [Celsius]. The spectators, few that there were, wore their heavy coats, fur hats and gloves, but were still freezing cold.

I was enchanted by the shining beauty of the representation and by the spectacle of a nation that even during its most tragic circumstances had not abandoned its cultural dignity and traditions. A war was going on. There was little water or electricity. The country was in a state of economic emergency, but still the opera refused to close down.

Regrettably, for a long time, I was not able to do anything to support the Opera Theater. As UN funds were very scarce, and the humanitarian situation in the country was so disastrous, no resources could be diverted from much-needed assistance, considering that bilateral donors had never been particularly generous with Azerbaijan.

In 1996 we finally succeeded in convincing a group of international oil companies to finance a UN-sponsored Opera Trust Fund, in support of the Azerbaijan Opera Theater. After long discussions, the Fund was established at the very end of my tenure, with a significant budget that allowed for the long-awaited rehabilitation of the Opera.

Much credit for the survival of the Opera is due to its director, Akif Malikov, a tireless and truly devoted cultural promoter. His admirable and solitary efforts kept the Opera together during the most difficult times.

For me, the Opera Theater was like a quiet refuge where I felt at home more than anywhere else in Baku. When the challenges of the political situation brought me to the edge of anger and frustration, I would go to the Opera, no matter what was being performed.

Many times I escaped to the empty theater and sat there alone in one of the plush red velvet chairs, just for the pleasure of being surrounded by the theater's beauty and breathing in the atmosphere of its art and history. All of my battles would be left outside those huge carved wooden doors, and harmony and beauty would embrace me for a few brief moments.

Drug Control
"You see, Mr. Lembo, the core of Dostoyevsky's 'Crime and Punishment' is in its many ambiguous intersections, including the sense of guilt, collective human ethics, the individual's code of conduct, public law, personal remorse (or the absence of it) and divine judgment. When a society displays a harmonious balance among all those elements, the job of the Prosecutor General becomes unessential. Although we in Azerbaijan are far from having found a proper equilibrium in our society, it seems more and more that my functions in this country are of modest relevance."

Eldar Hassanov, Prosecutor General, was quite a rare character. In almost every UN Mission around the world, relations with the Prosecutor General are inevitably complex. That was not the case in Azerbaijan. In fact, in the office of the Prosecutor General, the UN had one of the most constructive relationships of all.

It is certainly rare to call on a senior government official for an official visit and discuss matters of utmost relevance amidst a quotation from Dostoyevsky, a comment about Michelangelo and a reference to Mozart. But Eldar Hassanov was a true intellectual, a cosmopolitan and, most importantly for me, a true believer in the United Nations. He was always ready to receive me and discuss the most delicate of subjects with a genuine commitment to finding a solution. He did not hesitate to intervene personally in highly controversial issues and assume the responsibility for making sensitive decisions.

There was nothing I felt I couldn't discuss with him. We frequently had disagreements, even disputes, but they never affected our mutual respect for each other. He was a highly qualified man of law who tried to exercise his authority with wisdom and justice. He was Prosecutor at a very difficult time, and within the limits of his mandate and considering the legacy that he had inherited, he is remembered as someone who did his best to advance the rule of law in his country.

He was particularly known for his competence in the drug-control sphere, an area in which he had written several specialized publications that were valued internationally. He and the Minister of Internal Affairs, Ramil Usupov, deserve to be commended for their efforts against drug trafficking.

The UN organized an International Conference on Drug Control in Baku in 1997. An important agreement was reached there on an international protocol (still referred to as the Baku Protocol) to better coordinate international police efforts against narcotics traffic. Overall, the law-enforcement authority in Baku always provided excellent cooperation in our efforts to fight drug trafficking in the region. When it came to drug control at that time, Azerbaijan was a positive example that stood out among many other countries, both inside and outside the region.

Rebuilding Horadiz
Horadiz [in the southwestern part of Azerbaijan near the Iranian border] was one of the zones that were hit the hardest by the war. The destruction there had been very extensive, and sporadic shelling still took place even after the cease-fire agreement [May 1994]. The region had been almost completely evacuated. My thought was that it could become the starting point of a reconstruction program that in phases could be extended to other neighboring regions.

Our idea for reconstruction in the area was not met with much enthusiasm at first. The word "reconstruction" had not yet been used in any of the ongoing international programs. Most of the international institutions feared that a full-scale war would resume, destroying what was being reconstructed and hampering future funding for international programs in the country.

On the contrary, I felt that launching a large-scale reconstruction program in Horadiz, funded by international organizations, would help restrain the bombardments from the other side of the border. Any damage to the infrastructure that was being rehabilitated would be seen as an act of hostility against the UN, not simply against Azerbaijan. With an international witness on the scene, it would have been irresponsible and dangerous to resume shelling.

I admit that it was a gamble, but as I think back on my activities in Azerbaijan, I recognize that half of the decisions that we made were risky. A seasoned diplomat in New York once told me that there were two categories of staff in the UN: those who start a project only when it is "safe", and those who start a project only when it is just, no matter the risk. When I began my career, I well understood the importance of good, safe and traditional programs, but I decided to start implementing them after I had retired as a consultant. In Baku, I was far from retirement age.

We decided to create an Azerbaijani institution responsible for overseeing the reconstruction activities in the country - the ARRA (Agency for Reconstruction and Rehabilitation of Areas damaged by the war). Within a few months it was operational, and we started formulating and implementing reconstruction programs. Initially, it was funded by UNDP alone, but soon many other international and bilateral donors joined.

We organized an international conference on reconstruction, where, for the first time, oil companies were invited to get involved with the program. It was an unqualified success, and we gained sufficient resources to launch a large-scale plan. As I had hoped, the military shelling came to a halt, and building activities were carried out without incident. The Horadiz railway station was reopened, and trains started traveling to and from the region.

Some of the media from a neighboring country accused me of "having financed the re-opening of an Azerbaijani military supply line by railway." There was a lot of noise about it in New York, also. I answered that, given the speed and technology that the Azerbaijani railway could afford at that time, it would have been faster to utilize donkey caravans for a military supply line.

In 1996 we celebrated United Nations Day [October 24] in Horadiz with the first families who were returning to resettle the area. [See "Horadiz: Finally, Some Refugees are Heading Home," in AI 4.4, Winter 1996. SEARCH at AZER.com.] We organized a simple celebration in town, where we shared bread with the families who had moved into the first houses that we had helped to reconstruct. Many of the Ambassadors accepted the invitation to come out the four hours' distance to Horadiz. A number of oil company managers and friends from the international community joined them in a demonstration of solidarity that was documented by CNN.

Abid Sharifov, Deputy Prime Minister in charge of construction activities in the country, was my partner in the initiative. Certainly, he's the person who deserves the credit for its success. Sharifov looks like a character right out of a Francis Ford Coppola film: he has a large build and a strong, deep voice, memorable features, a prominent nose and brusque manners.

He was certainly not what one might call the quintessential diplomat. He would only meet with you if he had something very concrete to discuss. He was not willing to just chat and didn't even seem to know how to do that. I liked this characteristic about him and thought that we could work together well in that difficult and politically charged venture related to the beginning of reconstruction activities. In fact, he proved to be an excellent manager, surrounded by people he had chosen who were equally professional. I felt that my sympathy was reciprocated, although we were, in every aspect, very different.

I had only one complaint about Sharifov: he was resolved to marry me off in Azerbaijan. Now nothing is wrong with such an idea. I was, and still am, a bachelor, and I'm certainly not against the idea of marriage. Sharifov's thought was that he knew me well, he knew Azerbaijani women well, and that Italians were similar to Azerbaijanis, so he somehow felt the necessity to take it upon himself to identify the right person for me so that I would settle down.

What scared me most was that he undertook rebuilding Horadiz and finding me a wife with the same intensity. He didn't earn the nickname "Bulldozer" for nothing. I feared the moment would come when I would exhaust my Italian resourcefulness in escaping the final decision on the long procession of (nevertheless, very appealing) candidates.

He would typically introduce me to a potential candidate at a business dinner down at one of the sea resort restaurants, usually in some romantic location. Just the appearance of Sharifov inculcated the fear of God in all the restaurant personnel and management. (Yes, I have to admit that Sharifov was very well known, and the restaurant service for him and his friends was always solicitous.)

For the occasion, he would appear with a young "interpreter" - a beautiful woman from a good family. Of course, her linguistic qualifications often left something to be desired. Instead of Azeri-English translation, it was more frequently an Azeri-Azeri translation. In any event I always had my (real) interpreter beside me, who would proceed to interpret for me and for Sharifov's interpreter as well.

When I met Sharifov for the last time at my farewell party [in 1997], he embraced me and said: "I have cracked many walls in my life, but I didn't succeed in cracking your wall. You managed to escape me, but you won't be able to escape for your entire life."

During my final months in Baku, I was named "Man of the Year" in Azerbaijan. I was given a bronze plaque at a ceremony at the Respublica Palace. It is simply engraved: "To Paolo Lembo, Azerbaijansevari." In Azeri, "Azerbaijansevari" means something like, "The lover of Azerbaijan."

That plaque remains one of my fondest memories of Azerbaijan. It seemed to symbolize my attachment to a people I identified passionately with and with whom I had shared the first period of that country's independence - the most difficult moments of peace and war, hope and despair, success and failure. Never before had I experienced that intensity and that fire for a cause that I had felt throughout my stay in Azerbaijan. Perhaps it was because I was young - I lived it with all the unrestrained passion that is only possible during certain seasons of one's life.

Toward the end of my tenure, I came to realize that I had become quite a popular figure in Baku. When I walked the streets of Baku, people recognized me and approached to offer a word of sympathy, appreciation, or on occasion to complain about what they thought the UN should have done but did not do (and they were usually right). Sometimes they simply shook hands and smiled. At restaurants, it was not unusual for bottles of champagne to be offered by guests sitting at nearby tables.

On one of my last days in Baku, while I was waiting for my car in front of one of the ministries, a taxi driver was smoking a cigarette next to his very old Volga. He didn't recognize me, so I decided to approach and ask him: "What do you think of the UN here in Azerbaijan?"

"Ah," he answered, "Paolo Lembo!"

"No," I emphasized, "not 'Paolo Lembo'. 'The UN'."

"Yes, the UN - Paolo Lembo!" he repeated.

"No, I didn't say anything about 'Paolo Lembo'. I said 'the UN'!"

He appeared surprised. I was about to lose my patience. "Look, Lembo is a man, like you and me, the UN is an institution. I'm not asking about the man, I want to know your opinion about the institution, the United Nations' organization in Azerbaijan?"

I paused and waited attentively. But my explanation made him even more confused. The situation was hopeless.

"OK, I understand, so what do you think of the UN / Paolo Lembo?"

"He's a good man."

"Yes, but why do you think the UN is a good organization? What has it done here in Azerbaijan?" I continued.

"I do not know, but he is a good man."

"Can you tell me at least one good project that the UN has done for the people of Azerbaijan in the last five years?"

He suddenly assumed a serious, almost philosophical attitude, somewhat puzzled by my insistence.

He stopped smoking and looked up at the sky. My persistence seemed to be paying off.

"He's a good man, a very good man," he said and slowly left my investigation, which by then must have seemed rather threatening.

I eventually realized that there was nothing I could do to separate myself from the public image of the organization. I also had the somewhat uncomfortable feeling that perhaps it was not so good that I had arrived at a point where everyone knew me, but nobody knew why I was known.

How long did I stay in Baku? Was it five years, fifteen years, five months or five days? Perhaps the archives of our memory classify the files of life's milestones according to the intensity of emotions we have lived. In the end, the statistics of years, months and days and their actual sequence gradually fades away.

When the moment came to leave, it almost took me by surprise. I suddenly received a notification that my name was being proposed for Tajikistan, which ranked as one of the most difficult duty stations. The UN at that time was struggling to broker a peace agreement. I have always been attracted by challenges, so I accepted. I also felt that Azerbaijan had evolved tremendously since independence and, given my background of working in countries under extremely difficult circumstances, I could be more useful someplace else.

Still, leaving Baku felt strange to me. I had lived my life so intensely on the Caspian bay that I wondered how I could live without it. It turns out that I was mistaken, as the peace process in Tajikistan proved to be an even more challenging adventure. But never again would it be the same for me as it was in Baku, in terms of witnessing the birth of a nation.

After my departure from Baku, some thought that the UN should be more neutral. I have always believed that the UN should be impartial, but never neutral. It must have the courage to take sides with the losers and the forgotten. If the UN doesn't do it, who will? I have always refused to initiate projects that would only appease government officials and bind them to the UN with a few material privileges. I have never been able to be everyone's friend, and I'm convinced that there are still people in Baku who do not sleep well when they think of my name.

I would be the first to admit that not every project I promoted was successful; however, each of them did constitute an effort to work in an area where no one else had worked before. The important thing was the aim, not the project.

In the larger picture of Azerbaijan's history during the first decade of its independence, the UN played a marginal role. Within that, my personal role was insignificant. In Azerbaijan I only began a small fraction of the projects I would have liked to have done. I left the country with the regret of having received much more from the people than it was possible to give them.

My story is the simple tale of a UN bureaucrat who arrived in Baku one day in October 1992, as a young dreamer, with a suitcase and a big blue flag. I left several years later as a man who had lost some beliefs but gained more faith in values.

On my last ride from Baku to the airport, I sat in the car with two people who had been close to me throughout my mission in Azerbaijan: Mahir, my assistant, and Fuad, my security officer.

I looked out at the beautiful architecture of the buildings - the elegant decorations of turn-of-the-century palaces that had recently been restored. I was amazed at the incredible combination of styles, art, fashions and customs that could be read in the buildings that lined the city's avenues. What a unique place this was, I thought. And I realized that I had had that exact same thought while entering the city for the first time a few years earlier.

At a certain point, the car changed its route and headed toward the city center.

"Where are we going?" I asked.

"One last appointment, Mr. Lembo," Mahir explained.

We pulled up in front of the Opera Theater, and a guard appeared to open the main entrance door. I was invited to enter the foyer, where a valet was waiting, alone. He ushered me into the theater, to a seat in the center of the music hall. He then smiled and left, without saying a word.

The theater was completely empty. Never had it looked to me as beautiful as it did at that moment. In the silence, I felt suspended between the elegant rows of empty, red velvet seats and the celestial frescoes of the theater's ceiling.

Only then, for the first time, did I note the graceful golden cherubs carved on the main balcony. The left cherub seemed to be looking in my direction. There was something in the expression of its face that caught my attention. I stood up, slowly moving toward it. I noted that its expression was not completely happy; a tiny frown between its eyes revealed a sentiment of apprehension, something that contrasted with the joyful expression on its face. It was as if it feared an imminent event that it did not wish to happen, but was conscious of its inevitability. What did the cherub fear?

Suddenly, a light appeared on the stage, and to my surprise, a tenor appeared. The grand silhouette of his body was backlit. The rest of the stage remained dark, as did the rest of the theater. He greeted me, the only spectator, with a slight nod of his head and after a pause, began singing. I immediately recognized his song as "E Lucevan Le Stelle" [And the Stars Were Shining] from Puccini's "Tosca" - my favorite aria.

His was a powerful, elegant voice; the notes were strong and pure. He sang for a few minutes with the great intensity, passion and talent that made him the most reputed tenor in the Caucasus.

I listened, overwhelmed.

When he finished he came up to the edge of the stage, stopped and said with a perfect Italian accent: "Grazie, Paolo."

I slowly stood up and looked at him, speechless for what seemed like an eternity. Then the lights faded and the theater was cast into darkness.

It was cold at the airport, and for once, the Turkish Airlines Baku-Istanbul flight was not overbooked. In fact, there were only a few passengers waiting in the lounge. A fat Turkish tradesman was smoking, reading a football newspaper with deep concentration; an Azerbaijani yuppie was restlessly talking on his cellular phone (a new fashion in Baku at the time); a mother was screaming and running after her two mischievous sons, who enjoyed kicking passengers' suitcases; a small group of custom officers, bored as always, were discussing the prices of a vacation to Anatolia [Turkey], mechanically following with their eyes the legs of the stewardesses who were passing by. Every detail of that ordinary scene was as familiar to me as if it were the last chapter in a book that I've enjoyed reading over and over again.

I waited for everyone else to embark before I approached the plane. Mahir and Fuad insisted on following me to the plane. I embraced them both. They asked if I would ever come back. I answered that I would. I did not know how or when, but yes, one day I would come back. They wished me luck in Tajikistan.

I climbed the stairs to the plane, but just before entering, I heard someone call me. I turned back, but the tarmac was deserted. I looked out on the horizon and could see the sun slowly disappearing into the horizon of the silvery blue sea.

"Sir, could you please board; we're already late," said the blonde hostess at the plane's door, in her tender Turkish accent.

"Yes, I'm coming." I had the impression that someone was calling me, but it must have just been the sound of the wind.

I now live in another beautiful city along the Mediterranean coast. In the evenings, when I walk along the seaside boulevard, sometimes I hear the whisper of the wind of Baku calling me and I feel it gently touching my face. But it's only for a moment. Soon I recognize that it is not the same wind. It is not the same wind...

____
From Azerbaijan International (9.3) Autumn 2001.
© Azerbaijan International 2001. All rights reserved.
Back to Index AI 9.3 (Autumn 2001)
AI Home | Magazine Choice | Topics | AI Store | Contact us

Other Web sites created by Azerbaijan International
AZgallery.org | AZERI.org | HAJIBEYOV.com