Autumn 2003 (11.3)
Pages 66-68

Opera: History in Stamps
Web site includes Azerbaijan's Great Composers
by Paul den Ouden




By day, Paul den Ouden works as an electrician in a pulp and paper mill in British Columbia, Canada. By night, he pursues a hobby that combines his major interests-opera, stamps and computers!

The result is a Web site- Operastamps.org - that documents the history of opera, beginning in the 16th century as depicted in stamps from all over the world. The stamps commemorate composers, librettists, conductors, producers, singers and even opera houses and scenes from opera. Paul's Web site features more than 800 stamps dedicated to opera from more than 100 countries, including Azerbaijan.

My love for serious music started in my youth. Many years ago, I went to the local library and borrowed Beethoven's opera, Fidelio. That got me hooked: I've been an opera-lover ever since! I started attending live opera performances in 1985 so it seemed a natural thing to turn to opera stamp collecting.

I really can't claim to have any musical background or training. I'm not a historian or musicologist-just a simple, opera-loving stamp collector! Collecting these music-related stamps has been a tremendous education for me. I've learned so much about opera from all over the world though I really don't consider myself an expert.

There's just something about opera that appeals to me! While recorded opera is terrific; in my opinion, nothing beats live performances! Whenever I get the chance, I attend live performances. It's a passion that has taken me on holiday twice to Europe.

I've been a stamp collector for many years now. It was my uncle, who had a collection, who inspired me as a child. I've been working on this opera collection now for more than 20 years. All the stamps that are featured on my Web site have been taken from my own personal collection, they're not just photos.

Most of my stamps are fairly recent. The oldest ones date to the 1920s. Commemorative stamps weren't issued so frequently prior to the 1950s, which is when they started becoming very popular with collectors.

My opera-related stamps come from all of the European countries. Germany and Austria have the largest representation. Italy follows in fourth place, surprisingly. It's disappointing that Great Britain has so few stamps featuring opera.

This hobby has brought me amazing philatelic contacts all over the world. Several relatives of those featured on the stamps have contacted me- all delighted to find their relatives featured on the Web. Just a few days ago, for example, I received a note from the grandson of Costa Rican operetta composer.

OperaStamps.org is organized by an alphabetical index that includes operas, composers, main characters and vocalists. A search engine facilitates locating specific countries or topics. My collection exhibits and describes 11 opera-related stamps from Azerbaijan.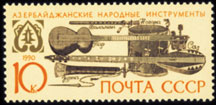 1. Azerbaijan Traditional Instruments. 1990. 10 manats. USSR. Traditional Instruments of Azerbaijan: Tar, Balaban, Saz, Nagara and Zurna. For centuries, these instruments have been an integral part of the music culture of Azerbaijanis. They are incorporated in traditional music performances.

In the 20th century, they have been involved in the development of composed music such as opera, as well as jazz. Some of these instruments are used in Uzeyir Hajibeyov's operas, such as "Leyli and Majnun" as well as "Koroghlu".




2. Commemoration of the 30th Jubilee of the Azerbaijan Soviet Socialist Republic, 1920-1950, 25 kopecks. This stamp depicts Azerbaijan State Opera and Ballet Theater which was in truth was in use prior to the Soviet occupation of Azerbaijan.

This building was originally constructed in 1910. It seems a certain Italian diva, whose name has long been forgotten, visited Baku in 1909 and refused to sing because there was no proper concert hall. Oil baron Mayilov, as the story goes, fell in love with her and promised to build her an opera house if she would return the following year. The design was created by N.G. Bayev of St. Petersburg along the lines of Renaissance style architecture. The cost for construction exceeded 250,000 rubles (approximately $30,000), an enormous sum of money for that period.

When the Opera and Ballet Theater mysteriously burned down in 1985, officials considered it such a central landmark for music and culture in the city that they decided to rebuild it. Three years later in 1988, the Theater opened again. Today it stands as one of the most beautiful and majestic symbols of cultural life in Azerbaijan.




3. Gara Garayev (via Russian spelled as Kara Karayev). Republic of Azerbaijan, 1998. On the occasion of Garayev's 80th Jubilee of his birth, (1918-1982). Gara Garayev was one of the most important composers in Azerbaijan following World War II. He wrote several stage works, both opera and ballet as well as symphonic and piano pieces. An early opera, Aina, remains unpublished. While studying at the Moscow Conservatory he collaborated with the composer Jovdat Hajiyev (1917-2002) on "Vatan", a work that won the Stalin Prize in 1945. Garayev studied composition with Shostakovich from 1942 to 1946. Other works include a mono-opera, "Nezhnost" (Tenderness), for female voice and chamber orchestra, symphonic engravings (or symphonic cycle), "Don Quixote", three symphonies and Piano preludes, and several ballets.




4. Jafar Jabbarli. Republic of Azerbaijan (250 manats), 1999. This stamp commemorates the 100th Jubilee of the birth of dramatist Jafar Jabbarli (1899-1934), who wrote "Sevil" (1929). This drama became the basis upon which Fikrat Amirov (1922-1984) composed an opera of the same title.

This opera features a young woman Sevil, who gradually takes responsibility for the destiny of her life. The story was written to persuade Muslim women to shed their traditional veils. It is said that many women did take off their veils as they were leaving the theater after seeing this compelling drama. Fikrat Amirov wrote "Sevil" in 1953, for which he was honored as "People's Artist of the USSR". Search Amirov at AZER.com.




5. Scene from the opera "Nargiz". 1966, 4 kopecks. USSR Stamp. "Nargiz" (1935), composed by Muslim Magomayev (1885-1937) and librettist Mammad Sayid Ordubadi (1872-1950), was the first Azerbaijani opera in European format. It was also the first Azerbaijani opera based on a contemporary plot. The plot depicts the struggle between peasants and landlords in the 1920s.

It also emphasizes woman's freedom in both social and personal spheres at a time when women were confined to traditional roles, wearing veils and staying at homes. "Nargiz" represents the transition that was taking place in women's status in Azerbaijan during the 1920s. In addition to Uzeyir Hajibeyov's opera "Koroghlu", "Nargiz" was also performed at the "Decade of Azerbaijani Art" in Moscow in 1938. For this work, Magomayev was honored with the title of the "Honored Art Worker of Azerbaijan".




6. Rashid Behbudov. Republic of Azerbaijan (100 manats), 1996. This stamp commemorates vocalist Rashid Behbudov (1915-1989) who was Azerbaijan's most famous tenor during his lifetime.

Rashid was thrust into the limelight in 1945 when he was chosen to play the leading role of Asgar in the movie version of Uzeyir Hajibeyov's musical comedy, "Arshin Mal Alan" (The Cloth Peddler, 1913). The story challenges Azerbaijani traditions, especially those related to choosing one's bride. Asgar, a rich young merchant, disguises himself as a cloth peddler, making the rounds and entering the courtyards of homes.

His primary task was to find himself a bride. Traditionally, women were covered with veils whenever they appeared in public. For the complete libretto of "Arshin Mal Alan" and other Hajibeyov works in English or Azeri (Latin), search at HAJIBEYOV.com.

Another of Behbudov's accomplishments relates to Fikrat Amirov's opera "Sevil". For his performance of the main role of Balash, he was awarded the nation's highest artistic title, "People's Artist of the Soviet Union." Rashid Behbudov was also known for his outstanding accomplishments in the field of popular music.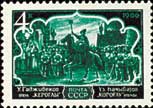 7 & 8. "Koroghlu". USSR (10 kopecks), 1989. "Koroghlu" (Son of a Blind Man) is the most famous of Uzeyir Hajibeyov's operas. It was composed between 1932-1937, and performed at the "Decade of Azerbaijani Arts" in Moscow in 1938. The plot is based on a regional legend, passed down for centuries, that parallels the story line often used in Soviet propaganda: peasants and workers rising up to overthrow wealthy landowners and khans. Stalin loved this opera. For composing this work, Hajibeyov received the Soviet Union's most prestigious awards, including the Lenin Award (1938), and the Stalin Award (1941). He was the first composer in the Soviet Union ever to be awarded "People's Artist of the USSR" (1941).

Between 1988-1991, when hundreds of thousands of Azerbaijani demonstrators gathered in the squares to protest their Soviet oppressors and rally in support of national independence prior to the collapse of the Soviet Union, the Overture of "Koroghlu" became a rallying anthem, amplified over loudspeakers.

Today, many symphonic concerts in Azerbaijan open with the Overture from "Koroghlu". When Azerbaijan gained its independence in December 1991, this work was considered for the National Anthem. However, the Azerbaijani government decided to chose the original anthem that had been used during Azerbaijan's short-lived independence in 1918-1920 before the Bolsheviks gained power in Azerbaijan. The original anthem as well as the anthem used for Azerbaijan during the Soviet period (1920-1991) had both been written by Hajibeyov. Search "Anthem" at HAJIBEYOV.com.




9. Hajibeyov (1885-1948) wrote the first opera in Azerbaijan which is also acclaimed as the "First Opera in the Muslim East". Based on the legendary story of unrequited love, not unlike Shakespeare's Romeo and Juliet which followed centuries later, "Leyli and Majnun" premiered in the Taghiyev Theater in Baku in 1908. It was the first time that Eastern instruments and Eastern modal improvised music-mughams- were incorporated into the Western genre of opera and symphonic orchestra .

Between 1909 and 1915 more operas followed, including Shah Sanan (which Hajibeyov destroyed) , "Asli and Karam" and "Harun and Leyla". This period also saw several operettas, including his most popular theater work, the music comedy, "Arshin Mal Alan" (The Cloth Peddler), written in 1913.

Hajibeyov is deeply loved in Azerbaijan and revered as the "Father of Composed Music". An entire Web site with music samples, full librettos in English and Azeri (Latin), plus interviews with people who personally knew this great musician can be viewed at: HAJIBEYOV.com, a Web site created by Azerbaijan International magazine.



10. Mammad Sayid Ordubadi. USSR (4 kopecks), 1972. This stamp commemorates the 100th Jubilee of writer and novelist Mammad Sayid Ordubadi (1872-1950). Ordubadi wrote the librettos for "Koroghlu" (Son of a Blind Man) by Uzeyir Hajibeyov (1885-1948) and "Nargiz" by Muslim Magomayev (1885-1937).

After working with Hajibeyov for more than a year, writing a libretto for an opera about Blacksmith Kaveh, Ordubadi was quite shocked when the composer totally changed his mind and scrapped their work, and sought help in writing the libretto for an entirely new opera-"Koroghlu". "Blacksmith Kaveh" was never finished. "Koroghlu", was completed in 1937 and performed in Moscow in 1938 for the "Decade of Azerbaijani Art". "Koroghlu" became the most famous opera ever produced in Azerbaijan. For the complete libretto in English or Azeri (Latin), and Ordubadi's observations about writing the libretto, search at HAJIBEYOV.com.




11. Bulbul. Republic of Azerbaijan (500 manats), 1998. This stamp commemorates the 100th Jubilee of Murtuza Mammadov (1897-1961) who became known as "Bulbul", which means "nightingale" because Azerbaijanis consider this bird to be the most eloquent songster. Here Bulbul stands in front of the Opera and Ballet Theater in Baku.

Bulbul became famous for his lead role as Rovshan in the opera "Koroghlu" by composer Uzeyir Hajibeyov. "Koroghlu" gained prominence in the Soviet Union after being performed at the "Decade of Azerbaijani Art" in Moscow in 1938. Bulbul was also honored for this role as "People's Artist of the USSR" in 1938.

After finishing the Azerbaijan State Conservatory, he studied in Italy and became known for the tenor roles in Tosca's "Traviata" and "Rigoletto", as well as the roles in Azerbaijani operas such as Muslim Magomayev's "Nargiz".
Aida Huseinova, a musicologist who teaches at the Baku Academy of Music, also contributed to the historical background of music personalities in this article as did Betty Blair, Editor of Azerbaijan International and Web Director of HAJIBEYOV.com.

Contact Paul den Ouden in British Columbia, Canada at: operastamps@shaw.ca.

Back to Index AI 11.3 (Autumn 2003)
AI Home | Search | Magazine Choice | Topics | AI Store | Contact us

Other Web sites created by Azerbaijan International
AZgallery.org | AZERI.org | HAJIBEYOV.com