Autumn 2003 (11.3)
Page 70



What's New in Print about Azerbaijan?
Azerbaijan Musical Instruments

Related Articles
1. Piecing Together History, String By String: The Reconstruction of Azerbaijan's Medieval Instruments
2. Traditional Instruments: Majnun Karimov Brings Medieval Music to Life

The culmination of a lifetime of research has gone into Majnun Karimov's new book, "Azerbaijan Music Instruments". It's the first book ever to document what Azerbaijani traditional instruments look like and how they are made. For the past 34 years, Karimov has pursued his personal quest to restore ancient, forgotten instruments that were documented in miniature paintings.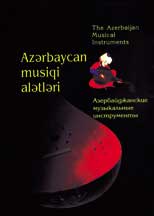 This beautiful volume includes a personal description describing the path that Majnun took to reconstruct some of these instruments, plus a description and photos of 28 traditional instruments. They include Percussion: Laggutu, Goltug Naghara, Jura Naghara, Boyuk Naghara, Gosha Naghara, Gaval, Daf and Dumbak.

Wind instruments include: Ney, Balaban, Zurna, Tulum, Tutak and Garmon. String instruments include: Gopuz, Choghur, Chagane, Rubab, Barbat, Shirvan Tanbur, Chang, Rud, Santur, Saz, Tar, Kamancha, Ganun and Ud.

The trilingual text in Azeri, English and Russian with carefully selected photos of Azerbaijani traditional instruments and miniature paintings.

The book project and CD were sponsored by Unocal Khazar and Statoil of Norway. Rafig Ismayilov was the coordinator for the project, Alla Bayramova and Husein Asadov served as editors. The English was translated from Azeri by Jala Garibova and edited by Betty Blair of Azerbaijan International.

"Azerbaijan Music Instruments" (Azeri, English and Russian) by Majnun Karimov. Yeni Nasil Publishing House: Baku (Printed by Mega in Turkey) 2003. Hard bound with CD ROM. ISBN 9952-24-024-4, full color, 184 pages. Contact: Majnun Karimov in Baku: ai@artnet.net.

Back to Index AI 11.3 (Autumn 2003)
AI Home | Search | Magazine Choice | Topics | AI Store | Contact us

Other Web sites created by Azerbaijan International
AZgallery.org | AZERI.org | HAJIBEYOV.com