Summer 2003 (11.2)
Pages 40-42

Rostropovich
The Home Museum
by Gulnar Aydamirova

Other articles about Rostropovich
(1) "Rostropovich: Happy 75th Birthday. World-Famous Cellist Celebrates in Baku." (AI 10.1, Spring 2002)
(2) "Intellectual Responsibility. When Silence is Not Golden." Conversations with Mstislav Rostropovich and Galina Vishnevskaya by Claude Samuel. (AI 13.2, Summer 2005)
(3) "Rostropovich & Galina: Celebrating Their 50th Wedding Anniversary" by Betty Blair and Sheyla Heydarova. (AI 13.2, Summer 2005)
(4) "Famous People: Then and Now. Mstislav Rostropovich - Cellist and Conductor (1927-2007)." (AI 7.4, Winter1999)
(5) "Rostropovich Celebrates 70th Jubilee in Baku." (AI 5.2, Summer 1997)
(6) "Philharmonic Reopens: Renovation of Baku's Prestigious Concert Hall," by Abid Sharifov, Deputy Prime Minister. (AI 12.2, Summer 2004).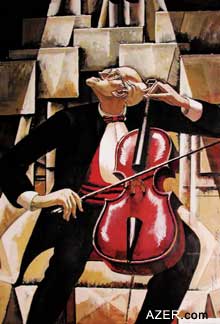 Left: World renowned cellist Mstislav Rostropovich, painted by one of Azerbaijan's most famous painters, Tahir Salahov. The portrait was prepared specifically in 1999 for the Rostropovich Home Museum in Baku.

In Baku, there's a little known museum down an obscure little street dedicated to the memory of one of the contemporary giant musicians of this century - Mstislav Rostropovich. It's unprecedented that a Home Museum in Baku be created while the honoree is still alive; the advantage is that Rostropovich, himself, now 76, is deliberately and thoughtfully contributing to its unique and expanding exhibition.
If it's true that a person's character and life's path is determined at a very early age, then Mstislav Rostropovich (March 27,1927-April 27, 2007), one of the world's greatest contemporary cellists, was always destined to be a great musician.

Rostropovich was born in Baku surrounded by music. His mother began teaching him piano at the age of four, and his father, Leopold, a famous cellist and conductor, introduced him to the cello shortly thereafter. A precocious child, he composed his first piece - a polka - at the age of 4. At the age of eight, he gave his first major public performance.

At 16, Rostropovich entered the Moscow Conservatory, where he studied composition with Prokofiev and Shostakovich. He won the International Competition for Cellists in Prague (1950) and debuted at Carnegie Hall in New York City (1956).

Later in the 1960s because of his involvement with dissident writer Solshenitsyn, whom he had invited to stay at his dacha in Moscow, Rostropovich and his wife, sopranist Galina Vishnevskaya, were censured by the Soviet Ministry of Culture. Suddenly concerts and musical engagements were being inexplicably cancelled.

In 1975, the Maestro, who had already created an international name for himself, managed to get an invitation to debut with the National Symphonic Orchestra in Washington, D.C. Two years later, he won the appointment as its music director. Soviet authorities allowed him to take the position.

Below (left and right): Mstislav Rostropovich and his wife, soprano Galina Vishnevskaya, at the opening of the Home Museum for Mstislav and Leopold Rostropovich, on March 4, 2002, in Baku.


| | |
| --- | --- |
| | |

While in the United States, he and his wife became outspoken critics of the Soviet system; in retaliation, the authorities stripped them of their Soviet citizenship as "ideological renegades". In 1990 during the last days of Perestroika, immediately prior to the collapse of the Soviet Union in 1991, Gorbachev restored citizenship and invited Rostropovich back to lead the Soviet National Symphony. The involvement of the world-known musician with Baku after Azerbaijan's independence began in 1997 when President Heydar Aliyev officially organized Rostropovich's 70th Jubilee on the state level. Since then, the Maestro has been visiting Baku nearly every year, at which time he spends a week or more conducting Master Classes for budding musicians, especially cellists and violinists.

Below: (Left) The Rostropovich family: Leopold, his wife Sofya Fedotova-Rostropovich, and their children Veronika and Mstislav Rostropovich, 1928 or 1929, in Baku. All family members were distinguished musicians.

Right: New-born Msitislav cradled in his father's cello case, 1927.


Azerbaijanis are proud of the endearing relationship between Rostropovich and their country. One of the major music schools in Baku, No. 21, has recently been renamed after the great musician as has the street on which the Home Museum stands which was formerly known as Kolodezni Street. Four years in the making, the Rostropovich Home Museum opened on March 4, 2002, during one of Rostropovich's visit to Baku. His wife Galina Pavlovna Vishnevskaya also accompanied him for the occasion.

The Rostropovich family had lived in this apartment from 1925-1931. Mstislav's father Leopold had come to Baku from Russia in 1925 upon the invitation of Uzeyir Hajibeyov, founder of professional music in Azerbaijan. Since the creation of the Academy in 1921, it had been the practice of Hajibeyov as the Academy's Director to do his best to attract great musicians, especially from Russia to strength the music program here. Leopold came and worked in Baku for six years.

Born in Baku
On March 27, 1927, Mstislav, the second child of Leopold and Sofya Nikolayevna Fedotova Rostropovich, was born - not in any hospital, but at home in the apartment that has now been converted into a museum.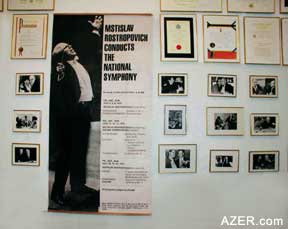 Left: One of the displays in the Rostropovich Home Museum.

Apparently, his mother had taken ten months to carry him to term, instead of the usual nine. There used to be lots of family jokes about this. She used to explain that she had given him extra time to develop his hands and fingers; but Mstislav would jokingly complain that his mother's great efforts, had done nothing to improve his looks, he still turned out to be ugly!

After the family moved back to Moscow from Baku, other people moved into the apartment. When the cellist visited Baku at the end of the 1960s and beginning of the 1970s, he went in search of his birthplace. At the time, an oil worker - Abbas Abbasov - was living there.

After that, whenever Rostropovich visited Baku, as the story goes, he would buy lots of sweets for the neighbors. It seems that returning to this home was something nostalgic for him as, of course, he would not have had many memories of the place much since his family had moved away when he was four years old. But some of the neighbors, it seems, did remember him, and several were still alive at the time.

In 1997 when Rostropovich came to Baku for his 70th Jubilee, his nurse Anastasiya Malisheva was still alive and they had a chance to meet each other again. The museum has numerous photos of her and the staff often visited her while she was still alive. She passed away in 2001.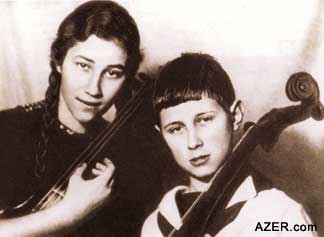 Left: Mstislav with his older sister Veronica. Possibly 1938.

One of the unique family album photos of the
Rostropovich family shows Mstislav, as an infant, wrapped in a blanket lying in his father's cello case. Actually, that cello was quite unique. It had been presented to his father by the Berlin Museum as one of the original Guadagninis, a famous Italian violin maker of the 17th century.

The Rostropovich family lineage is very old and famous. It originated in Lithuania and Poland, where the family was known as Rostropovichyus.

Russian, Polish, Lithuania and Czech nationalities were represented in the family blood. Many of them were recognized for their musical talent in singing and playing musical instruments. In 1851, Mstislav Rostropovich Iosif Rostropovichyus was awarded with the title of Nobleman, at the General Assembly of Warsaw deputies. Mstislav's father Leopold also has the distinction of having taken some master classes from Spanish cellist Pablo Casals. In turn, one of Leopold's students in Baku - Asaf Zeynalli - became a famous composer after which the Music College in Baku is named after him.

The exhibits, which now number around 2,000 items, span the musician's lifetime and continue to grow because Rostropovich himself keeps presenting interesting material to the museum. There are also materials about his father, although those archives are primarily maintained in St. Petersburg. The Museum staff constantly researches the material that is given to them. For example, there are letters from his father to many of the great musicians of the day such as Glazunov, Paskhalov and Uzeyir Hajibeyov. One of the most treasured letters is from Leopold to his son. His father passed away not long afterwards. This letter is on display at the museum.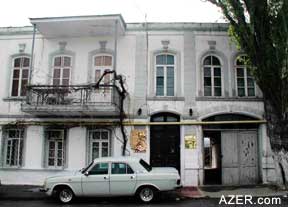 Left: The Rostropovich Home Museum on 19 Rostropovich Street (previously Kolodezni Street) where the cellist was born and lived until age four when his family moved to Moscow.

Awards
Rostropovich has been the recipient of more than 100 great awards and medals, including some of the national awards from Azerbaijan, Russia, France, and the United States. Queen Elizabeth II bestowed honorary knighthood on him in 1987. Some of them are displayed in the Museum.

He is a member of seven of the most esteemed academies in the world as well as a member of the French Academy of "Forty Immortals," meaning that he has been named "immortal," while still alive. The Rostropovich Home Museum is located on 19 Rostropovich Street (previously known as Kolodezni Street) Closed Mondays. Hours: 10 a.m. to 5 p.m. Admission: 5,000 manats (about $1), with guide 15,000 ($3).

Back to Index AI 11.2 (Summer 2003)
AI Home | Search | Magazine Choice | Topics | AI Store | Contact us

Other Web sites created by Azerbaijan International
AZgallery.org | AZERI.org | HAJIBEYOV.com