Winter 1999 (7.4)
Pages 24-25
Famous People: Then and Now
Mstislav Rostropovich
Cellist and Conductor
(1927-2007)

Other articles about Rostropovich
(1) "Rostropovich: The Home Museum" by Gulnar Aydamirova. (AI 11.2, Summer 2003)
(2) "Rostropovich: Happy 75th Birthday. World-Famous Cellist Celebrates in Baku." (AI 10.1, Spring 2002)
(3) "Intellectual Responsibility. When Silence is Not Golden." Conversations with Mstislav Rostropovich and Galina Vishnevskaya by Claude Samuel. (AI 13.2, Summer 2005)
(4) "Rostropovich & Galina: Celebrating Their 50th Wedding Anniversary" by Betty Blair and Sheyla Heydarova. (AI 13.2, Summer 2005)
(5) "Rostropovich Celebrates 70th Jubilee in Baku." (AI 5.2, Summer 1997)
(6) "Philharmonic Reopens: Renovation of Baku's Prestigious Concert Hall," by Abid Sharifov, Deputy Prime Minister. (AI 12.2, Summer 2004).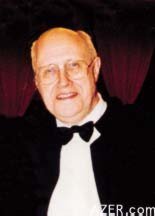 Mstislav Rostropovich is recognized as one of the greatest cellists of the 20th century. Born in Baku in 1927, he moved to Moscow with his family in 1931. His parents, both musicians, recognized his precociousness at an early age. His mother began teaching him piano at the age of four, and his father, Leopold, the famous cellist and conductor, introduced him to the cello shortly thereafter. At the age of eight, he gave his first major public performance.

Photo: Mstislav Rostropovich in Baku, 1997.

At age 16, Rostropovich entered the Moscow Conservatory, where he studied composition with Prokofiev and Shostakovich. He won the International Competition for Cellists in Prague (1950) and in 1956, made a very successful debut at Carnegie Hall in New York City.

Rostropovich became a teacher (1953) and later professor (1956) at the Moscow Conservatory and later a professor at the Leningrad Conservatory (1961). In 1955, he married soprano Galina Vishnevskaya and often appeared accompanying her at the piano. In 1961, he began his career as a conductor. He received the coveted Lenin Prize (1963) and the Gold Medal from the Royal Philharmonic Society of London (1970).

Despite the high accolades in the Soviet Union, he soon ran into conflict with authorities in Moscow in 1969 after allowing the dissident Aleksandr Solzhenitsyn, who had written so much about Stalin's prison camps in Siberia, to live in his dacha outside of Moscow.

Rostropovich wrote a letter to Pravda newspaper protesting government restrictions on cultural freedom. Though his letter was not published, it was widely disseminated throughout the West, which got him into trouble at home. The Soviet Ministry of Culture ostracized him and canceled his tours without explanation, including his wife's concert at the esteemed Bolshoi Theater in Moscow. Concerts in foreign countries were canceled as were appearances on radio, television and recordings.

Finally in 1974 Rostropovich was allowed to go abroad with his wife and two children. He made what turned out to be a brilliant debut with the National Symphony Orchestra in Washington, D.C. (March 5, 1975). They, in turn, invited him to become their Music Director in 1977.

In the U.S., Rostropovich and his wife spoke out openly against the Soviet regime. The Moscow authorities retaliated by stripping him of his Soviet citizenship, which they didn't restore until 1990.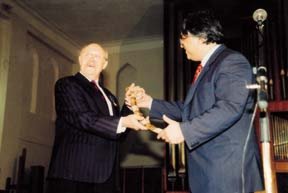 Rostropovich organized the First Rostropovich International Cello Competition in Paris in 1981 and the Rostropovich Festival in Snape, England in 1983. He was honored by the French Legion in 1982 and was knighted by England's Queen Elizabeth II in 1987.

In 1997, Rostropovich celebrated his 70th Jubilee in Baku. He was so impressed with the level of musical education there that he promised to return every year to give Master classes to some of the young musicians. This is his second year to do so. Rostropovich now makes his home in Paris and continues giving performances worldwide.

Photo: Farhad Badalbeyli, Rector of Baku's Academy of Music, presents Rostropovich with an antique sword, 1998.

Interview
What experiences and interests in childhood would you say shaped your life and career?

It might be better if you had the chance to ask my parents that question. I'm simply the result of their love. What else can I say?
How was your own childhood different from that of kids growing up today?

You know, we spent our childhood in what might be called a more romantic atmosphere. We didn't have computers or calculators. Of course, we had our own toys, our own dreams and our own fairy tales and we would impatiently look forward to New Year's parties for children, which were very common in those days.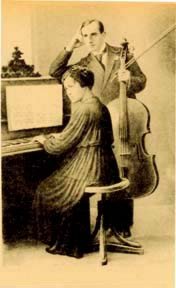 I now have six grandchildren, and they're interested in computers, calculators and other electronic apparatus. Before, we didn't have such things.

I also think that we were brought up differently than kids are today. Don't get me wrong - I'm optimistic about today's youth. I think that each period of history creates its own mode of life, which today happens to be in the framework of "progress". Undoubtedly, it presents considerable disadvantages, primarily because lifeless computer screens are replacing human relationships. Our young people sit in front of computers rather than developing face-to-face relationships. This is one of today's problems.

Photo: Parents of Rostropovich in Baku, Leopold and Sophia, around 1930-31. From "Azerbaijan State Conservatory - 50th Jubilee" (1971).

It's for this reason that I think music, literature and religion should receive the most emphasis. They are needed to provide a counterbalance to technical progress.


What advice would you give to young people as they enter the 21st century?

Let them not forget the beauty that God has bestowed upon us - especially in nature and music. We have a tendency to take these things for granted and treat them indifferently.

When you give a diamond to a woman, she doesn't throw it away, right? But we don't value the beautiful nature that has been given to us by God. That's why I think it's so important to perceive beauty as emerging, freshly created beauty.

I try not to get used to anything. Every morning when I step outside my house, I look up at the sky, and it's like I'm seeing such marvels for the first time. Every day I look at the trees and think: "What beauty!"

What would you say is your greatest achievement in life? What do you want to be remembered for most?

I think my greatest achievement is the endless love I have for people. It gives me great energy. In spite of difficulties in life, I have never taken revenge against anyone, and I don't get angry. I would say this is my greatest achievement in life.

[It might be noted that Rostropovich's first name, "Mstislav", means "avenged glory", but his friends call him simply "Slava" which means "glory".]


| | |
| --- | --- |
| | |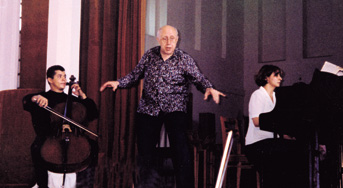 Photos: Rostropovich conducting Master classes at the Academy of Music in Baku, 1998.
_______

Mstislav Rostropovich was interviewed by Pirouz Khanlou and Mazahir Panahov at Baku's Academy of Music in November 1999.

From Azerbaijan International (7.4) Winter 1999.
© Azerbaijan International 1999. All rights reserved.

Back to Index AI 7.4 (Winter 1999)
AI Home | Magazine Choice | Topics | Store | Contact us