Spring 2003 (11.1)
Page 14

Newsmakers
Gara Garayev's 85th Jubilee
by Aida Huseinova

Related articles
1 Remembering Gara Garayev - A Legend in His Own Time - 80th Jubilee - Azad Sharifov
3 Discoveries - Forgotton Music Scores from Famous Composers - Alla Bayramova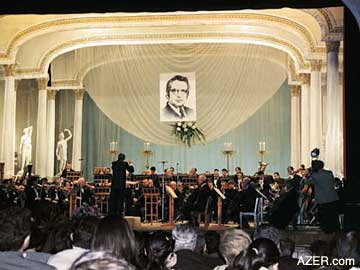 Left: Gara Garayev's 85th Jubilee was commemorated with a State Concert at the Opera and Ballet Theatre on February 6, 2003. Rauf Abdullayev conducted the State Symphony Orchestra. (Photo by Blair)

Gara Garayev (1918-1982), [spelled Kara Karayev via Russian] was one of the most prominent figures in Azerbaijani music. Many consider him second only to Uzeyir Hajibeyov (1885-1948) for his innovation in composition. Garayev led the school of Azerbaijani composition after Hajibeyov's death, and within a short period of time, brought it to its highest level during the 20th century. February 5, 2003 marked Garayev's 85th birthday.

His Jubilee was commemorated on the State level on February 6 with a concert in the Azerbaijan State Opera and Ballet Theater.

A student and close friend of Dmitry Shostakovich (1906-1975) [see article in this issue], Garayev was also among the leading representatives of "Soviet music" and the first Azerbaijani composer to gain international recognition for his music. He left behind an important legacy, including masterpieces of superb artistic level. He also established principles that have influenced the development of Azerbaijan's composers' school for many years.

Garayev is remembered most for the following works: his symphonic poem "Leyli and Majnun" (1947), based on the poetic work of 12th century Azerbaijani poet Nizami; 24 Piano Preludes (1951-1963); two ballets: "Seven Beauties" (1952) - also based on Nizami - and "Path of Thunder" (1958), which focused on the racial conflicts of South Africa. Other major famous works include "Don Quixote" (1960), Third Symphony (1965) and Concerto for Violin (1967).

Garayev juxtaposed features of mugham with jazz, blues, African music, European counterpoint styles and the developments of the 20th century Western music such as the 12-tone technique. His music combines a strict, logical spirit of classicism with a poignant, romantic passion. After years of creating consonant, tonal pieces, he turned to a dissonant style in which the links with folklore became much less obvious, especially in such works as the Third Symphony and Violin Concerto.

The composer was awarded the full range of possible official and academic prizes and titles in the USSR - People's Artist of the Soviet Union (1959), Hero of Socialist Labor (1978), Stalin Prizes for the opera "Vatan" with Jovdat Hajiyev (1946) and again for the symphonic poem "Leyli and Majnun" (1948), and the Lenin Prize for "Path of Thunder" (1969).

He also won the State Prize of Azerbaijan (1965). In 1959 he was elected an academician of the Academy of Science of Azerbaijan. From 1949-1952 he served as Rector of the Azerbaijan Conservatory [now Academy]. For 30 years (1953-1982), he also led the Composers' Union of Azerbaijan.

The concert was opened by the Minister of Culture Polad Bulbuloghlu and the Head of the Composers' Union, Vasif Adigozal, both former students of Garayev. Rauf Abdullayev conducted the Azerbaijan State Symphony Orchestra. The evening's performance featured Garayev's symphonic poem "Leyli and Majnun", and excerpts from the ballets "Seven Beauties" and "Path of Thunder". President Heydar Aliyev attended the night's superb performance along with special foreign diplomatic guests, including the Ministers of Culture from Turkey, Kazakhstan, Turkmenistan, the Turkish Republic of Northern Cyprus, Bashkortostan, Tatarstan and other autonomic republics of the Russian Federation, along with resident ambassadors to Azerbaijan and other officials.
For more information about Azerbaijan's great composer Gara Garayev, see "Remembering Gara Garayev: A Legend in His Own Time," in AI 6.3 (Autumn 1998). Search at AZER.com. To hear samples of Garayev's music, visit AZER.com, click on "Music". Garayev's music is also featured in the "Classical Music of Azerbaijan" series, Vol 1 (Symphonic), Vol 2 (Ballet), Vol 4 (Piano), Vol 5 (Opera) and Vol 6 (Chamber). Order at Store at AZER.com.

Aida Huseinova has a Ph.D. in Musicology and teaches Music History at Baku Music Academy. She spent this past academic year at Indiana University as an American Council Junior Faculty Development Program Fellow.


Back to Index AI 11.1 (Spring 2003)
AI Home | Search | Magazine Choice | Topics | AI Store | Contact us

Other Web sites created by Azerbaijan International
AZgallery.org | AZERI.org | HAJIBEYOV.com