Spring 2003 (11.1)
Pages 16-17

Newsmakers
Discoveries - Forgotten Music Scores from Famous Composers
by Alla Bayramova

Related articles
1 Remembering Gara Garayev - A Legend in His Own Time - 80th Jubilee - Azad Sharifov
2 Gara Garayev's 85th Jubilee - Aida Huseinova




Imagine having the chance to hear a piece by one of your favorite composers for the first time-a piece that no one had heard for decades. Azerbaijanis recently had such an opportunity at concerts that featured unknown works by composer Gara Garayev (1918-1982) and Maestro Niyazi (1912-1984).

These rare compositions were rediscovered in 2000 in the archives at the State Museum of Azerbaijani Musical Culture, which houses a treasure trove of handwritten scores by 20th-century Azerbaijani composers. The Museum's Director, Alla Bayramova, has been instrumental in bringing these unpublished pieces to life again, much to the delight of lovers of Azerbaijani music.

Forgotten Scores
In many cases, no one knew that these compositions even existed. They had never been published or recorded. Music historians had never included them in biographical notes or lists of works. After the composer's death, they had completely been forgotten-that is, until just recently.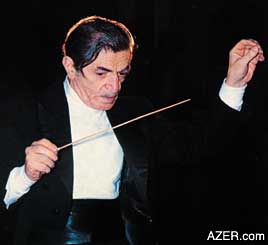 Left: Maestro Niyazi

Why were these works never published? A number of explanations may account for their obscurity, she says: "One possible reason is that the composer didn't think the piece was important enough to publish, especially if he was known for longer genres such as symphonies, ballets and operas. But the fact that these works were not destroyed or thrown away shows that they were somehow regarded as dear to the composer.

"Some of these works were performed only for family or friends, perhaps for a special occasion. For instance, in 1950, Gara Garayev wrote a duet for Niyazi in honor of his birthday. Fittingly, it was called 'Var ol, Niyazi!' (Long Live Niyazi!)."

Another possibility is that the composer was afraid that the piece did not fit the spirit of Soviet ideology. "It's possible that these works weren't published because the composer didn't want to be accused of 'formalism'," Alla says. "We have to keep in mind that artists weren't always free to do as they wished during those times. The fact that these pieces have survived makes it our responsibility to help make them known. These pieces show how rich the works of our composers are, and that there are so many new important details about our music that still need to be investigated."

Works by Niyazi
One way that these unfamiliar works are becoming known is through performances organized by the State Museum. "Once we started rediscovering these wonderful forgotten works," Alla explains, "it seemed like such a shame that they had never been performed in public before."




Left: One of Niyazi's scores that has recently been found.

One such piece is "Rags" [pronounced "rax" which rhymes with "tax"], meaning Dance, written by Niyazi in 1934 and dedicated to his wife, Hajar. Musicologist Ludmila Karaghicheva mentioned that Niyazi had incorporated Talysh national themes into his music in the1959 book that she wrote. [The Talysh are a minority that live near the Iranian border and speak a language related to Persian.] However, none of Niyazi's pieces with Talysh themes had ever been published or preserved. Now it seems that "Rags," which was written in the tradition of national music, may have been one of the Talysh-themed pieces that Ludmila was referring to more than 40 years ago.

"Rags" and several other unknown Niyazi pieces were performed at Niyazi's 90th Jubilee, held in August 2002. Alla Fyodorova, who works for the Museum, performed it, while pianist Ulviyya Hajibeyova performed "Andantino" (1936), "Shutochka" [Russian word for "Joke"](1929), "Etude" (1932), and "Prelude" (1930).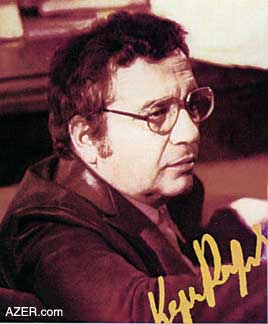 Left: Azerbaijani composer Gara Garayev.

As two of the pieces had not been completed, Ulviyya's husband, composer Ismayil Hajibeyov, worked to finish them. Ismayil is a member of the third generation of the famous Hajibeyov family of musicians. See HAJIBEYOV.com.

A sixth untitled work by Niyazi was given the name "Miracle" (1950) and performed by pianist Rena Rezayeva. She had played this unknown piece in public even earlier as well for the Museum in 2000, on the occasion of the 300th Jubilee Celebration of the Piano which was held at Niyazi's Home Museum, one of the branches of the State Museum. Rena also included this work on her CD, which is entitled "Miracle."

The story of how Rena came across the piece is quite remarkable. After Niyazi passed away, his widow Hajar let Rena-at the time, a young pianist-work with his archive. Rena found the handwritten score and persuaded Hajar to allow her to make a copy of it. Rena kept her copy of the score and later had the opportunity to perform the piece 50 years after it had been written. In 2001 Alla happened upon the original manuscript in Niyazi's archives.

Gara Garayev
Composer Gara Garayev's 85th Jubilee was celebrated in February 2003 [see related article in this issue]. In honor of his Jubilee, Alla and her staff organized a concert to showcase works that have been rediscovered in Garayev's archives at the Museum. Many of the composer's students attended the concert, including Sevda Ibrahimova, Ogtay Zulfugarov, Nariman Mammadov, Aziz Azizli, Elnara Dadashova and Jalal Abbasova.

One of the pieces performed was a sonatina that Garayev had composed in 1940, while he was in Moscow studying with the great symphonic composer Dmitri Shostakovich [See article in this issue]. Ludmila Karaghicheva's book about Gara Garayev, published in 1968, describes the following work: "One-part Sonatina written by hand."




Left: One of the six scores by Garayev that has recently been discovered and performed.

This appears to be the same piece that has now been discovered in the archives.

"When Gara Garayev gave Ludmila information about his works," Alla says, "he also told her about this handwritten score, which shows that he didn't want to exclude it from the list of his works. Perhaps he didn't really consider it to be a 'student work.'"

Another recently discovered work has been titled, "Andante Sempre Rubato." "The piece didn't have a name," Alla says, "so we named it according to its tempo. Curiously, it has somewhat of a jazz coloring. According to Faraj Garayev, the composer's son, they had called this piece "Sketch" among family members."

Untapped Archives
The State Museum of Azerbaijani Musical Culture consists of several branches: the main building, which houses the archives, the home museum of Niyazi, the home museum of mugham jazz composer Vagif Mustafazade (1940-1979), and the permanent exposition of traditional instruments found in the home of tar player Ahmad Bakikhanov (1892-1973).

In its collections, the Museum has more than 35,000 items, including traditional musical instruments, pianos, photographs, traditional outfits and recordings as well as the personal pianos of Gara Garayev and Muslim Magomayev (1885-1937).

Specific objects include the saz and national costume of famous Ashig Sarajli (1916-1987), the tars of Gurban Primov (1880-1965) and Habib Bayramov, (1926-1994) the gaval of Khan Shushinski (1889-1965), the pitch pipe of Gurban Primov, and national costume of Bahram Mansurov (1911-1985).

Most importantly, the Museum houses the archives for many renowned Azerbaijani composers, including handwritten scores by composers Jovdat Hajiyev (for example, the opera "Ayna" which he composed together with Gara Garayev), Suleyman Alasgarov (1924-2000), Tofig Guliyev (1917-2000), Vagif Mustafazade, Agshin Alizade (1937- ).

Collecting the Scores
In many cases, the composers gave their items from their individual archives to the Museum while they were still alive. In other cases, family members donated or sold papers and manuscripts to the Ministry of Culture following the composer's death.

"The archives can be very scattered, with one page here and another page there," Alla laments. "Some of the pages aren't in good condition. Plus, since the scores are handwritten, sometimes they are not very readable. Before we can make the scores available to musicians, we'll have to edit them. How does the Museum verify that a certain score was actually the work of that composer? "In many cases, the piece was signed by the composer," Alla says. "If not, we can compare handwriting samples and tell if a work belongs to a certain composer. Likewise, we don't always know the exact date that the piece was written. If the date is not written on the score, we can only approximate when the piece was written."

Resource for Musicians
For a handful composers, including Niyazi and Garayev, the Museum has compiled a list of handwritten scores that are kept in the archives. But this is only the beginning. Alla and her staff hope to publish lists of works for many more of the composers.

"We want to publish these lists so that musicians will know what we have," she explains. "Let's say someone is searching for a specific work and doesn't know where to find it. We might have it. On the other hand, we often receive requests for scores that aren't found in our archives. We don't have everything-we only have what has been given to us."

The Museum also wants to publish the scores of these works so that contemporary musicians can perform them. For instance, Alla would like to publish the Collection of 24 Preludes composed by Jovdat Hajiyev (1917-2002) in 1934, but first she needs to find financial support for the project.

"Music schools often ask us for copies of scores so that their students can learn these pieces," she says. "Being able to making them available to the public would greatly help to enrich Azerbaijan's musical culture."
Alla Bayramova, Director of the State Museum of Azerbaijani Musical Culture, was interviewed by AI staff member Gulnar Aydamirova. On May 5, 2003, the Museum will hold a concert, "Secrets and Unveilings," featuring some of these new pieces.

SEARCH at AZER.com for biographical articles published in past issues of Azerbaijan International magazine about composers mentioned in this article: Garayev, Niyazi, Uzeyir Hajibeyov, Vagif Mustafazade, Jovdat Hajiyev and Tofig Guliyev.


Back to Index AI 11.1 (Spring 2003)
AI Home | Search | Magazine Choice | Topics | AI Store | Contact us

Other Web sites created by Azerbaijan International
AZgallery.org | AZERI.org | HAJIBEYOV.com