Spring 1999 (7.1)
Pages 12-13

Baku Diary
Literary Heritage - Baku Streets

by Jonelle Glosch




Left: Suleyman Rustamov

Right: Rasul Reza and his wife Nigar Rafibeyli

Baku surrounds you with history. Buildings, monuments, stately homes-all testify to the glory that existed at the turn of the last century. Even street names bear witness to the rich cultural heritage of this country. However, it's often difficult for foreigners to find out the fascinating stories behind these things.

Recently, I was giving directions to a friend on how to find a certain place in my "adopted city". I felt so proud that I could identify all the relevant streets and monuments by name. After all, how many young people who walk these streets everyday, or for that matter, how many taxi cab drivers could have done the same thing? I smiled, basking in the compliments, until he asked if I knew what these names meant.

"Well, no," I had to admit, "I don't really know the history of the names."

My friend's challenge sent me scurrying to see what I could dig up about these street names that have become an integral part of my everyday life. I spoke with friends, librarians, historians and journalists. Each one added to the mosaic that I was collecting; each one gave me a chance to deepen a friendship or make a new one.


Street scenes in Baku:
Left: "The Passage" on Nizami Street named after one of Azerbaijan's poets.
Right: Fountain Square in downtown Baku - a favorite place to relax when the weather is good.

New Era, New Street Names
Since independence (1991), most of the streets in Baku have been renamed to reflect Azer-baijan's proud national heritage. However, people don't always know these new names because there have been so many changes. The old names are so deeply ingrained that there's a tendency to refer to the older, more familiar names. Old habits die hard, they say..

In the past, streets in Baku were usually named after ideological principles or Russian, Armenian and other Soviet heroes. For example, both the avenue and square in the center of Baku, once bore the name of "Lenin", but are now called "Freedom" (Azadlig). "Communist Street" has been renamed "Independence Street" (Istiglaliyyat). Ironically, "Worker's Street" (Fahla) now bears the name of "Nobel", referring to the family of distinguished entrepreneurs - the Brothers Robert and Ludwig who established the Nobel Brothers' Petroleum Company in Baku in the late 19th century. Their brother, Alfred, who held significant shares in their company, established the Nobel Prize in 1901.

The street named "April 28" has now been changed to "May 28". April marked the date that the Bolsheviks captured Baku in 1920 and set up a socialist government; May signifies the establishment of the first Democratic Republic of Azerbaijan that had occurred two years earlier (1918) but which the Bolsheviks totally wiped out except for the memory. Today, Independence Day in Azerbaijan is observed on May 28, referring to 1918, not October 18, 1991 when the USSR collapsed and Azerbaijan regained its freedom after being dominated for more than 70 years.

Highly Literate
Like many of the former Soviet Republics, Azerbaijan prides itself on the high level of education its people achieved. During Soviet times, Azerbaijan boasted a literacy rate of 98 percent. As a testimony to the esteem Azerbaijanis place on learning, the nation now names many of its monuments, parks and streets after its intellectual giants-writers and poets, musicians, scientists and occasionally statesmen. And thus these names become integrated into the vocabulary of everyday life, fulfilling one of the popular toasts that I've heard so often, "Let us never forget our heritage, let us remember to tell our children of the greatness that is ours."

Ruhangiz, a journalist at Gunay newspaper, introduced me to a collection of biographies in Russian that she had helped compile mid-century. She had been part of a team that spent 28 years preparing the biographies of the major scientists, philosophers and thinkers of Azerbaijan. It was the first (and last) encyclopedia of its kind solely dedicated to Azerbaijan's intelligentsia-a virtual "Who's Who" of contributors to the cultural life of Azerbaijan. It proved an excellent source for many of the writers and poets I was looking for.

Even though this work was compiled during the Soviet era, it seemed to me that the individuals featured in its pages were not mere puppets of the State. Most of them had truly made an artistic and intellectual contribution to society. Indeed, many of them had jeopardized their own jobs and reputations; some of them died in their attempts to express personal opinions that ran counter to State ideology.

Suleyman Rustamov
I discovered that it was Suleyman Rustamov Avenue that I take everyday on my way to the office. Noisy trolley buses rumble along that street; It's always so annoying. I never realized, however, what a legacy this writer and playwright has left. The encyclopedia identifies Rustamov (1906-1989) as National Poet of Azerbaijan, Hero of Socialist Labor, Azerbaijan Honored Artist, Azerbaijan State Prize Winner, Lenin Komsomol Prize Winner and more. He had a very humble beginning, having been born into the family of a blacksmith.

I first became acquainted with his works in the university English class I teach. I asked students to bring in Azeri poems, songs and stories so that we could discuss symbolism. One student, Ayten, brought a lovely poem about a cottage and garden in the summertime. It was Rustamov's work. Loved ones were the predominant theme-"I miss the summer days when we spent time together at the cottage by the sea. I want these days to return again-do you? I think of you everyday from morning till night-do you miss me, too?"

The next day Ayten brought in a small volume of Rustamov's poetry. My favorite poem is a sad, short one about the winds of autumn: "The wild Absheron winds blow the leaves of life away." It seemed so prophetic and visionary to me, but my students found it comforting that life moves in cycles-and that others have felt these same ferocious winds so familiar to them and lived to look back on them later in life. They interpreted the poet's lines to mean: "Don't give up. Don't lose hope."

And so it is that these days when I hear the squeaky grind of the trolley, my students come to mind, along with their promises for hope-thanks to Suleyman Rustamov. (See page 52).

Samad Vurghun
My apartment looks out onto a very pleasant street that runs nearby the Republic Concert Hall (Respublika Sarai) in the center of Baku. This street is named after the poet Samad Vurgun (1906-1953). It's a bustling street - actually quite fitting for a man who lived a rather short, but intensely emotional life.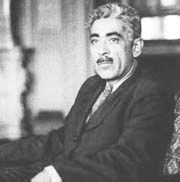 Vurghun was a philosopher, poet, academician and teacher, Chairman of the Writer's Union, Vice President of the Academy of Sciences, social analyst and more. He came into his prime during the turbulent 1930s and 1940s when Stalin's repression and World War II were squeezing the Soviet people (page 56).

Left: Samad Vurghun

In addition to prodigious amounts of poetry, Vurghun translated the works of the great Russian writer Pushkin into Azeri. He also worked to make the great classic works of the Azerbaijani poet Nizami Ganjavi accessible to Azerbaijanis, since the original works had been written in the Persian language, penned in the Arabic script as was customary during the 12th century.

Vurghun is considered one of the fathers of contemporary Azerbaijani verse. His popularity extended beyond the borders of Azerbaijan to other regions of the Soviet Union and even beyond, as he was one of the few Azerbaijani writers who traveled internationally. Both of his sons, the late Yusif (page 51 and 58), (1935-1998) and Vagif (1939-) have become nationally recognized writers [See this issue, page 56-64, and AI 4.1, Spring 1996].

Rasul Reza
Another favorite street of mine is named after the poet Rasul Reza (1910-1981). My friend Taleh put it to me this way, "You can't mention Rasul Reza without mentioning the name of his wife as well - Nigar Rafibeyli (1913-1981) [pronounced nee-GAHR]. These two went hand in hand, not just married life." Their son Anar (1938- ), one of the most predominant writers in the country, now heads the Writers' Union and is a member of Parliament.They say Anar owes his name to an acronym built on the first letter of each of the words-Ana (mother), Nigar, Ata (father), and Rasul - ANAR. The root of the word means "one who comprehends life." Thus the name itself recognizes the influence of both his mother and father on his life. Anar often points out that he was the "first" to bear that name. The other day he joked that there are now so many with the name of "Anar" that they could create their own opposition party!




Rasul Reza is credited with introducing free verse to replace the traditional verses that followed rhyming patterns. Both he and his wife were threatened by Bolsheviks. Both of their fathers were murdered by the government agents. Recently discovered KGB records indicate that Nigar, too, was nearly sent into exile herself because authorities held her in suspicion (34).

Photo: Anar, Rasul Reza's son

There are many other streets that recall the literary giants of this century - Husein Javid (20), Mikayil Mushfig (26), Abbas Sahat and Mir Jalal (43). Now I find myself paying more attention to street names in other parts of the city.

Azerbaijanis have experienced many reversals this century. In the midst of all the confusion and difficulties of this transition period, it's interesting to see which parts of history they are trying to preserve and which ones they'd prefer to put behind them and forget. Who will be recognized to provide the moral and intellectual strength and give courage and hope for the unknown tomorrows of the 21st century? Who will be the models and mentors for that familiar toast-"Let us never forget our heritage, let us remember to tell our children of the greatness that is ours."

From Azerbaijan International (7.1) Spring 1999.
© Azerbaijan International 1999. All rights reserved.
Back to Index AI 7.1 (Spring 99)
AI Home | Magazine Choice | Topics | Store | Contact us