Spring 1999 (7.1)
Page 34
Stalin's Oppression
(1920-1950s)

KGB Documents Reveal Poet
Nearly Sent into Exile
Personal Reflections
by Anar about his mother - Nigar Rafibeyli

Tens of thousands of Azerbaijanis suffered persecution and death under Stalin's Purge both prior to World War II and afterwards. Recently discovered documents indicate that poet Nigar Rafibeyli [pronounced nee-GAHR ra-fee-BEY-lee] was also a target of Stalinist repression. Her crime: simply being the daughter of a physician who had owned land and been charged with anti-communist political activity when the Bolsheviks came to power in Azerbaijan in 1920. It didn't matter that her father, Khudadat Rafibeyli, had been executed that year and that she was only seven years old at the time.
Now 60 years later, her son Anar, one of Azerbaijan's most prominent writers, reveals the accusations by the Communist Party against his mother that were published in the newspapers and other official documents showing that she narrowly escaped exile herself.

[For more about Nigar's father, see AI 6:1, Spring 1998, "Reviving the Memory of Silenced Voices, Khudadat bey Rafibeyli," page 52].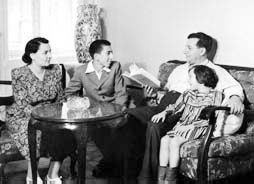 Now that our country has gained its independence, gradually some of the documents that have cloaked the mysteries of our century are being revealed. In the case of my own mother, it wasn't so long ago that we discovered that she, too, had been targeted to be sentenced into exile, but by some mere twist of fate that we have yet to comprehend, she was spared. Here are the facts that we have been able to piece together so far.

Portrait of one of Azerbaijan's famous families of writers: Left to right: Nigar Rafibeyli (poet), son Anar (now President of Writer's Union), Rasul Reza (poet) and daughter Fidan (now professor at Azerbaijan State University). Baku. 1949. National Archives.

Back in 1930, the secretary of the Central Committee of Azerbaijan's Communist Party published a long article in several official newspapers severely accusing my mother Nigar Rafibeyli and other members of her family of stirring up political unrest.
The article read: "Khudadat Rafibeyov, former Governor-General of Ganja and one of the Musavat Party 1 leaders made plans to attack the Baku Commune. After being accused of being one of the organizers of the uprising, he was shot in Ganja in 1920. This wealthy land owner left his wife Javahir Khanim, his daughter Nigar Khanim and two sons as heirs. The daughter of that Musavat leader and landlord is an offspring of her father. This Musavat rabble, these parasites who pretend to be Soviet supporters, are making the cultural rounds and poisoning our younger generation with land owner's venom.

The crime of the century will never be exposed. History will hide it all in its pages. Even if the coming generations inquire of it. Their questions will be frozen on their lips...
- Nigar Rafibeyli

"Nigar Khanim is one of those waiting for the sun to rise from the East. The daughter of Khudadat, who was one of the protectors of English imperialism, does not ascribe to the fact that the golden sun has risen from the North [Russia]. She does not feel the shining of the guiding star risen from the North. That star is showing the East how to liberate itself from the oppression of imperialism. It seems that this landlord's daughter and those like her have not yet understood this and still need be punished. Only afterwards will they understand where and when the sun rises and why the golden sun rises from the North. Why hasn't Nigar Khanim - and those like her-been exposed yet? Why haven't their real bourgeoisie faces been shown to anyone?" (From the newspaper called "Communist," December 18, 1930).

A number of poets and writers immediately joined in this severe castigation that the Party had initiated. My mother was fired from the office where she was working. It was about that time that she met the poet Rasul Reza. In 1934 they became engaged and went to Moscow for university studies. They eventually married on February 11, 1937. Many years later, my mother wrote a poem dedicated to the memory of her girlfriend Nazakat Aghazade and referred to how strong the men in their lives had had to be to associate with them:
"On the difficult ways of life
Ali and Rasul became faithful friends of ours.
They were openhearted,
Ardent guys.
At those times, being able to reach us
Required not a simple love-
But a great valor."

Nazakat Aghazade was the daughter of Hasan Aghayev, the deputy secretary of the first independent Azerbaijan State Parliament. He had also been killed in 1920. Aghazade herself was the wife of dictionary editor and linguist Ali (Aliheydar Orujov).

Those intellectuals in that literary group who happened to be studying in Moscow in 1937 - my mother and her fiance Rasul Reza, Nazakat Khanim, Anvar Mammadkhanli, Mehdi Husein and Sabit Rahman-somehow all managed to be spared the bloody meetings in Baku and the tragedy of that terrible year. On February 11, Husein Javid, Ahmad Javad, Seyid Husein, Mikayil Mushfig 2 and other cultural figures took part in Rasul and Nigar's wedding party. Shortly afterwards, they themselves became victims of Stalin's repression. My mother always used to say, "Our wedding was the last festivity in the lives of those unfortunate guys."

The repression even threatened my mother in the years that followed, especially in the latter part of the 1940s, after the war, when Stalin again actively began the purges.

One document that we've acquired from the Soviet secret police's archives sheds further light on this situation. It was procured with the help of Akif Rafibeyli who now works as Deputy Justice Minister of Azerbaijan. The document was in the archives of the Department of the Interior and speaks of the intention of sending Nigar and her mother into exile.

It reads: "Rafibeyova Javahir Khanim. Born in 1880. The wife of former Ganja governor-general Khudadat Rafibeyov, who was shot in 1920 by the Soviet government. Her son Rashid studied in Moscow until recently. "Her younger son Kamil is in the Musavat party and has emigrated to Turkey and is living in Gars 3 now, presently serving in the armed forces of Turkey. He has liaisons with the Istanbul Committee of the Musavat Party and the Turkish Secret Service. Actively spying against the USSR.

"Her daughter Nigar has two uncles who have emigrated to Turkey. The mother and daughter have been exchanging letters with relatives abroad since 1936. They are on hostile terms with the Soviet government." The damning words: "Send to Exile" were signed by "Grigoryan". It turns out that Khoren Grigoryan was one of the directors of Azerbaijan's secret police and one of the principal executors and organizers of Stalin's repression in 1937. He later was exposed as a member of the Dashnak 4 which sought to annihilate Azeris, especially members of the intelligentsia. Grigoryan was convicted and shot to death in 1956 along with Mir Jafar Bagirov, Stalin's deputy in Azerbaijan, once the Mastermind himself was dead (1953).

Curiously, on that same document were three words "To be delayed" scrawled in handwriting. This decision apparently had been made by Mir Jafar Bagirov. Of course, why the order was delayed and eventually commuted is a mystery that Bagirov seems to have carried to his grave. Who knows what sort of reasoning or capricious mood he must have been in at that time to have postponed this dreadful fate? Maybe he didn't want to destroy Rasul Reza's family since Reza himself was already known as a public figure and an influential poet by that time. But those three words, "To be delayed" determined not only the fate of my grandmother, my mother and my father but also that of we three children-my two sisters and me.
Footnotes:
1 Musavat Party - the political party that was most active in its opposition to the Bolsheviks, who brought communism to Azerbaijan (late 1910s). UP
2 Husein Javid, Ahmad Javad, Seyid Husein, Mikhayil Mushfig were all Azerbaijani writers who were killed during Stalin's Repression of the 1930s. UP
3 Gars - a city in Turkey. UP
4 Dashnak - an Armenian political group most often associated with terrorism throughout the world during this century. UP
Anar is one of Azerbaijan's most distinguished writers and thinkers. He currently holds the esteemed positions of Member of Parliament and President of the Writer's Union of Azerbaijan. His mother and father, Nigar Rafibeyli and Rasul Reza, were both nationally recognized poets.
From Azerbaijan International (7.1) Spring 1999.
© Azerbaijan International 1999. All rights reserved.
Back to Index AI 7.1 (Spring 99)
AI Home | Magazine Choice | Topics | Store | Contact us