Winter 1998 (6.4)
Architecture of the Oil Baron Period
SOCAR Building

Neftchilar Avenue 73 (Oil Workers' Avenue)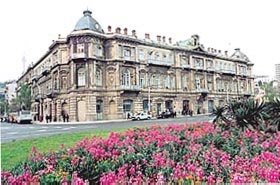 The expansive building that houses the State Oil Company of Azerbaijan (SOCAR) has a very unusual history. The owner was not involved with oil at all, at least not in the early part of his career. Mir Taghy Mir Babayev was an extremely talented singer of folk music and was known for singing very complicated traditional mughams. His fate was transformed overnight at one of the performances he gave at a wedding of an immensely wealthy family. As the evening proceeded, one of the groom's close relatives was so deeply moved that he presented Mir Babayev with an enormous gift. The details are confusing as to whether the gift was land that happened to have oil on it, or a sum of money sufficient to buy land.

The SOCAR Building was originally the residence of one of Azerbaijan's famous folk singers (khanande) who was able to acquire the residence as a result of one of his performances at a wedding.
Regardless of the details, his career in oil began in 1906, and by 1912 he had purchased three large oil fields and expanded operations to 18 oil rigs employing 70 workers and producing 150,000 barrels a year.
Mir Babayev was able to buy one of the most elaborate residences in Baku. Located near the sea, the three-story building with its numerous chimneys was designed by P. Stern and built in 1896. Typical of many buildings that incorporated an indigenous style of architecture, the building looks out over an inner courtyard from corridors lined with windows. When the Bolsheviks took over Baku, Mir Babayev's property was confiscated. He emigrated to France where some say he was reduced to living in poverty. Others suggest that he could hardly have lived too poorly as his hobby while living in Azerbaijan had been collecting diamonds and jewelry. Unfortunately, Mir Babayev had no children to help set the record straight.

During the later years of the Soviet period, the building was designated for offices of Azneft, the national oil company which was renamed after independence (1991) and is now known in English as SOCAR (State Oil Company of Azerbaijan Republic). For the past several years, renovation of this gorgeous building has been going on both inside and outside.

From Azerbaijan International (6.4) Winter 1998.
© Azerbaijan International 1998. All rights reserved.
Back to Index AI 6.4 (Winter 1998)
AI Home | Magazine Choice | Topics | Store | Contact us