Spring 1995 (3.1)
Pages 70-71
Legacy of the Oil Barons - Part IV
The Musician Who Originally Owned the SOCAR Building
by Fuad Akhundov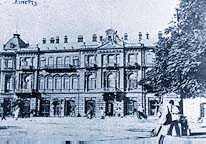 Above: SOCAR's office was originally the private residence of Mir-Taghy Mir-Babayev, a folk singer who was given land with oil in appreciation for his fine singing performance at a wedding in 1906.
The impact of the Oil Boom at the turn of the century left an indelible imprint upon the architecture of Old Baku. In a series of articles, Fuad Akhundov, continues his description of some of these great monuments and their benefactors. Much of this information was gathered from interviews with remaining descendants of that era.

All historical photos are courtesy of Azerbaijan State Archives (Photo and Cinema Documents Section) in Baku.
It's not an exaggeration to say that Baku at the turn of the last century was an incredibly wealthy city. Thanks to the industrial fervor, it was even possible for an ordinary worker to become prosperous. Sometimes the process was as simple as leasing a piece of land upon which oil was found. The destinies of such famous oil millionaires as Taghiyev, Naghiyev, Mukhtarov, and Asadullayev provide witness of such phenomenon. (See earlier issues of Azerbaijan International.)

There have even been examples of oil-gushers in Baku so spectacular that they changed the life of their owners overnight. And although much of the oil gushed out on the earth, was wasted and caused serious ecological damage, one gusher was enough to make its owner a millionaire.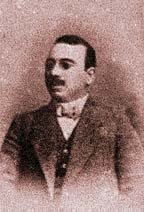 Left: Mir-Taghy Mir-Babayev

The story of how Mir-Taghy Mir-Babayev attained wealth in oil is somewhat different to that of other Oil Barons. Despite his strict religious upbringing, Mir-Babayev started out as a "khanende" (performer of folk songs and traditional Azeri mugham compositions).

He had a magnificent voice and soon became a much-sought-after mugham singer. Frequently, he was invited to rich Azeri weddings where merchants, ship owners and industrialists competed among themselves in lavish money on exceptionally talented singers and musicians.

But Mir-Taghy Mir Babayev's voice was so extraordinarily powerful that he became the first Azerbaijani whose voice was preserved for posterity on one of the earliest black cylinder wax recorders in Warsaw.

According to Manaf Souleymanov, one of our Old Baku historians, Mir-Babayev's fate was changed overnight after one of his performances. It so happened that he was invited to perform at the wedding of an immensely wealthy family. He began singing one song after another in response to the requests from the guests, who showered him with gold coins and bank notes as was the tradition at such weddings.

He is remembered as having performed unimaginably complicated mugham pieces and as the evening proceeded, one of the groom's close relatives was so deeply moved that he presented him with a gift that would change the course of his life. The details are confusing as to whether he was given land with oil outright or rather the sum of money sufficient to buy some.

And that's how Mir-Babayev, the singer, got started in an oil career in 1906,. From the very beginning, production in the field was 92.6 thousand poods of crude oil each year (note: 1 pood is 0.1 barrel). A few years later, production increased to 67,000 barrels a year and by 1912, he was able to procure three large oil fields in the Baku suburbs of Sabunchi and Balakhani and his operation expanded to18 oil rigs, 70 workers and an annual output of more 150,000 barrels.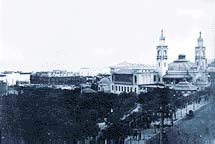 Left: Early photo of Mir Babayev's Residence, now SOCAR building, (background left) from vantage point of Baku's 72 (right).

It's worth mentioning that Mir-Babayev was also remembered for his philanthropy. He became the primary sponsor of the Transcaucasin Pedagogic Seminary in Gory (nowadays Georgia) which was the largest male pedagogic boarding school in the entire Caucasus. Azeri composers, scientists, and political figures of high renown such as Uzeyir Hajibeyov, Muslim Maghomayev, and Nariman Narimanov graduated from this school. Under Mir-Babayev's sponsorship the quotas of Azeri students increased.

Mir-Babayev also managed to buy one of the most elaborate buildings of the Old City of Baku. Built in 1896 by the architect Sterm, Mir-Babayev used it as his residence until 1920 when the Red Army took over and confiscated the building. Later it would be designated for offices of the State Department of Oil which at that time was called "Azneft". Today the building serves as offices for the State Oil Company of Azerbaijan Republic (SOCAR).

Smashing His Own Records
Despite the fact that everything Mir-Babayev gained had been achieved because of his magnificent voice, for some reason he felt ashamed of his previous occupation. Perhaps, he felt that singing wasn't as serious or reliable as oil business. Stories abound how he used to try to erase all traces of his singing career by buying up all his records just to smash them. Somehow it seems he wanted to go down in history as Oil King, not Folk Singer.

According to one of the stories that has grown up around him, Mir-Babayev emigrated to France after 1920 where he was reduced to living in poverty. But even then, so the stories go, he still continued trying to destroy his records. However, some relatives are sceptical of such stories and claim he could hardly have lived too poorly as he had had a hobby of collecting diamonds and jewelry prior to leaving Azerbaijan. Unfortunately, Mir-Babayev has no children to help set the record straight. Open discussion during the Soviet period about such members of the elite was difficult and even dangerous so that it's hard to prove which of these stories is true. In the meantime, such legends from history of this city prove to be extremely fascinating and bring back memories of what a charming historical place Baku has been in the past.

Despite Babayev's desperate efforts to remain an oilman, he is still perceived as a singer in the memories of Bakuites. Meanwhile, the magnificent headquarters of SOCAR is tribute to the fact, that, although he may not have been the richest oil king, he definitely was the most talented.


From Azerbaijan International (3.1) Spring 1995.
© Azerbaijan International 1995. All rights reserved.
Back to Index AI 3.1 (Spring 1995)
AI Home Page | Magazine Choice | Topics | Store | Contact us