Winter 1998 (6.4)
Architecture of the Oil Baron Period
Friday Mosque

"Inner City" (Ichari Shahar)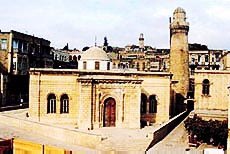 The original Friday Mosque was built in 1441-1442 by the Shirvanshah, Khalil-ul-lah I. Gradually, the mosque fell into disrepair and Haji Sheikhali Dadashov, a wealthy merchant and shipowner, built a new mosque on the original site of the old one. His grave is at the entrance of the mosque.

The Friday Mosque in the "Inner City" (Ichari Shahar) has the most intricate limestone carvings of the entire city. The mosque was rebuilt early this century, but the minaret dates to the 15th century.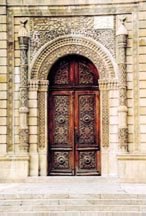 The restoration took place in 1899-1901. The original minaret stands intact beside the newer building-nearly 500 years separate their construction dates. The ornate limestone carvings defining the entrance of the mosque are the most elaborate stone work in the city.
During the Soviet period, the Friday Mosque was one of the very few religious buildings that Stalin did not have demolished. Stripped of its religious functions, the mosque was transformed into the National Carpet Museum. Since independence (1991), the mosque is used once again as a place of worship, and the carpets have been moved into what used to be called the Lenin Museum parallel to the seaside boulevard.
From Azerbaijan International (6.4) Winter 1998.
© Azerbaijan International 1998. All rights reserved.
Back to Index AI 6.4 (Winter 1998)
AI Home | Magazine Choice | Topics | Store | Contact us