Summer 1995 (3.2)
Pages 22-23
Places to See - Baku
Baku enjoys hundreds of important historical and cultural places to visit. Between the 1960s and mid-80s, the city attracted extensive tourism, especially from the former Soviet Republics and Eastern European countries. Here are a few of the highlights that we have selected to feature in this issue.

Taghiyev History Museum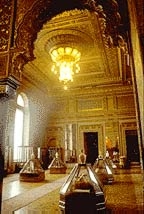 This museum was originally the private residence of one of Baku's most famous and philanthropic oil-millionaires, H. Z. Taghiyev. It's worth a visit simply to see the decorative interior of the mansion. If you're interested in catching a glimpse of the opulence of Baku that existed nearly 100 years ago. Many formal receptions and state functions are still held in this museum today. You'll also find attractively assembled exhibits covering the history of Azerbaijan and providing insight into the social, cultural and everyday life up to the present day. This is a "must see" even for visitors who hate museums.

The Latif Karimov Carpet Museum
Baku's most extensive carpet exhibit is now housed inside what used to be the Lenin Museum. The Carpet Museum has recently been named after the late Latif Karimov who was the founder of theoretical research on Azerbaijani carpets, Karimov was responsible for classifying Azerbaijani carpets into 144 specific types and for writing three major volumes identifying and illustrating thousands of individual carpet design elements found throughout Azerbaijan.

The Museum displays various types of Oriental carpets, such as pile, kilim, etc. Traditional carpet designs from Karabakh comprise one of its best collections. The Karabakh region was known for its prolific Azerbaijani carpet-weavers; however, since the area is occupied by Armenians, all Azerbaijanis have been forced to fled the area. You'll also find beautiful, finely woven carpets from Tabriz of southern Azerbaijan (Iran).

Maiden's Tower
The Maiden's Tower is recognized as the most dominant architectural symbol of the city of Baku. Located more than a block away from the Caspian, the Tower used to be in the sea. Though the structure appears like a fortress, it is possible to gain entrance on the north side and to make the climb (by foot) around the steep circular stone staircase inside the outer walls. The tower which stands about eight stories high opens on to the roof and provides a spectacular view of the city. The building is believed to have been built in the 12th century or possibly earlier and various hypotheses have been suggested as to its original purpose including defense, observatory and part of a system of fire signal towers. Legends abound as to its name, "Maiden's Tower". Well worth the climb.

The Azeri National Costume Museum (Doll Museum)
This is Baku's newest museum, having just opened its doors this year, 1995. Located on the corner of Gorky and Tolstoy Streets, the Museum is housed in a renovated first floor of one of the older residences of Baku. Privately owned, it is the creation of artist, Elmira Abbasly, and the first example of what private entrepreneurship can do for museums. The Costume Museum qualifies as one of the most charming presentations of Azerbaijan's past. Primarily, it features hand-made dolls that reflect the life and times of personalities from the artist's childhood from the old Inner City of Baku. The costumes are based on careful documentation of materials and styles of the periods they depict. The museum is a delight to the imagination, full of warmth and subtle humor.

The Old Inner City ("Ichari Shahar")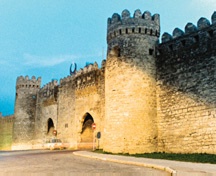 The oldest section of Baku is surrounded by fortress walls dating back to the ninth century. Inside, you'll find narrow, winding picturesque streets which were intentionally designed to counter the strong winds that blew off the Caspian Sea.

As yet, the area is not very commercially oriented-a transformation that is likely to occur once the economy begins to boom.

Be sure to visit the Palace of Shirvanshah (13-14th century) and the Caravanserais (the equivalent of hotels in centuries past when camel caravans gathered along ancient trade routes). The two caravanserais of the Old Inner City have been converted into fine restaurants. Don't forget your camera.



From Azerbaijan International (3.2) Summer 1995.
© Azerbaijan International 1995. All rights reserved.
Back to Index AI 3.2 (Summer 1995)
AI Home Page | Magazine Choice | Topics | Store | Contact us