Winter 1998 (6.4)
Page 10
Holiday Calendar for 1999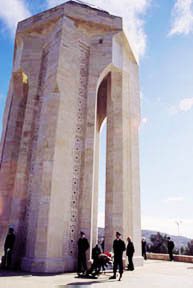 January 1
January 20
January 30
March 8
March 20-21
April 8
May 28
June 15
October 8
October 18
November 12
November 17
December 31
New Year's Day
Day of the Martyrs (1)
Ramadan (Muslim Observance)
International Women's Day
Noruz Bayrami (First Day of Spring)
Gurban Bayrami (Muslim Observance)
Republic Day (2)
National Salvation Day (3)
Army and Navy Day
National Independence Day(4)
Constitution Day (5)
Day of National Revival (6)
Day of International Solidarity (7)
New monument at Baku's Shahidlar Khiyabani (Martyr's Cemetery) dedicated Oct. 10, 1998.
(1) Commemorating the victims of Black January 1990 and the Karabakh War (1988- ).
(2) Commemorating the Founding of Democratic Republic of Azerbaijan in 1918.
(3) In 1993 when Parliament invited Heydar Aliyev to Baku to lead the country.
(4) In August 1991 when Parliament adopted the Declaration of Independence following the collapse of the Soviet Union.
(5) In 1995 when the new Constitution was ratified.
(6) In 1988 when the first rallies began against Moscow's policies towards Azerbaijan and the Nagorno-Karabakh conflict.
(7) In 1989 when Azerbaijanis broke the barriers on the borders separating them from Iran. A day to encourage Azerbaijanis all over the world to feel solidarity towards each other.
From Azerbaijan International (6.4) Winter 1998.
© Azerbaijan International 1998. All rights reserved.
Back to Index AI 6.4 (Winter 1998)
AI Home | Magazine Choice | Topics | Store | Contact us