Winter 1998 (6.4)
Pages 60-65
Azerbaijan on the Internet
by Jean Patterson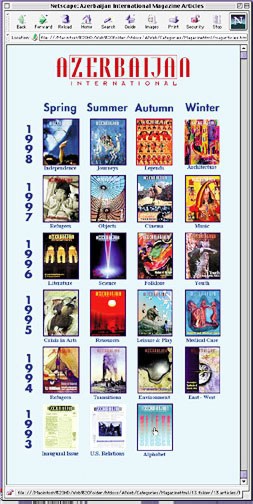 Ten years ago, the title for this article, "Azerbaijan on the Internet," would have held little meaning for most people. But times have changed, as has technology. These days, not just Azerbaijan, but the entire world is struggling to adapt and embrace this powerful new technology. Where it will lead is anyone's guess.
Azerbaijan has already begun to tap into the potential of the Internet, and the country's presence on the Web is growing. In the past year alone, many new Web sites related to Azerbaijan have appeared, increasing awareness of the country's culture, politics, economy, refugees and, of course, oil. Azerbaijani youth studying abroad have caught on quickly to the potential of the Internet and some have built elaborate Web sites of their own.

Six years of magazine articles are available at Azerbaijan International's Web site <azer.com>. A search engine on site, though slow, is quite comprehensive in scanning 700 articles for terms.
Few families in Azerbaijan yet have access to home computers but many Azeri personnel working in foreign companies are very familiar with this technology. However, once Azerbaijanis are financially able to buy them, computers will become one of the country's most popular commodities. Without a doubt the use of the Internet will increase exponentially in Azerbaijan: e-mail will become an everyday means of communicating and Web sites will proliferate. The Soros Foundation and the USAID provide classes and free online access. Hundreds of young people, especially those learning English, are enrolling in classes.

In the meantime, there is still a great need for current, accurate information on the Web about Azerbaijan. Far too few Web sites contain reliable material. Many of today's Azerbaijan-related Web sites are merely directories that link to other Web sites, providing easy access but little original content of their own. Others store material that is already outdated or no longer relevant. The most reliable Web sites are typically those affiliated with established institutions or organizations but this doesn't always hold true. For instance, Adil Baguirov, a 20-year-old college student, has one of the best collections of reference pages on the Web.

Don't believe everything that you read on the Web. There are no Web police. Misinformation floats out there in Cyberspace side by side with the truth. It doesn't help that opinions and information can be contributed anonymously; some people think that they have license to say whatever they want with little or no recourse. Considering that the countries of the Caucasus are situated in a "rough" neighborhood, it's important to carefully scrutinize what you read on the Web about Azerbaijan.
Finding Azerbaijan on the Web
When you try to find "Azerbaijan" on different search engines or Web directories, you may come up with a completely different listing of Web sites. Search engines "rank" Web sites according to different criteria. A search on Lycos, for example, may give very different results than Excite does.

The most popular search engines in the United States include: AltaVista, EuroSeek, Excite, HotBot, Infoseek, Lycos, Go To, Northern Light and WebCrawler. (In each case, the name of the search engine is followed by <com>.) Magellan can be found at www.mckinley.com.

Or, search several engines at once by visiting a multi-search engine such as Digiway or Dogpile. Web site directories such as Yahoo and LookSmart are also helpful for sorting out the tangled Web of sites; they differ from search engines in that their listings are created by staff personnel rather than computers, and therefore, they are more selective.

Spellings
One of the greatest problems for Azerbaijan on the Web relates to spelling. One of the first laws passed by the Azerbaijani Parliament (December 25, 1991) was to rid themselves officially of Cyrillic and adopt a modified Latin alphabet. Consequently, spellings into English are chaotic. For example, references to the President may be found spelled as Heydar Aliyev (via Azeri), Geidar or Geydar Aliev (via Russian). Sometimes it is also spelled Heydar Aliev. The conflict with Armenia over Azerbaijan's Nagorno-Karabakh is another example. You'll find it listed as Karabakh (via Russian) but also listed as Garabagh or Garabag (via Azeri). Armenians refer to it among themselves as Artsakh.
Specific letters that are problematic include "G" as in the name of the famous composer Gara Garayev (Azeri) and Kara Karayev (Russian); "H" as in Hasanov (Azeri) is written Gasanov (Russian). You may also experience difficulties with "J" as in the city Ganja (Azeri) or Gandzha (Russian). The most confusing vowel is the "a" sound in "fat cat" expressed in both Cyrillic and Azeri with an upside-down, reversed "e". Such words tend to be spelled in English with "a" (Azeri) and "e" (Russian). For example, Shaki vs. Sheki, Daniz vs. Deniz.

Europe or Asia?
There is a great deal of confusion about where Azerbaijan should be located on international Web sites that list individual country pages according to region. Former Soviet Republics in Eurasia (like Azerbaijan) have been classified under Europe, Asia, the Middle East and the Former Soviet Union. CNN includes Azerbaijan in their list of Asia-Pacific countries!

To help you sort through this seeming chaos, we've compiled a list of the more prominent Azerbaijan-related Web sites on the Internet. Some of the Web sites on our list relate specifically to Azerbaijan; others are broader in scope and feature Azerbaijan in its international context. In each case, we try to point out relative strengths and unique options. To visit each site, insert <http://> before the Web address listed here.
Page counts are approximate and provide an idea of the size of the Web site. Tallies are as of mid-January 1999. We have listed the number of links to each site only as a measure of link popularity, which is an important factor in the Web site's "ranking" with many Search engines.

However, link popularity does not necessarily indicate quality. Some of the newer sites are quite good but have not had enough time to build up very many "linking" relationships. We used Altavista to search for linkage at www.altavista.com by typing <link:(space)(Web address)> in the search bar.

If the Web addresses that we have listed here no longer work when you try to use them, keep in mind that the Internet is constantly changing: Web sites move to different addresses, newer sites pop up, others close down. If you come across material that you believe is false, misleading or outdated, we encourage you contact the Web site owner and courteously inform them how they can be more accurate. Most will appreciate the feedback.

In the list that we provide below, we make no claim of having described every site that is out there. We hope that we have touched upon the major locations that provide valuable current information about the country.

Web at a Glance
Art
Currently, there is no substantial art collection on the Web. Azerbaijan International magazine will be launching an online Azerbaijan Art Gallery by June 1999 that will include 600-700 photos of art from some of the best examples of contemporary artists. Biographical information and the photo of each artist along with contact points will be included so that art lovers all over the world can contact Azerbaijani artists directly.

Also a Children's Art Gallery featuring distinguished work of children in Azerbaijan will be available at the same time. Check Azerbaijan International's Web site www.azer.com for details.

Constitution
The homepage of Azerbaijan's President, Heydar Aliyev www.president.az/azerbaijan/const.htm, describes the 158 Articles of Azerbaijan's Constitution (effective November 27, 1995). Article 18, for example, defines the relationship between Religion and State, specifying that religion is separate from the State, that all religions are equal under the law and that state education is secular. As of September 1998, capital punishment (Article 27) has been abolished though amendments to the Constitution that are not yet reflected online.
It seems President Clinton would have a better chance of staying in office in Azerbaijan than in the U.S. because a "grave crime" must have been committed to remove the President. In Azerbaijan, the length of the investigation cannot extend beyond 30 days after being submitted by the Supreme Court to a vote by Parliament (Article 107).

Karabakh
There is very little comprehensive material regarding the Azerbaijani perspective on the Nagorno-Karabakh conflict with Armenia which has resulted in 20,000 or more deaths, the displacement of nearly 1 million Azerbaijanis from their lands and the occupation of nearly 20 percent of their territory. In fact, the coverage is shamefully lacking in comparison to the aggressive information that Armenians have put forth.

Be very careful when reading material about Nagorno-Karabakh to first ascertain the viewpoint of the writer before taking material at face value. Nagorno-Karabakh sites, even those categorized on Search engines under the country of Azerbaijan, are usually created by Armenians who also refer to the region as Artsakh.

Some scattered material from an Azerbaijani point-of-view can be found here and there. Start with Virtual Azerbaijan where there is a category related to Karabakh www.scf.usc.edu/~baguirov. Other sites include Khojaly (the name of the town in which hundreds of civilians, including women and children, were slaughtered by Armenians overnight-a virtual genocide in this decade-in 1992 as they began their onslaught in the Nagorno-Karabakh region) www.geocities.com/CapitolHill/5078; Azerbaijan International www.azer.com and the Azerbaijan Embassy www.azembassy.com.

Local Advice
The Azerbaijan Pages, www.solar.rtd.utk.edu/oldfriends/azerbaijan/travel.html, provides an excellent survival guide for one's first trip to Baku. Additional advice can be found on the British Embassy's page www.intrans.baku.az/british and the U.S. Embassy's page www.usia.gov/posts/baku.html.

Magazine Articles
If you're looking for magazine articles about Azerbaijan, check out these mainstream magazines: The Economist, www.economist.com; Newsweek, www.newsweek-int.com; Time, www.time.com; U.S. News and World Report, www.usnews.com; and National Geographic Magazine, www.nationalgeographic.com/ngm/index.html. Azerbaijan International magazine www.azer.com archives most of their articles back to 1993.

If you are looking for material beyond the scope of current developments in oil and the Karabakh conflict, then check out Azerbaijan International which has published a rich source of cultural and social topics related to art, culture, music, trends, transitions, language, diplomatic interviews and more.

Maps
When it comes to identification of the place names of cities and towns on maps, be forewarned, it's a jungle out there. All of the former Soviet Republics are having difficulty with materials reflecting new names and new spellings. Soviet-imposed names have been replaced with names that express the values and heroes and heroines of the new reality. Azerbaijan's situation is further complicated because a new Latin-based alphabet replaced the former Cyrillic script. It is very difficult to find maps on the Web that have the new names spelled correctly in English via Azeri, not Russian. So far, we have only been able to identify Azerbaijan International's Web site with accurate spellings on a map that they created themselves. Hopefully, the paucity of accurate maps is only temprary. Maps with the new Latin spelling of Azeri can be found at Khazar University www.khazar.com. A valuable interactive map that may be enlarged can be found at www.az/maps/azerb.html though the spellings are very confused. Even some Soviet names are still included.

Music
To date, Azerbaijan International magazine www.azer.com is the only Web site that has more than a few selections of recorded music available for listening. You'll find 70 music samples in their Music section. The collection tends to highlight classical music (Azerbaijani composers such as Garayev, Hajibeyov and Amirov) rather than the traditional mugham. The most popular performances are Rashid Behbudov, jazz pianist Aziza and the SKRUK Norwegian Choir with Brilliant and Ilgar Mammadov. CDs and cassettes can be ordered.

National Anthem
Azerbaijan's national anthem, composed by Uzeyir Hajibeyov for the 1918-1920 Democratic Republic of Azerbaijan, has been adopted by the newly independent Republic. It is available at several locations. At Virtual Azerbaijan scf.usc.edu/~baguirov, the text is in Azeri Latin script while the music plays.

Newspapers
Washington Post, www.washingtonpost.com/wp-srv/inatl/longterm/worldref/country/azerbaij.htm, dedicates a page on their Web site to Azerbaijan. There you'll find the latest Washington Post and Associated Press stories about Azerbaijan, as well as exchange rates, weather forecasts and historical weather data. Other major newspapers on the Web include the Chicago Tribune, www.chicagotribune.com; the London Times, www.the-times.co.uk; the Los Angeles Times, www.latimes.com; the New York Times, www.nytimes.com; and USA Today, www.usatoday.com. Usually, you'll need to register before exploring the site, and will have to pay a fee to download past articles from the newspaper's archive.

Plane Tickets
British Airways' Web site, www.british-airways.com/azerbaijan, lets you check flight availability and book flights to and from Baku. The site features a timetable, baggage allowance information, local bus information and contact information for Baku-area offices.
KLM also has a Web page for Azerbaijan, www.klm.nl/azerbaijan, including a timetable, fares and phone numbers for local hotels and car rental companies.

Other airline Web sites include Azerbaijan Airlines at www.azal.az; Emirates at www.ekgroup.com; Lufthansa at www.lufthansa.com; Swissair at www.swissair.com; and Turkish Airlines at www.turkishairlines.com.

Visas
The Azerbaijan Embassy in D.C., www.azembassy.com/visa/visa.html, provides online information about obtaining visas for Azerbaijan. Visas must be ordered directly from the Embassy as they are not available for downloading from your screen as is possible with some other Embassies.

Weather
Find out the weather on any given day in Baku or Ganja at The Weather Underground: infoseek.wunderground.com/global/stations/37864.html.


Azerbaijan Government Web Sites

President of Azerbaijan
www.president.az/
30 pages, linked by 63

Includes a biography of the President, articles about his official visits from 1993 to the present, as well as photos and speeches. Provides information about the Azerbaijani government, political parties, economy, sports, tourism, and the Karabakh. To see photos of the two carpet "portraits" Aliyev presented to the Clintons and their daughter Chelsea on his official visit to the U.S. in July 1997, click on: President Aliyev: Official Visits: Visit to the USA: Information.

Azerbaijan Embassy-U.S.
www.azembassy.com
66 pages, linked by 3

This Web site has recently been updated and expanded to provide much more information than before. Lists visa requirements and national holidays. Provides contact information for hotels, branches of the government and embassies in Baku. Features a timeline of important recent events in Azerbaijan and a link to the Constitution.

Ministry of Culture
www.culture.az
10 pages, linked by 16

Features articles about Azerbaijani museums, theaters and architecture. Numerous photos of Azerbaijani mosques, fire temples, rock carvings at Gobustan, carpets, pottery, jewelry and clothing. Good beginning. Has potential for much more development.

Ministry of Health
www.azmednet.az
25 pages, linked by 1

Gives contact information for hospitals, clinics, foreign and local medical firms, research institutes and non-governmental organizations. Includes information on the Azerbaijan Medical Museum and Azerbaijani health resorts.

Ministry of Youth and Sport
www.mys.azeri.com
10 pages, linked by 26

Features articles about Azerbaijani Olympic athletes, the World Youth Games, and youth forums in Azerbaijan.

Academy of Sciences
www.ab.az/ASC/Academy.htm
50 pages, linked by 2

Lists the teachers, members and departments of the Academy. Gives the history of the school and information about its museums.

Environment
www.grida.no/prog/cee/enrin/htmls/azer/azerb.htm
10 pages, linked by 1

This report, written by The State Committee of the Azerbaijan Republic for Ecology and Nature Management, covers specifics on mining, precipitation, native flora and wildlife, pollution levels and the governmental bodies that deal with management of the environment.


Other Web Sites Related to Azerbaijan

American Embassy - Baku
www.usia.gov/posts/baku.html
100 pages, linked by 34

Provides detailed information about living conditions in Baku, recommended reading materials, procedures for getting a visa, plus information on Section 907 and U.S. assistance to Azerbaijan. Includes issues of the Caspian Chronicle going back more than a year. Community Outreach section provides information on international schools, local attorneys, travel agencies, hospitals and dentists as well as menus for Baku restaurants.

Azerbaijan International
www.azer.com

700+ pages, linked by 240 (including CNN, Washington Post and the Encyclopedia Brittanica)
This is the online version of Azerbaijan International magazine which has been published since 1993. The site includes more than 1,200 photos, and is a valuable place to visit if you want to get a feel for the "spirit" of Azerbaijan. Features include Magazine Articles, Calendar, Topics, Music and AI Store. International Business identifies nearly 60 companies which have established themselves in Azerbaijan. It includes photos of the current managers and contact information. AI tries to keep this information current.

Azerbaijan International is one of the few sites totally dedicated to Azerbaijan that has its own Search engine. It is thorough but quite slow as it culls through the text of more than 700 articles. With patience, the viewer can have access to enormous resources about the country.

Azerbaijan News Service
www.ans-dx.com/
25 pages, linked by 54

Provides current news headlines, exchange rates and weather, as well as information about business and traveling in Azerbaijan. Includes tips about appropriate business clothing and how not to offend an Azerbaijani.

Azerbaijan Pages
www.solar.rtd.utk.edu/oldfriends/azerbaijan/index.html#General
15 pages, linked by 54

This friendly Web site, created by Greg Cole in the UK, is designed to be a resource for those who do business in, travel to, or do research related to the Republic of Azerbaijan. Features a Baku city tour with pictures, information on how to set up an e-mail account in Baku and a survival guide for one's first trip to Baku.

Azerbaijan Society of America
www.azerbaijan-america.org
20 pages, linked by 7

Features a large number of links to Web sites about Azerbaijan and its news, culture and history. Designed to enhance knowledge about Azerbaijan and promote economic and scientific ties with the U.S. Organization is based in New Jersey.

Baku Pages
www.bakupages.com
60 pages, linked by 4

Features a small art gallery, photos and descriptions of Azerbaijani museums as well as recipes for traditional foods such as dolma and plov. Includes news about the filming of a new James Bond movie in Azerbaijan and Turkey.

British Embassy
www.intrans.baku.az/british
30 pages, linked by 21

Details consular services and gives contact information for medical clinics, dentists and hotels in Baku.

Caspian Crossroads
www.ourworld.compuserve.com/homepages/usazerb/casp.htm
70 pages, linked by 39

Copies of Caspian Crossroads magazine from Winter 1995 to the present are available at this site sponsored by the U.S.-Azerbaijan Council. The magazine examines the political and economic implications of the latest developments in the region, including issues on politics, geo-politics, business, economics, law, history and culture. Editor-in-chief is Jeyhun Mollazade.

Durna
http://members.xoom.com/durna
25 pages, linked by 4

Quarterly magazine in Azeri Latin based in Sweden. Before reading the Web pages, you need to download Azeri fonts. Features articles, a chart of male and female Azerbaijani names, plus the lyrics to Azerbaijani children's songs such as "Jujalarim."

Khazar University in Baku
www.khazar.org/
65 pages, linked by 7

This site has recently been updated and is quite comprehensive in describing the scope of the university which was the first English language university established in Baku. The Web site lists the instructors and departments at this private university. Shows photos of the Honorary doctorate degrees that have been bestowed (Tofig Guliyev, Sara Ashurbeyli, Javad Heyat, Tadeusz Swietochowski and Val Rust).

Khojaly Massacre
www.geocities.com/CapitolHill/5078
55 pages, linked by 12

Documents the 1992 massacre of Azerbaijani civilians by Armenian militants in the town of Khojaly, known as Xocali (Azeri spelling) and Khodjaly (via Russian), located in the Karabakh (Qarabag in Azeri) region of Azerbaijan. See the valuable article by Thomas Goltz, an American journalist who witnessed the chaotic trauma in a nearby town the following day.

USACC
www.usacc.com/main.html
10 pages, linked by 8

Sponsored by the United States-Azerbaijan Chamber of Commerce (USACC). This page has recently been completely revised and features upcoming events, business news, membership information, plus information on history, politics, economics, legal issues and humanitarian missions to Azerbaijan. The USACC is an independent, nonprofit American organization based in Washington D.C., whose purpose is to facilitate business and cooperation between the American people and the people of Azerbaijan. Its Director is Galib Mammad.

Virtual Azerbaijan
www.scf.usc.edu/~baguirov
230+ pages, linked by 136

Virtual Azerbaijan has the most comprehensive and most up-to-date archive of relevant articles from the mainstream press about Azerbaijan. Created by USC student Adil Baguirov, the site provides extensive information about Azerbaijan's history, economy, government, music, sporting teams and travel destinations. Includes many links to personal Web sites created by Azerbaijanis, many of whom are living or studying abroad.

This site also provides the largest selection of fonts for the Azeri language, in both Cyrillic and Latin, primarily for IBM-compatible machines. However, to date, since the Azerbaijan government has not standardized the font (ASCII files) or the keyboard configuration, there are at least six or seven different fonts available which of course, are incompatible with each other. Fonts are also available for downloading at the Azerbaijan Embassy www.azembassy.com and Khazar University www.khazar.org.


International Web Sites that Feature Azerbaijan

BBC-Central Asia Section
www.bbc.co.uk/worldservice/caucasus/index.html
One page related to the Caucasus

Broadcasts news in Azeri covering arts, sports, music, religion and finance. English-language lessons are also available. From the BBC home page, click on World Service: Azeri.

CIA World Factbook-Azerbaijan Page
www.odci.gov/cia/publications/factbook/aj.html
One page related to Azerbaijan

Provides basic information about Azerbaijan's geography, government, economy, communications, transportation and military, as well as statistics on Azerbaijan's population, immigration rate and life expectancy. Latest material is 1997. Watch for sites that link to older versions of the CIA Factbook as it is not always obvious what year the statistics refer to. From the CIA home page, the path is: Publications: World Factbook: Countries: Azerbaijan.

CNN-Asia-Pacific Section
www.cnn.com/WORLD/asiapcf/sites.html
No pages related to Azerbaijan

Covers the latest news from around the world. To find stories about Azerbaijan, do a keyword search, or from the home page, click on World: Asia-Pacific.

Elections-Azerbaijan Section
www.agora.stm.it/elections/election/azerbeid.htm
One page related to Azerbaijan

Gives brief statistical results of elections for Milli Majlis (parliament) and for the recent 1998 presidential election. Created by Wilfried Derksen. From the home page, select Elections Around the World: Azerbaijan.

Open Society Institute-Azerbaijan Resource Page
www.soros.org/azerbjan.html
50 pages related to Azerbaijan

Links to the latest daily news about Azerbaijan from Reuters, the BBC, the Washington Post and CNN Interactive. Features recent articles on U.N. and World Bank involvement in Azerbaijan. Created by the Open Society Institute (OSI) Information Office for Azerbaijan, which is part of the Soros Foundations Network.

Radio Free Europe-Azerbaijan Section
www.rferl.org/bd/az/index.html
20 pages related to Azerbaijan

Broadcasts news in Azeri three times a day. Includes human rights reports and articles on the economy, religious freedom, refugees, post-war life in Baku and the elections. If you're entering via the Web site's home page, click on Broadcast Languages: Azeri. Watch out for biased material.

SOTA
www.turkiye.net/sota/sotainfo.html
Four pages

This site tells about SOTA, their journal, archive and conferences. SOTA is an acronym derived from the Dutch abbreviation for "Foundation for the Research of Turkestan, Azerbaijan, Crimea, Caucasus and Siberia."

TravLang-Azerbaijani Section
www.travlang.com
Eight pages related to Azerbaijan

Learn how to say basic phrases, numbers, etc. in Azeri by listening to sound clips at this Web site created by Michael C. Martin as a hobby. Click on Foreign Languages for Travelers: Azerbaijani. Very elementary but first attempt at language materials for Azeri on the Web.

U.S. Bureau of Educational and Cultural Affairs
www.usia.gov/education/1eburus.htm

No pages specific to Azerbaijan but lists opportunities for fellowships, educational funding and exchange programs for professionals.

U.S. Congress
www.thomas.loc.gov/home/thomas2.html
24 pages related to Azerbaijan

To read Azerbaijan-related legislation that has been proposed to the U.S. House of Repre-sentatives or the Senate, do a keyword search for "Azerbaijan" on this Web page. You'll be able to read the full texts of bills such as the Silk Road Strategy Act of 1997 and the Caucasus Peace and Stability Act of 1997.

U.S. Dept. of State-Azerbaijan Section
www.travel.state.gov/azerbaijan.html
70 pages related to Azerbaijan

Contains travel advisories and information about embassy services. From the home page, click Travel Warnings and Consular Information Sheets: Azerbaijan. Check the home page in August 1999 if you're looking for information on the next visa lottery.

U.S. Dept. of Energy-Azerbaijan Section
www.eia.doe.gov/emeu/cabs/azerbjan.html
Eight pages related to Azerbaijan

This November 1997 report by the U.S. Energy Information Administration provides an overview of the energy industry in Azerbaijan, describes recent oil agreements, and gives statistics on Azerbaijan's energy production and consumption. From the home page, go to International: Azerbaijan: Country Analysis Brief.

U.S. Library of Congress-Azerbaijan Section
www.lcWeb2.loc.gov/frd/cs/aztoc.html
90 pages related to Azerbaijan

Using research that was done before 1994, this Country Study by the U.S. Library of Congress covers topics such as Azerbaijan's history, both modern and ancient, environment, language, religion and arts. Some of the information is dreadfully outdated. From the home page, click on Topics: Places: Azerbaijan.

Voice of America-Azerbaijani Section
www.voa.gov/azeri/index.html
Four pages related to Azerbaijan

Broadcasts in Azeri, covering topics such as: Azerbaijanis abroad, environmental issues, the role of women in Azerbaijan, recent medical developments, conflict resolution and economic developments. Program transcripts and English-language lessons are also available.


Listserv Mailing Lists

Perhaps you would like information about Azerbaijan to come to you instead of having to search for it yourself. Simply subscribe to any of the following mailing lists and you will receive the latest news and information about Azerbaijan and the rest of Central Asia via e-mail. For a more complete directory of mailing lists and newsletters about Central Asia, visit www.fas.harvard.edu/~casww/CASWW_Email_Lists.html or Virtual Azerbaijan at www.scf.usc.edu/~baguirov.

CAUCNET
This is a forum for linguistic and philological discussion on peoples and cultures of the Caucasus; no discussion of politics is permitted. To subscribe, contact Prof. Howard Aronson: hia5@midway.uchicago.edu.

CENASIA
This list is most useful for people who study contemporary problems of the former Soviet Central Asian republics. Send the message <subscribe CENASIA YourFirstName YourLastName> to listserv@vm1.mcgill.ca. To post a message to the list, write to CENASIA@vm1.mcgill.ca. For more information, contact Keith Martin, keith_martin@msn.com or Ted Harding, ted.harding@nessie.mcc.ac.uk.

Central-Asia-Studies-L
This forum was established by the Research Schools of Social Sciences and Pacific & Asian Studies, The Australian National University, Canberra. It covers Central Asia's history, politics, sociology, demography, economics, languages, culture, philosophy and religion. Send the message <subscribe Central-Asia-Studies-L your e-mail address> to majordomo@coombs.anu.edu.au. To post a message to the list, write to Central-Asia-Studies-L@coombs.anu.edu.au.

CentralAsia-L
CentralAsia-L distributes notices pertinent to Central Asian regional news and activities. To subscribe, send an e-mail message to majordomo@fas.harvard.edu. In the text of the message, write subscribe CentralAsia-L. To send an announcement to the list, address your e-mail to CentralAsia-L@fas.harvard.edu. An archive of past announcements is available at the Harvard Central Asia Forum Web site www.fas.harvard.edu/~casww/.

Habarlar-L
The Habarlar-L Azerbaijan News Distribution Listserver is an educational mailing list distributed daily and based at the University of Southern California. It is the best list for specific news about Azerbaijan in English. To subscribe, contact listproc@usc.edu and send the message <subscribe Habarlar-L YourFirstName YourLastName>.

Perspectives on Central Asia
This newsletter is published monthly by the Center for Post-Soviet Studies. To subscribe, contact William Sanford, Newsletter Editor, at cpss@intr.net.

PRISM-A Bi-Weekly on the Post Soviet States
This newsletter is published by The Jamestown Foundation. There is a fee to receive the newsletter. You can subscribe to this online publication. Contact: Jamestown Foundation, 1528 18th Street NW, Washington, DC 20036; Fax: (202) 483-8337; E-mail: eckert@jamestown.org; or Web site: www.jamestown.org/htm/subscribers.htm.

Turkistan-N
This newsletter is distributed several times a month in both English and Turkish. It features information on political, social, historical and economic issues pertaining to the peoples and nations of the Turkic world, including Azerbaijanis, Turks, Crimean Tatars, Gagauzes, Yakuts, Kazaks, Kyrgyzians, Turkmens and Karachays. Subscribe to this list by sending the message <subscribe TURKISTAN-N> to listserv@vm.ege.edu.tr. To post a submission to the newsletter, write to turkistan-n@vm.ege.edu.tr. For more information about the newsletter, visit the Web site www.turkiye.net/sota/sota.html.
Jean Patterson is a writer and editor based in Los Angeles, California.


From Azerbaijan International (6.4) Winter 1998.
© Azerbaijan International 1998. All rights reserved.
Back to Index AI 6.4 (Winter 1998)
AI Home | Magazine Choice | Topics | Store | Contact us