Summer 1996 (4.2)
Pages 19-20
Presidential Interview - First Presidential Term
Heydar Aliyev
by Betty Blair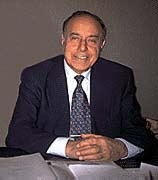 Left: President Aliyev in his office, April 4, 1996. Photo: Blair
The following interview took place in the Office of the President's Aparat on April 4, 1996.
Everyone who is involved with Azerbaijan knows that there have been many substantial and dramatic changes since you've become President.

Azerbaijan has signed major contracts with international oil companies, a new Constitution has been ratified, a new Parliament elected and there is evidence of major renewal and construction all over Baku. From your point of view, what other significant events have occurred during these first three years of your Presidency?
Great changes, as you've mentioned, have occurred in Azerbaijan. But I'd say the most important consequence of all these changes is the stability that we have created within the Republic. Stability is a vitally important achievement. The cease-fire is in effect with the Armenians. Presently, we are not at war. A cease-fire has been in effect now for the past two years, culminating six years of bloodshed, during which time we were forced to defend our territory. All of the fighting has taken place entirely on Azerbaijani soil. People were dying in the war every day. So the cease-fire is a great achievement for us.
Of course, 20 percent of our entire territory is still occupied by Armenian military forces and one million of our people are still refugees, displaced from their homes inside their very own homeland. Those tragic facts exist today just as they did before I became President. But it was a triple tragedy in the past: the tragedy of our displaced population, the tragedy of our territory being held under occupation, and the tragedy of a seemingly unending war. That had been our situation since 1988 when we were faced with Armenian aggression on our own territory.

In addition to the complications brought on by the war, there were certain groups in the Republic vying with each other for power. And this fact alone brought about unrest and instability. Robbery, murder and kidnapping were on the increase. In 1994 certain armed groups attempted to overthrow the government and in 1995 another coup attempt was organized by the one of the Police groups. Instead of protecting the State, they turned their guns against it. Despite the fact that these individuals were within the system of police, most of these people themselves were criminals. They were robbing and killing people for money, kidnapping children and extorting money for ransom.

You were here two years ago so you can compare today's situation with the situation back then. Armed criminals were walking the streets. Now it is quite safe for people to walk in the street whenever they wish. So we managed to liquidate those forces which tried to violate political and social stability in the Republic.

Tomorrow [April 5], we are going to have a General Meeting at the Republic Palace to analyze the reasons for the political and social events that occurred in Azerbaijan during the last two years. We want to explore measures to prevent such events from repeating in the future. More than 2,500 people-representatives from all the levels of society will participate at the meeting. All political parties will take part there, too, including the opposition.

Stability is extremely important. Without stability, a country can't attract foreign cooperation. I want to bring foreign investment to Azerbaijan. The stability that we've created here in Azerbaijan has enabled foreign investors to express their interest in getting involved with us.

Had we not been able to achieve stability, we could not have adopted our new Constitution and elected a new democratic Parliament. These are some of the first achievements for us in our new independent Republic. Stability has brought about our greatest achievements in the past two years.
In our magazine these past four years, we've explored various cultural and intellectual issues such as art, literature and music. Now we're exploring some of the main contributions in science. I've always been amazed at the level of achievement of Azerbaijanis in these fields. Such high levels were attained during the Soviet period.

Today, people who are making intellectual contributions are facing serious economic difficulties. Of course, you know better than I do that so many have had to leave the country and even more have had to get involved with various other activities outside their professions just to be able to support their families. My question to you is whether there are concrete strategies being considered today to protect these treasuries of intellectual and cultural resources in the Republic?
Azerbaijanis are very talented. We have some extremely talented people. The development of science, literature, and the arts have always received a great deal of attention in Azerbaijan. Talented people have had access to a good higher education and were given opportunities to demonstrate their abilities. When I was working here before [in the 70s], I paid a great deal of attention to these things. We built universities, theaters, and concert halls during those years. Favorable conditions were created for artists and intellectuals in which to work.

But, it's true that during this transition period, it has become very difficult to optimize the potential of these talented people because the economic situation is so difficult. On the other hand, not much attention was given to these problems between the years of 1989-1993 either.

If you've been following the press recently, you can see how many Jubilees we are celebrating these days. [In Azerbaijan, Jubilees are grand organized events with plenty of speeches, food, and music to celebrate the accumulative achievements of an individual. Jubilees are usually celebrated on the occasion of a person's 50th, 60th, or 70th birthdays. If a person's achievements are monumental, the community usually continues to celebrate the Jubilees long after his or her death].

For example, I initiated decrees to celebrate the 90th Jubilee of poets, the late Samad Vurgun [See AI 4:1, Spring 1996], and the late Suleyman Rustam. We've just celebrated the 80th Jubilee of singer, the late Rashid Behbudov [See AI 3:4, Winter 1995]. We had a grand commemoration of the late Composer Uzeyir Hajibeyov (110th) [See AI 3:3, Autumn 1995]. We honored the late Jalil Mammad Gulizade (125th), Editor and Writer of the magazine called "Molla Nasreddin" in the early part of this century.

Then there was Historian Sara Ashurbeyli (90th) [See AI 4:1, Spring 1996] in which she herself participated this past January. Also we commemorated the late Painter Sattar Bahlulzade (85th), and late Surgeon Mustafa Topchubashev (100th) [See AI 3:4, Winter 1995]. Three years ago nobody was paying attention to these great giants who have made such strong cultural and intellectual contributions to our nation as a whole.

You asked about strategies. In two or three years, I am sure that we will begin to achieve great economic success in the Republic. As soon as we become strong economically, we will do our best to increase the economic level of people working in these fields. Today, it's my aim to support them spiritually. Celebrating someone's Jubilee on the National level becomes a memorable event and elevates that person to a hero as his works are once again honored and respected. Jubilees help perpetrate the memory of some of the people who have made the greatest and finest contributions to our society.
This year both Russia and USA are holding Presidential elections. It seems to me that both Presidents, Yeltsin and Clinton, may be trying "to get a little mileage" out of Azerbaijan and use this country politically to help themselves get re-elected. Both of them seem to be showing themselves as peacemakers in regard to the Nagorno-Karabakh Conflict. Do you see any possibility that they may just be trying to use the circumstances for their own political gains and are not genuinely concerned about long-term peace in the region? What are your feelings about this?
It is always very difficult to understand political motivations. Both Russia and USA are great powers and it's only natural that anyone who is trying to get re-elected would try to gain popularity and approval.

First of all, let me say that I hope the Presidential elections will be conducted in a democratic manner in both of these countries. Secondly, if anyone thinks that he can use Azerbaijan for his own political purposes and agenda, he is mistaken. Azerbaijan is an independent country and we will not sacrifice our nation to anybody's political goals.
From the point of view of foreign investment, there is important legislation that either doesn't exist at all to protect foreign investment or that is not yet working very effectively. For example, taxation. International companies have many questions and concerns in this area. What are your plans in regard to these reforms?
In 1996, we plan to concentrate on these issues. First of all, we're intending to accelerate the process of privatization. A few days ago we held a meeting concerning reforms in agriculture. Soon agriculture will be witnessing major changes in its structure as it relates to the free market economy. In the near future, we intend to adopt new legislature on land reforms which will allow privatization of property. It will be a very important law. After all these processes and details are worked out, issues such as taxation will fall in place and be fairly easy to resolve.

It's not very difficult to lead a strong, stable country. But it's extremely difficult to govern a country which is small and has lots of problems. If there were fewer problems, we could solve them more quickly.
What are some of the things that bring you the greatest satisfaction as President of Azerbaijan?
Actually, I didn't want to become President. The people wanted me to become President and lead the country. My greatest concern, my greatest interest, is the people. I don't really have any other concern. Nor do I have any personal interests. I'm concerned that our country becomes a strong independent country. I have faith in myself and in Azerbaijan and that gives me confidence that many of the difficulties that we are now facing as a nation will be overcome.


From Azerbaijan International (4.2) Summer 1996
© Azerbaijan International 1996. All Rights Reserved.
Back to Index AI 4.2 (Summer 1996)
AI Home | Magazine Choice | Topics | Store | Contact us