Summer 1996 (4.2)
Pages 36-37

Oil Development in Azerbaijan
Since Last Year's Oil Exhibition
by Natig Aliyev, President of SOCAR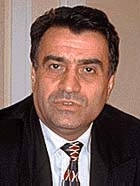 Since the 1995 Caspian Oil and Gas Exhibition, there have been many developments in Azerbaijan. Oil and gas shows are of great importance to our Republic and to Baku. Being able to attract large world companies to these shows indicates the kinds of changes and advancements that are occurring in Azerbajan's oil industry every year. Foreign companies are beginning to realize there is great potential here in our natural resources and that we are serious about doing business with them. We have started various projects now and we're in the process of negotiating numerous others.

Recently, the Adam Smith Institute organized a major economic conference in London to reveal some of the possibilities for foreign investment in the oil industry in Azerbaijan. The conference stimulated interest from the world community; participants included government representatives, company owners and business leaders.

Karabakh Oil Field
Another very important success this past year has been the signing of the second major oil consortium contract. This time it was for the Karabakh structure, which experts believe will yield reserves of about 100 million tons of oil. The Karabakh Contract was signed on November 10, 1995, and ratified by Parliament on February 14, 1996. Pennzoil (USA), LUKoil (Russia), Agip (Italy) and LUKAgip (a joint venture between LUKoil and Agip) will be involved in the Profit Sharing Agreement (PSA) to develop this field.

AIOC Consortium
Serious work is continuing in relation to the AIOC Consortium, a project which was signed in September 1994 for the development of the Azeri, Chirag and deep-water Gunashli fields.
In March 1996, Itochu of Japan became the newest member of the AIOC Consortium. Itochu completely bought out McDermott's share of 2.45% and then they later bought 5% from Pennzoil's original share of 9.8175%, giving them a total share of 7.5%. Itochu's willingness to participate in this contract shows that this contract is of a world-wide importance.

Export Pipelines for "Early Oil"
On October 9,1995, AIOC announced publicly that the export route for "early oil" would develop along two routes. Serious research had been carried out prior to that date in order to arrive at the decision to negotiate two pipelines-a northern route through Russia and a western route through Georgia. On January 18, 1996, Heydar Aliyev, President of Azerbaijan, signed the contract for the northern route with Vladimir Chernomyrdin, Prime Minister of Russia. On March 8, 1996, a similar contract was signed for the Western Route between Azerbaijan's President and Eduarde Shevardnadze, President of Georgia.

Actual work on the pipeline has been delayed somewhat since we anticipated that all the documents would be signed by November 1. We finally succeeded in late January. In fact, some documents with the Russian "Transneft" company were not signed until February.

However, all the necessary arrangements have finally been made. According to a special resolution by the Azerbaijan government, all the infrastructure related to the construction of pipelines will be given over to SOCAR. The property on which construction will be carried out will be made available to SOCAR and AIOC.

All the necessary equipment, including pipe, has already been ordered and by mid-May we expect it to arrive at a factory in Zig (a district in Baku). We will be to carrying out repair and modernization works at this factory. So the real work will begin soon. We think we'll be able to begin exporting "early oil" in 1997 after we have completed all the drilling and pipeline extraction works.

Shah Daniz
We are completing negotiations on the Shah Daniz field, another very significant structure. Negotiations have been going on with British Petroleum (25%), Statoil (25%), and Turkish Petroleum (10%), LUKoil (10%) and Elf Aquitaine (10%). At present SOCAR maintains 20 percent of the PSA (Profit Sharing Agreement) of which we are offering the Iranian Oil Company 10 percent.

We soon will begin to approve the program of activities and the budget for 1996. We hope by June this year to have accomplished some very important work. We are negotiating various fields both offshore and onshore with major international companies.

Dan Ulduzu and Ashrafi
Amoco and Unocal are negotiating with us for these offshore structures which are located fairly close to the Karabakh field. The main principles have already been agreed upon; only nuances have yet to be worked out.

Muradkhanli
Ramco has proposed a joint development for this onshore field. Discovered in 1974, the first wells produced 800, 900, 1000, even 1,200 tons of oil a day. But soon the production of oil fell off which we think may have been due to technical difficulties. We want to go back into these wells to see what we can be produced.

Taghiyev and Umud
Negotiations are being carried out with Chevron for Taghiyev field. We are currently working negotiating with Occidental Petroleum for Umud. We are presently negotiating with Elf Aquitaine, Total, and Exxon as well.

Today, it's not just oil companies which are sending us proposals. Service companies which are involved in the infrastructure of oil production and distribution are deeply involved as well. Nearly every day, we receive proposals from companies involved in geophysics, pipeline construction, machine-building and logistics. Companies are seeking to take part in tenders and to establish Joint Ventures with us. AIOC has announced more than 200-300 tenders and are already receiving responses from companies all over the world.


From Azerbaijan International (4.2) Summer 1996
© Azerbaijan International 1996. All Rights Reserved.
Back to Index AI 4.2 (Summer 1996)
AI Home | Magazine Choice | Topics | Store | Contact us