Summer 1996 (4.2)
Page 72
Modern Math
or When 1 + 1 = 135
by Anne Kressler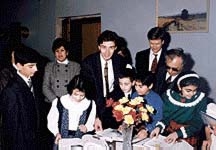 Photo: At the "Azerbaijan School," Baku's only public high school which teaches an English curriculum,.students delight in their new English-language textbooks. John Hoholick (center) Exxon Venture's Manager in Baku looks on. Exxon coordinated and sponsored the project.
"Thank you very much for all the books. It's the most beautiful present anybody could ever give us. We've never had such books before!" "Now we'll study with great pleasure."

"These books will give us great knowledge which nothing can be compared to." · "I hope these textbooks help me realize my dream-to be a finalist in High School Student Exchange Program supported by the Freedom Support Act and continue my education in the United States." -excerpts from letters written by students to Exxon Ventures in appreciation for the scientific textbooks given to their school.

It all started out as a simple gesture: what gift to offer an Azerbaijani family. Of course, there are always red carnations and chocolates but Jonelle Glosch wanted something a bit more lasting. That fall she and her family would be hosting an Azerbaijani high exchange student in their home. The student's parents, it turns out, were both mathematics teachers. And so on their way to Baku for a family vacation last summer, Jonelle slipped an English-language Algebra book into her luggage. It turned out to be a deeply appreciated choice. Gunel Nasirova's mother, has a doctorate degree and teaches mathematics at "Azerbaijan School," a newly established high school, the only one of its kind in Baku which offers an English-based curricula. The school, founded in 1993, still had no English textbooks and the teachers had no choice but to translate from Russian texts and present the lessons orally in English.

Back home in Houston a few months later, the Glosch family received another request-"one Geometry book, please." Rather embarrassed to send a single copy when the need was so great, Jonelle and her family tried to figure how they could multiply their efforts. In the end, it took them on a journey that resulted in 135 specially selected high school textbooks being sent to the school in 17 different subjects ranging from English Grammar, World History to Microcomputer Applications and Physics. Typically about eight textbooks were sent for each subject.

To make a long story short, many people got involved on a one-to-one basis to make the wish come true. There was Jonelle's supervisor at Exxon Ventures, Jim Siegman, who set the wheels in motion and suggested it might be better to contact the school directly and learn the extent of their actual needs so that the company could make a more significant contribution. Then there was the local high school principal in Houston who directed them to high school textbook depositories, and then the administrator there who carefully recommended the best selections. Even the delivery person went out of his way to deliver the shipment of books which had been incorrectly addressed. The transportation company managing the shipment found a special discount from the airlines which transported the books to Baku where they arrived in March. "Every body went out of his way to make the project work. And that's how "one plus one" really turned out to equal 135-plus a million "thank you's!"

Jonelle Glosch is planning to take a year off to go to Baku and teach Business English. Gunel Nasirova, the Azerbaijani high school exchange student, is on her way back to Baku after a year's study in the United States. See her letter in Reader's Forum ("The Youth Will Save Our Country").


From Azerbaijan International (4.2) Summer 1996
© Azerbaijan International 1996. All Rights Reserved.
Back to Index AI 4.2 (Summer 1996)
AI Home | Magazine Choice | Topics | Store | Contact us