Summer 1996 (4.2)
Page 75

Facilitating Investment in Azerbaijan
Chamber Plans Trade Conference and Trade Mission
by Galib Mammad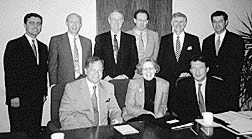 Photo: The First Board of Directors Meeting of the US-Azerbaijan Chamber of Commerce in Washington, D.C. (April 1996). Row 1 (l-r): Farhad Azima, Chairman & CEO, Aviation Leasing Group; Betty Blair, Editor, Azerbaijan International; Nader Fahm, President, Alfacom;
Row 2: Galib Mammad, Executive Director of "The Chamber"; Bill White, former Deputy Secretary of Energy and now Chairman of the Howe-Baker Development; Don Stacy, Chairman & President of Amoco Eurasia Petroleum; John Thrash, CEO, Natural Gas Storage Corporation of North America; Terry Koonce, President of Exxon Ventures (CIS); and Farrokh Nakhjavani, Araz Golden Gate.
The United States-Azerbaijan Chamber of Commerce held its first Board of Directors Meeting in Washington D.C., on April 10, 1996. Don Stacy (Chairman & President of Amoco Eurasia Petroleum) and Reza Vaziri (President of R. V. Investment Group) were elected Co-Chair of the 12-member Board. The Directors confirmed the Chamber's Annual Budget and Program of Activities which include a Houston Trade Conference on Investment Opportunities in Azerbaijan and a Trade Mission to Azerbaijan later this year.

The Houston Trade Conference, which had initially been scheduled for this May has been postponed in order to try to secure President Heydar Aliyev's personal participation. The exact date for the conference will be announced in the near future. The Conference will focus on Azerbaijan's emergence as one of the serious market places for American business. Sessions with Azerbaijanis in high government levels are being organized.

The Chamber is also planning to send a Trade Mission of 10-15 company executives to Azerbaijan in October 1996. It will be led by a U.S. government representative and focus on possibilities for development of Azerbaijan's infrastructure. Contact the Chamber for more information.

The United States-Azerbaijan Chamber of Commerce is an independent, non-profit organization committed to improving and broadening business cooperation, understanding, dialogue and bonds of friendship between the American people and the people of Azerbaijan. It was initiated in late 1995 by American businesses to introduce Azerbaijan's economic potentiality to the outside world, attract significant foreign investment in rebuilding the country's infrastructure and assist foreign businesses in entering Azerbaijan's new markets.

The Chamber will soon be issuing its first "Chamber Newsletter" which will outline more details for business opportunities. To receive a complimentary subscription, notify by fax: Galib Mammad, Executive Director, 1825 Eye Street N.W. Suite 400, Washington DC 20006. Tel: (202) 857-8069; Fax (202) 775-4188.

| | |
| --- | --- |
| | |
Newly elected Co-Chair for the United States-Azerbaijan Chamber of Commerce. Left: Reza Vaziri (RV Investment Group). Right: T. Don Stacey (Amoco).

From Azerbaijan International (4.2) Summer 1996
© Azerbaijan International 1996. All Rights Reserved.
Back to Index AI 4.2 (Summer 1996)
AI Home | Magazine Choice | Topics | Store | Contact us