Spring 1995 (3.1)
Pages 10-12
Rasim Babayev
(1927-2007)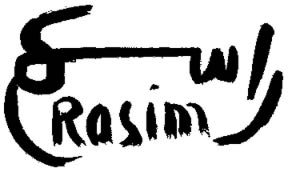 More paintings by Babayev - Dissident
See more works at AZgallery.org
See cover Journeys (Summer 1998) and Folklore (Autumn 1996). More art samples by Rasim are available at AZgallery.org

"The Wanderer"
Independence really hasn't affected me so much from a creative point of view. I work as I worked before. For me, art has always meant struggle. But artists should anticipate the daily struggle before they embark on this career. Matisse used to say that painting for him was like a big, comfortable easy chair. Well, for me, painting is life and life is always struggle. I've always struggled against the system. Frankly, that's why I never earned an art degree. I couldn't study under the restrictions.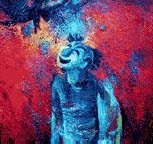 My troubles with the State began in 1949 when I went to Moscow to study art. I was rather naive back then. There were so many things I didn't understand. I used to go to the Fine Arts Museums there.

One day I walked into the Pushkin Museum only to find that all the exhibitions had been replaced with a display of presents that had been given to Stalin. For the first time in my life, I felt such an incredible resistance swell up within me against the State and from that day onward my troubles began.

You see, to succeed during the Soviet period as an artist, you had to depend upon jobs commissioned by the State. I hardly ever did State Orders. I was never recognized by the Government since I didn't paint portraits of our famous party leaders or undertake projects like that. If you ask me how I used to live, I'd have to admit that I was able to sell some of my paintings but mostly I'm deeply indebted to friends.

It wasn't unusual for me to be denied the opportunity to show my paintings. For example, in Moscow in 1977, I participated in an exhibition but they rejected seven of my works, insisting my ideas would provoke and agitate the people.
There was great pressure back then to paint in a classical style and reflect social realism-not abstract concepts. However, the Soviets did recognize a School of Art known as "Primitivism". And much of my work is created in that style-brilliant, saturated colors, absence of perspective and lots of non-human characters.

Simply put, in my case that meant lots of monsters fill my canvases (we call them "divs" or devils). Our folktales and legends-stories so familiar from childhood-are full of these scary creatures. But the truth is, I painted these monsters as symbols of the previous regime and the oppression under which we lived. The allegories were not understood back then. But these images came from life around me. They weren't fantasy. They existed in real life but I got away with painting them under the guise of "Primitivism".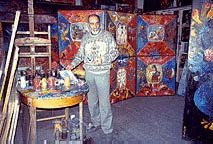 Left: Rasim Babayev in his studio in Baku surrounded by earlier works, which are characterized by Primitivism. December 1994.

These monsters are gradually disappearing from my works now. It seems my images are much more concrete these days. A lot of the content of my works seems to precede the historic experiences in which we are living.
Paintings that Tell Future
For example, in the "Year of the Dragon" in the 1970s, I painted "White Dragon". This mural extends over three-panels (each 3m x 2m) on a folding screen. It shows a white, pale, dragon reduced to a skeleton. In our culture, the dragon always symbolizes power and strength but this dragon is dying. Like so many of my works, it represents the collapse of the Soviet Union.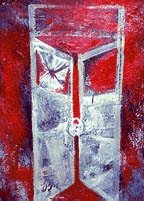 Left: "Locked Doors" Oil on Canvas, 80 x 100, 1970s. "We always faced locked doors wheneer we approached government officials" by Rasim

In 1982 when my son was in the military, I painted "Bloody General" (Oil, canvas, 180 cm x 200 cm). My impressions and intuitions turned out to be the reality of the 90s as we witness devastating wars here in Azerbaijan and in other areas in the former Soviet Union.

"White Dragon" (Folding screen, (3m x 2m each). "All my works represent the collapse of the Soviet Union."
Contemporary Period
My latest painting is "Blue Horse" (1994). This animal is such a positive symbol for us-power, beauty, and strength. We have an expression in both Azerbaijani and Russian about "blue wish"-it's something that we yearn after. But today our blue wish is in trouble. I painted this horse flipped over on its back, struggling to right itself. This is a horse but this is me, too. We're in a period of turmoil. Life is very insecure and we're not sure what direction it will take or what will happen to our new nation.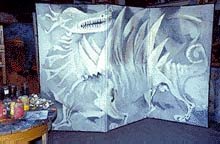 From an economic point of view, I have more opportunities to exhibit my works these days and foreigners are beginning to take an interest. I'm somewhat known in Moscow and Europe-a French Gallery has a few of my works.

My paintings are my children. It's hard for me to choose a single favorite above the others. I wouldn't sell them at all except that I have to.

But I'm optimistic. I was born an optimistic, so I'm very hopeful about Azerbaijan's future. First of all, we've gained independence. Well, we didn't really "win" it ourselves; it was somehow given to us whether we were ready for it or not. The point is-we have our freedom. We're in a difficult transitional period. We can't expect all our problems to be resolved immediately. I'm free now. I'm independent and I can paint according to my feelings. I've waited a long time for this. The changes we're experiencing are natural. Of course, there are peaks and valleys, difficulties mixed in with blessings, disadvantages along with advantages. We should expect this-it's natural no matter how painful the process. I really believe Azerbaijan will be fortunate in the future.
| | |
| --- | --- |
| | |
| "Grandmother" (Oil on canvas, 180 x 200, 1970s). "My grandmother's house was destroyed by Soviet power." Rasim Babayev. | "Blue Horse" (Oil on canvas, 120 x 160, 1994) "This is the contemporary period we are living in. It's a horse but its' me, too. We're in a difficult stage." |


Rasim Babayev can be reached in Baku at (994-12) 38-22-87.


From Azerbaijan International (3.1) Spring 1995.
© Azerbaijan International 1995. All rights reserved.

Back to Index AI 3.1 (Spring 1995)
AI Home | Magazine Choice | Topics | Store | Contact us