Music Section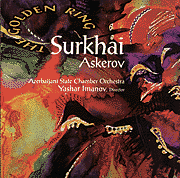 Surkhai Asgarov - "The Golden Ring"
The CD is available. Check - Store
Surkhai Asgarov, 14, sings Azerbaijani and Western Classical Vocal Masterpieces on "The Golden Ring." In 1996, Surkhai was named the first recipient of the "Golden Book of Young Talents" in Azerbaijan.
Produced by Azimex Group and Azerbaijan International. Copyright 1996. CDs or cassettes are available.
Article: "Surkhai Asgarov: Vocal Prodigy," by Anne Kressler, AI 4.4, Winter 1996.

Contents of CD / Cassette
Azerbaijan State Chamber Orchestra
Yashar Imanov, Director

1 Tofig Guliyev - Rasul Reza, lyrics The Golden Ring [3:30]
2 Tofig Guliyev - Rasul Reza, lyrics Your Beauty Won't Last Forever [3:43]
3 Neopolitan Folk Song* O Sole Mio [3:00]
4 Tofig Guliyev - N. Kesemenli, lyrics I Am from Baku [2:49]
5 Mikhail Glinka - Alexander Pushkin, lyrics The Magic Moment [3:12]
6 Tofig Guliyev - Vladimir Gafarov, lyrics Baku [2:27]
7 Franz Schubert* Ave Maria [2:07]
8 Emil de Curtis* Don't Leave Me [1:34]
9 Wolfgang Amadeus Mozart* Cherubino's Arietta from "Marriage of Figaro" [2:14]
10 Charles Gounod* Zibel's Romance from "Faust" [2:12]
11 Uzeyir Hajibeyov Askar's Aria from "Arshin Mal Alan" [4:15]
* In Russian.

From Azerbaijan International
© Azerbaijan International 1998. All Rights Reserved.