Winter 2006 (14.4)
Pages 68-71

Sister Cities: Baku and Houston
Celebrating 30 Years as Sister Cities
by Maud Beck


Right here in the heart of Houston, we've discovered a very unique relationship with the city of Baku that has existed since the 1970s. Houston and Baku are Sister Cities and in 2006, they celebrated their 30th Jubilee.

"Sister Cities" was an initiative that was established during the Administration of U.S. President Dwight D. Eisenhower (1953-1961). Eisenhower knew the real face of war.

During World War II, he had served both as the First Supreme Commander of NATO and as Supreme Commander of the Allied Forces in Europe, which had the responsibility for some of the determining battles in France and Germany in 1944-45.


Above (Left): Houston Delegates visit Baku in October 1979. Standing: Baku Mayor A. Mammadov congratulates his Sister City guests from Houston-Douwe de Vries and his wife Robbie, seated at right.

Right: Houston delegation presenting Bluebonnet painting to Mayor in Baku: Left: Mayor Mammadov, Robbie and Douwe de Vries; Mike Scorcio and his wife Ruth. October 1979.
During his Presidency (1953-1961), Eisenhower proposed a "people-to-people" network between the United States and other countries in an effort to diminish the chance of future world conflicts. Local municipalities in the U.S. were encouraged to develop partnerships with cities in other countries to create global cooperation, cultural understanding and economic development. These programs were to be based on two-way communication that would mutually benefit both communities.

That's when Houston's Mayor Louis Welch took the first steps to create a bond between two of the world's oil capitals - Houston and Baku. The official relationship - the Houston-Baku Sister City Association (HBSCA) - was established in April 1976. Since then, HBSCA has operated on a volunteer basis as a non-profit organization. It is under the umbrella of Houston Sister Cities International and works in close partnership with the Houston Mayor's office as well as the Azerbaijan Embassy in Washington, D.C.

The DeVries Visit Baku
In our quest here at the Association for more stories about the old days, we came across the names of a well-known Houston couple, Douwe de Vries and his wife Robbie. In 1975, Douwe was appointed Chair of HBSCA and Robbie became co-chair. Born and raised in the Netherlands, Douwe had a Master's Degree from Delft University and had worked with Royal Dutch Shell on assignment in the deserts of New Mexico and West Texas in the 1950s. He was well known in the oil industry for his expertise in drilling and completion technologies. Later on, he was awarded for his innovations in deepwater drilling with the Holley Medal by the American Society of Mechanical Engineers International.

As manager of Soviet Projects, he had made more than 40 trips to the Soviet Union, including Baku. Tall and distinguished in appearance and with an impressive background in the oil industry, Douwe was an excellent choice to help establish this first relationship with the Soviet Union for Houston. Robbie, his energetic wife was from Oklahoma and had a degree in Business Administration and Journalism. Together, they blazed the trails of the first Sister City Association for Houston in the Soviet Union.

Unfortunately, we missed the chance to sit down and talk with Douwe as he had passed away in January 2006 from leukemia, but we were able to meet with Robbie who graciously welcomed us at her lovely home in Houston. The walls of her living room were covered with photos and paintings - each object brimming with memories of the culturally rich, international lives that she and her husband had shared.

It didn't take long to find some of her memories of Azerbaijan in the midst of them. There was a striking picture of a cosmonaut entirely made out of tiny pearl beads that a Baku schoolchild had made. As well, there was a pair of stuffed Azerbaijani woolen leggings still in their polyester case. A miniature carpet from the town of Guba in northern Azerbaijan adorned the mantelpiece.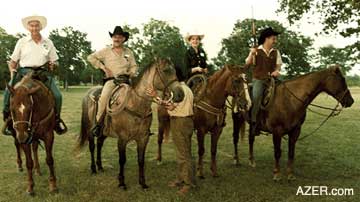 Left: Soviet Delegation visiting Houston in July 1983: (left to right): Douwe de Vries; Mayor Ahmadov from Baku; Robbie de Vries; Mayor Tarazevitch from Minsk.

Robbie told us how she and her husband had hosted numerous Soviet delegations in Houston. Often these groups included visitors from Baku.

Once she was asked by the State Department to organize the visit of three mayors, the head of the USSR Sister Cities Association along with their KGB Interpreter. The mayors of the cities of Minsk, Voronezh and Baku were coming to town and needed to be shown around and entertained. So the de Vries hosted a reception at their home on the lake with Texan representatives of the oil industry.

They also arranged for visits to the National Aeronautics and Space Administration (NASA), Houston Ship Channel, YMCA, Houston Symphony, some Universities, City Hall and the Sam Houston Park. They also took their guests to a Texas rodeo after a shopping trip to find the appropriate Western clothes. The vodka would flow and with it so many grandiose speeches about friendship and hospitality.

Trip to Baku
In 1979 the Baku City Council invited a Houston delegation to visit them. Since Mayor Jim McConn was busy, he appointed Douwe and Robbie to represent him. Michael Scorcio from the Houston Port of Authority would join them. The visit was scheduled for October 7-13, 1979, which gave them only three weeks to prepare for the trip. No budget was available although the host government had promised to take care of the guests once they arrived in the USSR. But they had to purchase their own airline tickets roundtrip to Moscow.
| | |
| --- | --- |
| | |
Above (Left): Meeting of Houston-Baku Sister City Association (HBSCA) in Houston's City Hall: Left: former President Sara Rozin, Founding Co-Chair Robbie de Vries, Director of Houston International Protocol Alliance Deanea K. LeFlore, current President Irada Akhundova and Board Member Riad Afandiyev.

Right: Soviet Delegation to Houston. Left to Right: Mayor Tarazevitch of Minsk, Douwe (behind) and Robbie de Vries, Mayor Ahmadov of Baku, Mr. Petsov as Head of Sister Cities Soviet Union, Mayor of Voronezh and Mr. Chibisinko who served as Interpreter. 1980s in Houston.
Douwe already had a basic command of the Russian language, but together he and Robbie attended some evening classes to learn some basic Russian conversation and familiarize themselves with the Cyrillic script. Meetings were held with the Sister City Association to determine a basic plan of activities for the delegation and select gifts.

They took the following gifts: silver key to the city Houston, bronze medallions with the Houston emblem, music scores, autographed art books, space photographs and posters from NASA, Crepe Myrtle seedlings from the Houston Arboretum, a beautiful oil painting by Frank Dill of a bluebonnet and cactus covered landscape which was to be presented to the Mayor of Baku. Bluebonnet seeds. They packed them in a couple of footlockers to be shipped to Baku.

On October 7, 1979, they were welcomed at the airport by the members of the City Council Gabil Fataliyev, Tofig Malik-Abbasov and Samaya Aliyeva. From there they went to the Azerbaijan Hotel on the Boulevard. They were chauffeured through the city in Chaika limousines with a police escort to the official meetings with the Mayor and his Council members in the City Hall.


| | |
| --- | --- |
| | |
Above (Left): Under the auspices of the Houston-Baku Sister City Association, Azerbaijani youth participated in the Houston International Festival this past year.
Right: Azerbaijani youth perform traditional folk dances at the United Nations' Food Festival in Houston this year.
Excursions were organized to the oil refinery and some of the offshore oil fields [Oil Rocks]. They also visited an air conditioner factory, a middle school and the Temple of Fire (Ateshgah) in the suburbs of Baku. They also met with composer Fikrat Amirov (1922-1984) and poet Nabi Khazri (1924-2007).

Of course, they climbed the city's landmark monument Maiden Tower, and took walks along the Boulevard. From the Kirov Park [now called "Shahidlar Khiyabani" or Martyrs' Lane], they had magnificent views of the city. [The Kirov statue was dismantled in 1992 after Azerbaijan gained its independence. Search at AZER.com].

But most of all, they were impressed with the rich culture and the people's sincere curiosity about America. Azerbaijani hospitality was unforgettable: dinners with Caspian caviar, sturgeon and kababs, accompanied with many toasts and speeches and, of course, the delicious Azerbaijani tea served in the traditional pear-shaped glasses.

Robbie's most vivid memory is how Mayor Aydin Mammadov played the violin for the school children, who, in turn, begged her to dance with them. A shy dancer, she improvised some swirls amidst cheers and applause. She says she can only hope that other Texans have since performed a proper two-step dance for them to set the record straight!

Thanks to Douwe and Robbie's energy and efforts and despite the Iron Curtain, the two cities with so much in common established a lasting friendship. During the years that followed, an alliance was forged and strengthened by numerous reciprocal visits in the 1980s. Today, Robbie is an honorary member of HBSCA and still stays involved with some of the organization's activities.


| | |
| --- | --- |
| | |
Above (Left): Left: Irada Akhundova, President of the Houston-Baku Sister City Association (HBSCA) meeting with Mehriban Aliyeva, wife of Azerbaijan's President Ilham Aliyev in Washington, D.C. in December 2006.

Right: Supporting the Azerbaijani team at the 2006 Annual Sister Cities Soccer Tournament in Houston.
In the early 1990s, due to changes in world politics and the collapse of the Soviet Union, the activities of HBSCA diminished for a while, but by the mid-1990s, as plans were being made for the BTC pipeline between Baku via Georgia and Turkey to the world energy market, activities of the association gained momentum.

Especially these past 10 years, ties between Houston and Azerbaijan have grown substantially. Many Azerbaijanis themselves now live in Houston, as they are active here in the oil industry. And now there are many more Americans who have lived in Baku or traveled there on business. The Houston-Baku Sister City Association takes part in the Houston International Festival and the United Nations' Food Festival. In addition, they've arranged cultural performances and art exhibitions, hosted business delegations from Azerbaijan and brought the community together to celebrate Azerbaijan's national holidays. HBSCA welcomes new members and volunteers to get involved and join them. Contact: HOUSTONBAKU.com.
Maud Bech is a Board Member of the Houston-Baku Sister City Association (HBSCA). Her keen interest in Azerbaijan started when she was on assignment with UNOCAL in Baku from 1995 to 1999. HBSCA President Irada Akhundova and Art Director Saida Fagala also contributed to this article.

______

Back to Index AI 14.4 (Winter 2006)

AI Home | Search | Magazine Choice | Topics | AI Store | Contact us

Other Web sites created by Azerbaijan International
AZgallery.org | AZERI.org | HAJIBEYOV.com