Winter 2006 (14.4)

Tangaroa
Pacific Voyage
Preparing the Raft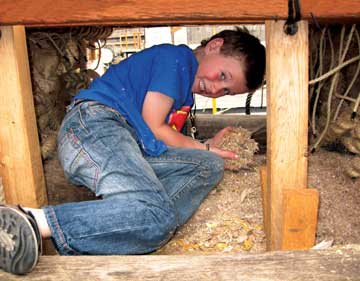 Jacob Sæverud Minde, 7, who lives in Bryne, Norway, attended the Tangaroa launching ceremony in Callao, Peru, on April 26, 2006. There he presented the Norwegian flag to his Uncle Torgeir who had organized the Tangaroa Expedition.
The Norwegian flag was affixed to the top of the raft's mast along with flags from Peru, Ecuador, Sweden, French Polynesia, the United Nations and the Larvik community in Norway. Larvik is the hometown of Thor Heyerdahl where the raft has been returned to become the main exhibition in a future museum to Heyerdahl's legacy.

Like most boys, Jacob loves the Kon-Tiki story. Here he helps the crew by cleaning up the sawdust between the logs and the bamboo deck. It was in this compartment that the crew stowed their huge supply of bottled water. According to Torgeir, this space was sufficient enough to have transported 10 tons of goods.

_____

Back to the Tangaroa article
Back to Index AI 14.4 (Winter 2006)

AI Home | Search | Magazine Choice | Topics | AI Store | Contact us

Other Web sites created by Azerbaijan International
AZgallery.org | AZERI.org | HAJIBEYOV.com