Winter 2006 (14.4)
Pages 22-25
Thor Heyerdahl
Involvement with Azerbaijan

Read More about Thor Heyerdahl
1. "Thor Heyerdahl in Azerbaijan: Kon-Tiki Man," Spring 1995 (AI 3:1).
2. "The Azerbaijan Connection: Challenging Euro-Centric Theories of Migration," Spring 1995 (AI 3:1).
3. "Scandinavian Ancestry: Tracing Roots to Azerbaijan," by Heyerdahl. Summer 2000 (AI 8.2).
4. "Earlier Civilizations: More Advanced." Quote: Autumn 2000 (AI 8.3)
5. "Adventurer's Death Touches Russia's Soul," by Constantine Pleshakov. Summer 2002 (AI 10.2).
6. "Reflections on Life," by Heyerdahl. Summer 2002 (AI 10.2).
7. "First Encounters in the Soviet Union". Summer 2002 (AI 10.2).
8. "Thor Heyerdahl's Final Projects," by Storfjell. Summer 2002 (AI 10.2).
9. "Heyerdahl Burns Tigris Reed Ship to Protest War: Letter to UN". Winter 2003 (AI 11.1)
10. Books about Expeditions by Rafts.
This year marks 60 years since Thor Heyerdahl (1914 - 2002) dared to cross the Pacific Ocean on a raft made of balsa logs. Most people - including experienced sailors - were convinced that the primitive vessel would quickly become waterlogged or inundated with huge waves.



Left: Thor Heyerdahl visited Azerbaijan on four occasions (1980, 1994, 1999 and 2000). Here, on his second trip (and the first after Azerbaijan had gained its independence), he visited Gobustan, intrigued by the petroglyphs still visible on hillside rocks and cave walls.

Several carvings - like the one shown here - emphasize the importance of reed boats to these early settlers who are believed to have inhabited the region at least 5,000 years ago. In 1982, Heyerdahl had constructed a similar looking reed boat - the Tigris - and successfully sailed it in the Persian Gulf and Indian Ocean.

But a determined Heyerdahl and his crew proved them wrong. One hundred and one days and 4,000 miles later, they arrived in the Polynesian islands.

Heyerdahl had proved his hypothesis that Early Man could have migrated westward, carried by strong ocean currents.

Though Heyerdahl went on to make three more equally difficult trips in other oceans with reed boats, it was the Kon-Tiki that captured the imagination of millions of people worldwide. His book "The Kon-Tiki" would eventually be translated into 65 languages and the film of the voyage won an Oscar for "Best Documentary" in 1951.

Heyerdahl was no stranger to Azerbaijan. He visited Azerbaijan on four occasions (1980, 1994, 1999 and
2000), the last three of which were on the personal invitation of President Heydar Aliyev.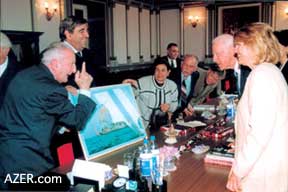 Left: The Heyerdahls at the Academy of Sciences in Baku, 1999. Left: Academician Jamil Guliyev (showing painting of early sailing vessel) and the President of the Academy of Sciences Faramaz Magsudov. Right side of table: Thor Heyerdahl (85 years old at the time) with his wife Jacqueline Beer.

Heyerdahl went on to hypothesize that thousands of years ago Scandinavians had immigrated from the region, which is now known as Azerbaijan. He selected our magazine, Azerbaijan International, as the first place to publish these ideas [See Spring 1995, AI 3:1. Search at AZER.com]

As Jacqueline, Thor's wife, tells the story: In the early days of Azerbaijan's independence when foreign oil companies were just getting established in Azerbaijan, BP had invited Margaret Thatcher to Baku.

Not to be outdone, in 1994, Statoil approached the President and asked whom they might bring from Norway. Aliyev had commented that the only person he knew was Thor Heyerdahl.

And thus began an enduring friendship. It was a concept that came under heavy criticism in Norway. But to the end, Heyerdahl did not back off, though it has yet to be proven.


---
"Some people believe in fate, others don't. I do and I don't.
It may seem at times as if invisible fingers move us about -like puppets on strings. But for sure, we are not born to be dragged along.

We can grab the strings ourselves and adjust our course at every crossroad, or take off at any little trail into the unknown."


-Thor Heyerdahl (1914-2002)
Foreword in the 35th Anniversary Edition of "Kon-Tiki",
1984. Washington Square Press: NY

---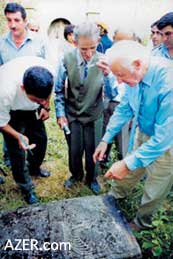 Left: Heyerdahl (right) with Georgi Kechaari (center)
an elder in the Udin community from the village of Nij (north central Azerbaijan). Here they examine a gravestone (possibly more than 1,000 years old, dating back to Albanian Caucasian Christians, ancestors of the Udins.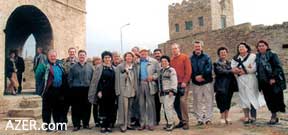 Right: Touring Ateshgah (Fire Temple) in the suburbs of Baku with Statoil personnel.
Above: Heyerdahl, with his wife Jacqueline Beer, visiting the Honored Cemetery where many victims of Black January 1990 and the Karabakh War (1988-1994) are buried. 10. Jacqueline Beer with her husband Thor Heyerdahl, visiting the archaeological dig at Kish Church in Shaki, a small town in the foothills of Caucasus mountains, Azerbaijan. 2002

_____
Back to Index AI 14.4 (Winter 2006)

AI Home | Search | Magazine Choice | Topics | AI Store | Contact us

Other Web sites created by Azerbaijan International
AZgallery.org | AZERI.org | HAJIBEYOV.com